Event décor and design is continually advancing from year to year and 2018 is no exception. Event designers across the country are increasingly utilizing décor pieces that can easily transform a space into a selected theme or design using carefully selected graphics on high cocktail tables, columns, bar fronts and a plethora of other décor pieces. Graphics trends in 2018 include an eclectic mix of themes from natural textures to ancient geometric patterns to the use of holographic foil.  Several of the top graphic trends for 2018 are highlighted below.
Natural Luxury
The graphics trend of "Natural Luxury" mirrors the current linen trend through the use of organic stone and marble style patterns to bring the outdoors in. By utilizing natural stone elements in a variety of colors, event design takes on a more residential feel. Natural textures help to create a feeling of opulence and sophistication and graphic patterns can feature conventional granite and marble coloring or feature a signature color such as the Pantone Color of 2018, Ultra Violet.

Holographic Foil
This graphic trend is a mixture of shimmer and shine with a subtle nod to the decades of the past.  Holographic trends are prevalent in fashion and in the cosmetics world and are now adding subtle sparkle to event design. Holographic patterns are simple to work with and can assist an event designer in adding a whimsical touch to any design. Used to add iridescence to an existing design or backed with black to create a bold look, this 2018 trend is sure to pop at any event.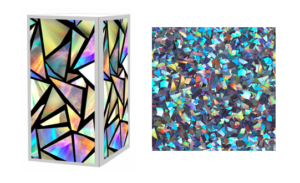 Ancient Geometrics
The patterns that fall in the "Ancient Geometrics" category are from vast and varied cultures, but they share one common characteristic – intricate detail and attention to proportion and balance.  These graphic patterns are heavily influenced by mandalas, arabesque and paisley details and are similar to the designs found in many adult coloring books. The graphics below are a brief illustration of ancient geometric graphics.
Cactus
Like the Natural Luxury trend mentioned above, the use of cactus graphics continues the outdoor/natural trend in graphic design in 2018. Cactus and desert culture are heavily featured in home décor design and now make the jump to event design to fuel the cultural fascination with all things desert. From cactus graphics featuring cheeky pastels to hand drawn illustrations, the cactus is sure to be trending in graphics throughout the design and event world.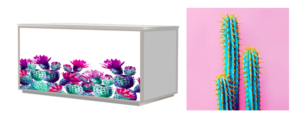 The graphics trends featured here represent only a few of the major trends that will be seen throughout 2018 and are available to incorporate into your event design today. Graphic trends are constantly changing, and new trends appear through the event world, design world and social media on a regular basis.  For more information or to discuss incorporating these graphic trends into your event design, contact your Hosts Sales and Creative Services teams.  We pride ourselves on being on top of décor and design trends and want to use our resources to assist in enriching your event objectives.