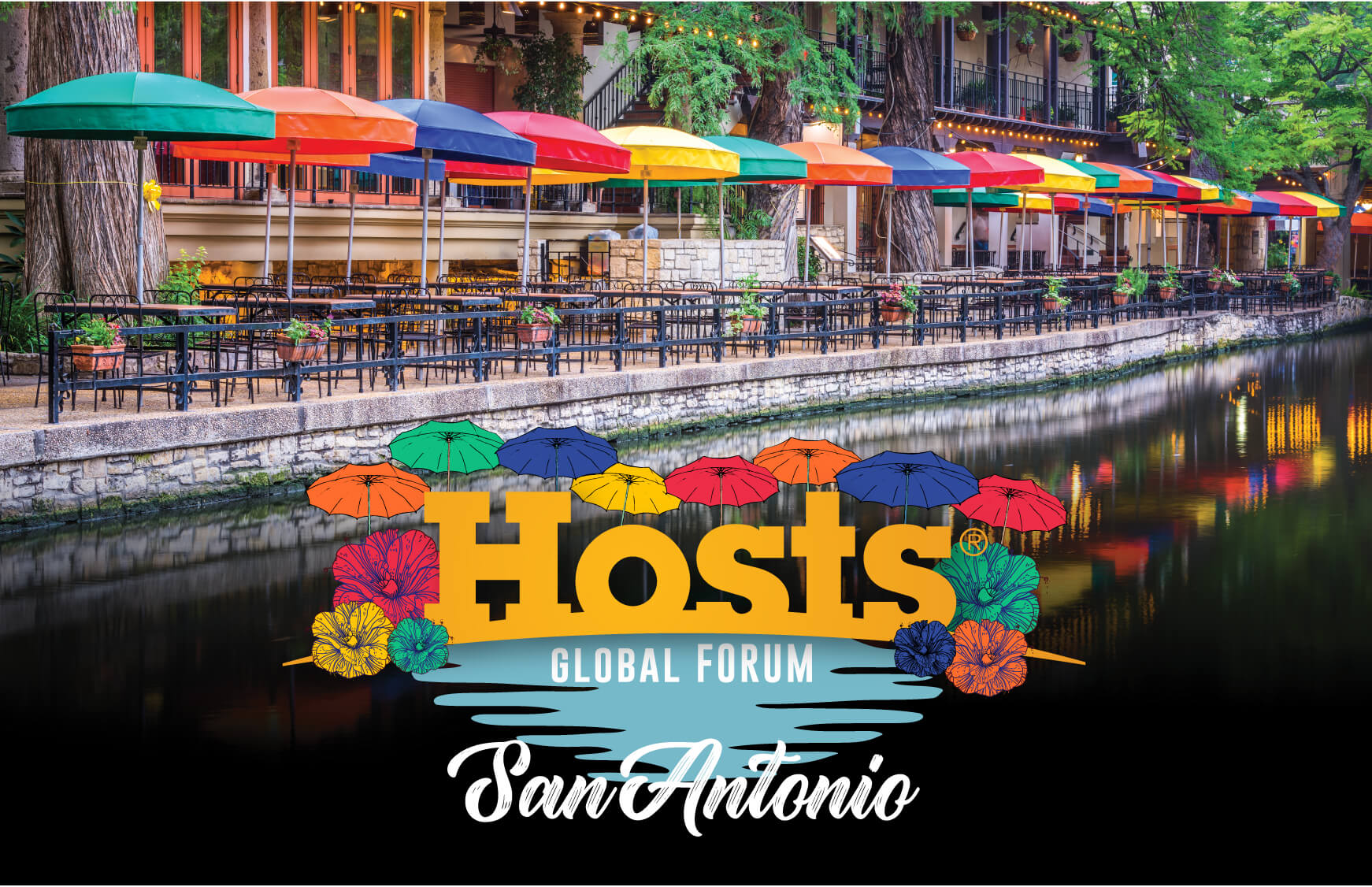 Global Audience Convened for 8th Annual
Hosts Global Forum in San Antonio, Texas
Hosts Global has just returned from San Antonio and our 8th annual Hosts Global Forum, where our Hosts Global members and 70 clients from around the world came to connect and learn what's new, what's next, and what's notable in the event industry. This event was held at Hotel Valencia Riverwalk San Antonio from September 7-10, 2022.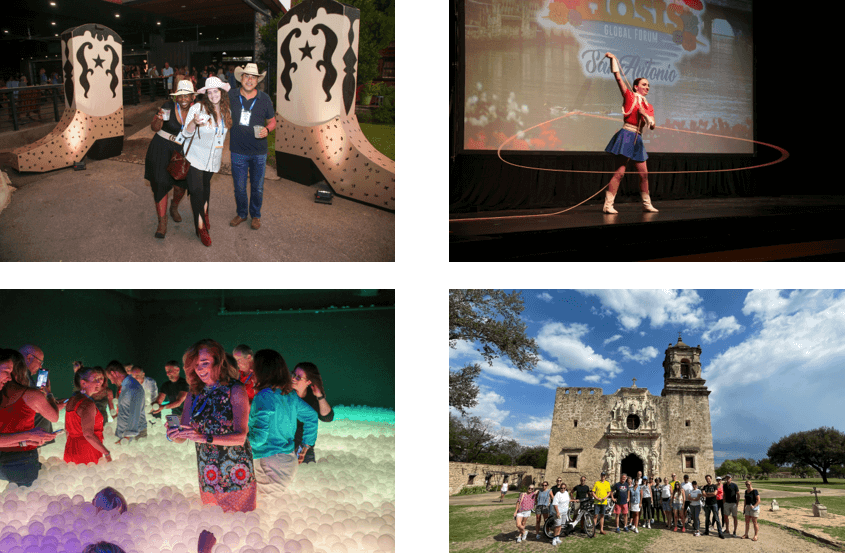 Hosts Texas shone a spotlight on one of our most vivacious cities. As local experts, they crafted and coordinated immersive events from start to finish. Hosts Global chose San Antonio as its featured destination because of its vibrant and diverse culture and history. A city of constant transformation, bursting with new attractions, revitalized historic sites, and seasonal events, Hosts Texas took guests on a ride of culture, cuisine, and curated experiences that showed how San Antonio is thriving as a meeting & incentive destination.
"San Antonio is a culturally rich city, full of charismatic people and places," said Kurt Paben, CEO of Hosts Global. "We loved introducing our clients to both the city's deep history along with the San Antonio of the future."
Kurt Paben, CEO Hosts Global, engaging with guests on what the future looks like. Marty MacKay, President, Alliance Events & Operations Hosts Global, welcoming everyone to an exciting Day 2 at Hosts Global Forum
"The design for Hosts Global Forum was centered around ferocious creativity, education, networking, innovating and immersive experiences." said Marty MacKay, DMCP, President, Alliance Events & Operations, Hosts Global. "We focused on intention-based education with tangible take-aways, client connections with our Hosts Global Members, and events that showcased all that San Antonio has to offer."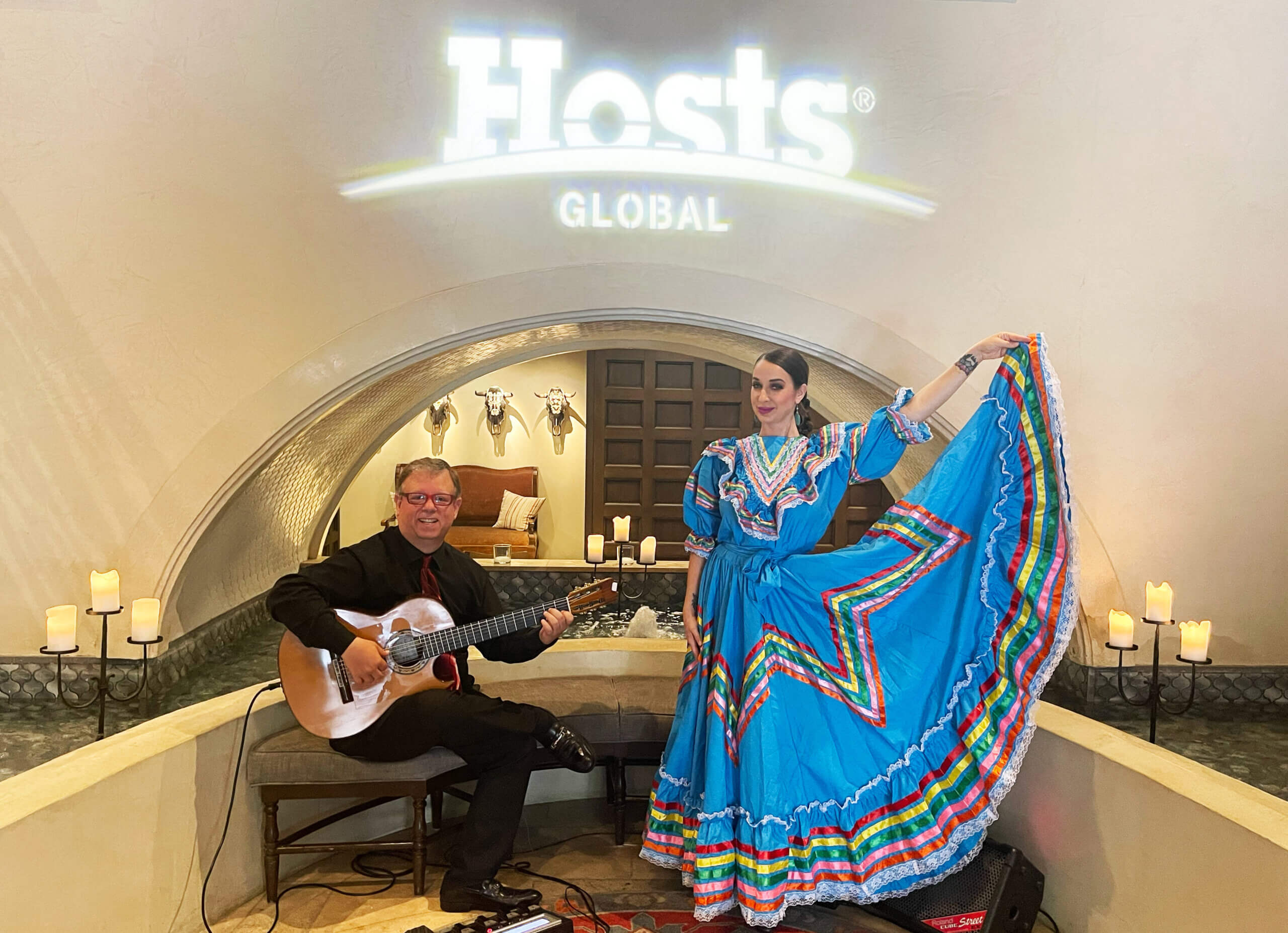 Guests enjoyed live entertainment as they arrived at the Hotel Valencia Riverwalk. The beautiful Hotel Valencia Riverwalk – a Hosts Global Forum sponsor. Hosts Global Members, Global Sales, and Corporate team on the San Antonio Riverwalk
Out and About in San Antonio
Each evening guests enjoyed innovative events that were native to San Antonio. Night one featured an iconic and brightly colored San Antonio Fiesta at the Henry B. González Convention Center that included a starlight return to the hotel on a quintessential riverboat cruise. Night two took guests "down the rabbit hole" to the immersive Hopscotch, where they got to play and be a part of the art installations. And for the final evening of the Hosts Global Forum, guests were greeted with a longhorn steer for a Texas-style round-up at Pedrotti's Ranch where guests enjoyed local Texas BBQ, armadillo races, a color guard on horseback, and their own private rodeo.

Opening General Session and Hosts Global's Fiesta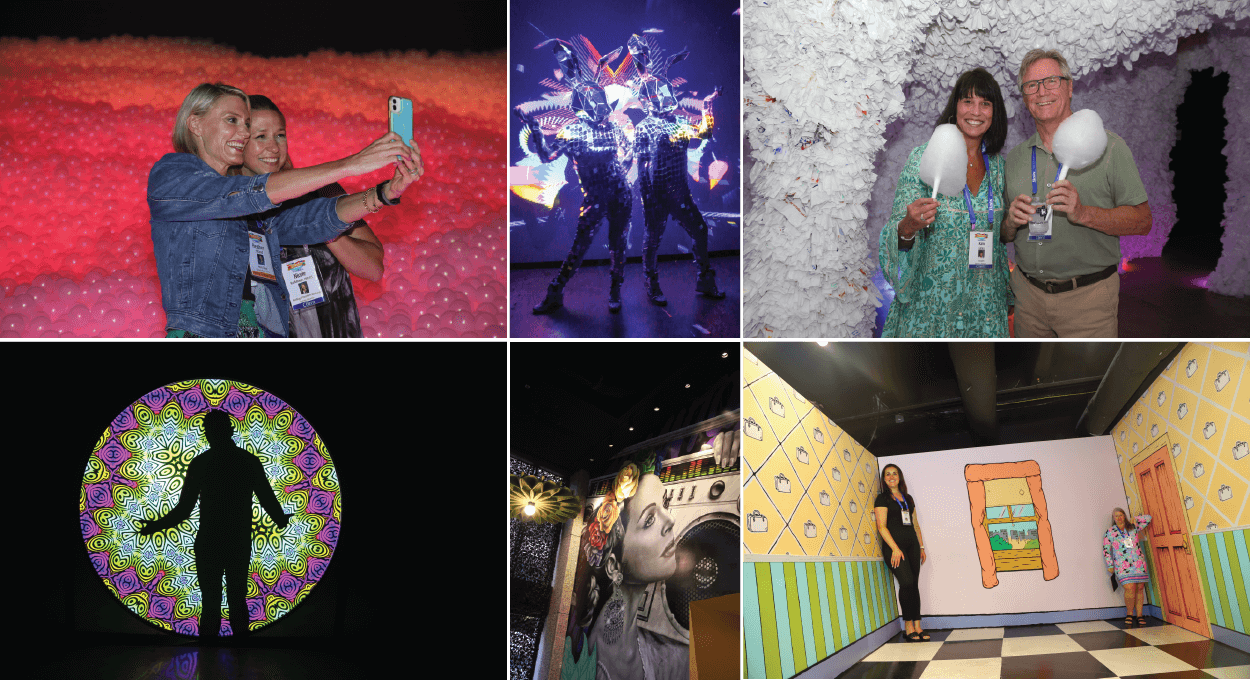 Down the Rabbit Hole to Hopscotch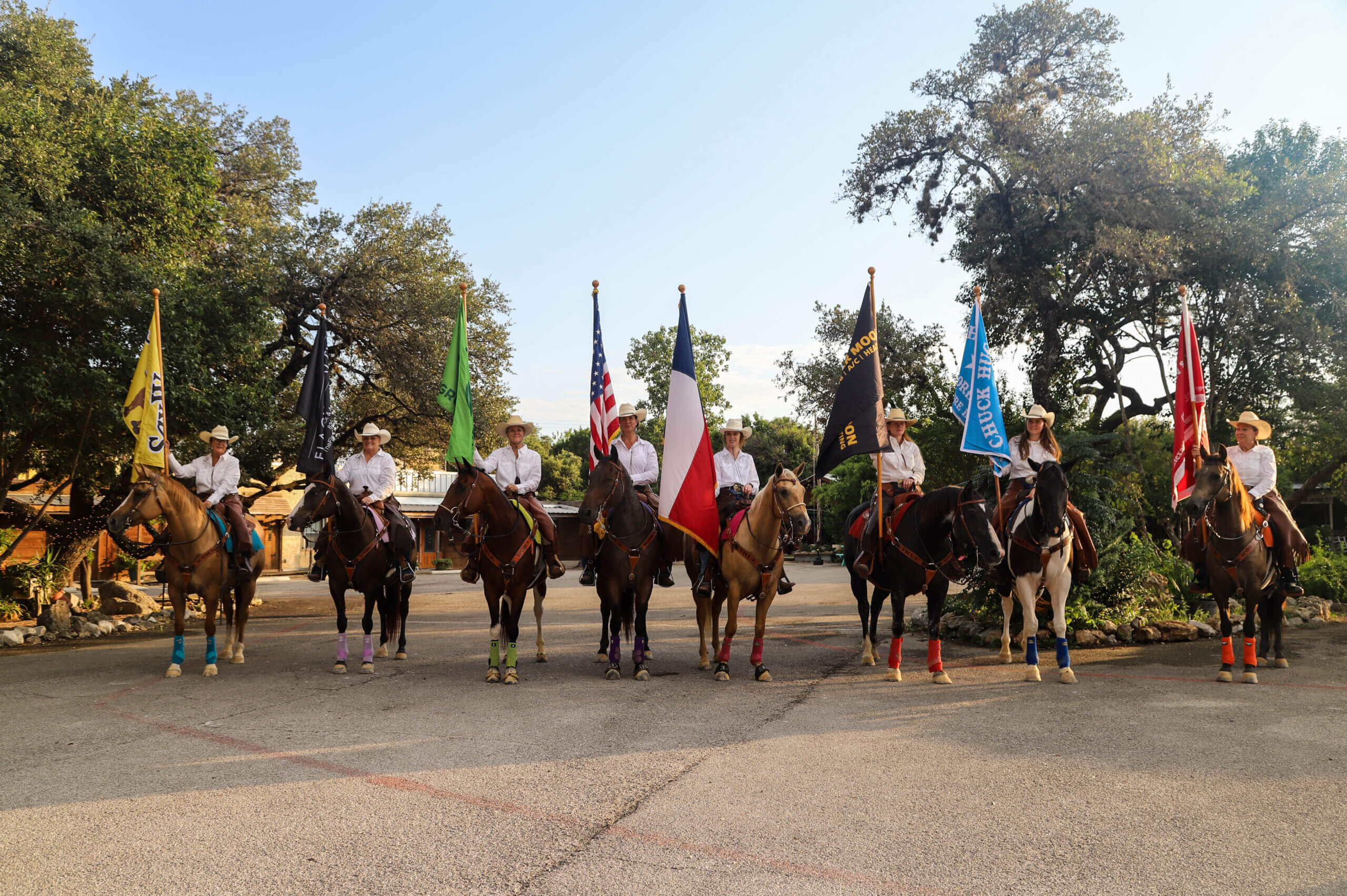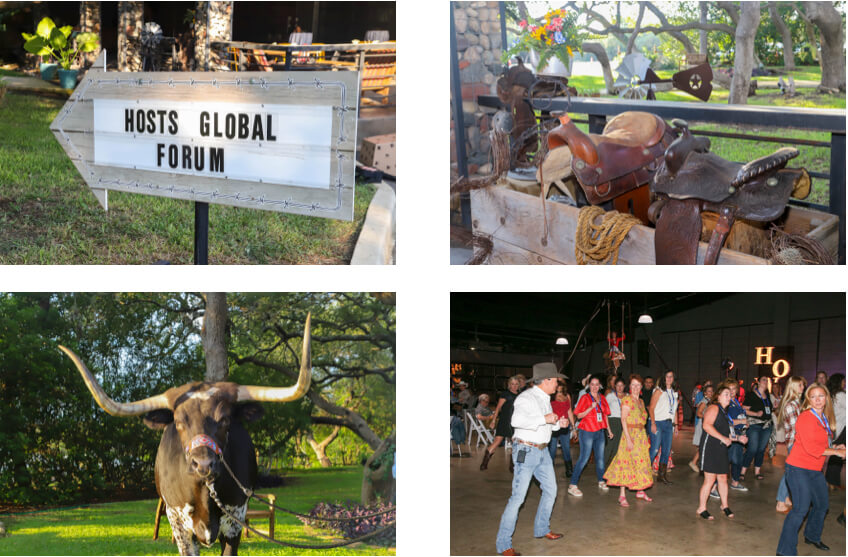 Two-Steppin' at the Hosts Round-up at Pedrotti's Ranch
Thought Leadership
Hosts Global thoughtfully and intentionally implemented multiple sustainability efforts for the Hosts Global Forum. By working with Trees4Travel and their inaugural event platform, Trees4Events, Hosts planted over 1,000 Trees and removed 164,100 kgs of carbon emissions through investments into renewable energy projects – making our event and people more sustainable and our planet happy.
Becreative sponsored water bottles from Fill it Forward, that tracked how guests impacted the environment through reuse by scanning a QR code every time they refilled their reusable water bottle. Each scan helped aid funding in developing clean water infrastructure, nutritious food programs, and reforestation projects that help communities in need.

Hosts Global Forum Sustainable Partners Trees4Travel and Becreative
Hosts Texas also gave thoughtful consideration to the local sustainability efforts by selecting multiple venues, tours, and experiences that were within walking distance of the Hotel Valencia Riverwalk, the electric barges for transportation, and bikes for a tour of the city. Hosts chose venues like Hopscotch, which has a sustainability commitment as well as supporting their community through partnerships with multiple local organizations that give back and support community sustainability and supporting community organizations including Desert Door, The Luminaria Working Artist Fund, and The Human Rights Campaign.

Intentional Education
The education at the Hosts Global Forum focused on how strong partnerships are created.  Kicking off with a global view of the world economy, guests heard from Dr. Chris Kuehl, Managing Director of Armada Corporate Intelligence, who helped frame up how the economy is affecting every one of us.  We then moved into a panel of 'super solvers' who touched on a curated list of industry topics crowd sourced from our attendees – from attendee engagement, sustainability efforts, hybrid meetings, and contracting.   There was a great discussion on how we can strengthen our partnerships to overcome pain points and emerging challenges.
Friday's content was a deep dive in a few of those areas.  A panel discussion gave the group direction on how we can create ideal outcomes through strategic conversations.  By taking the time to have good discovery, it moves the partnership from transactional to strategic. Kurt Paben, CEO of Hosts Global, closed out the morning with sharing how we need to pave our path of working together, addressing many current realities in supply chain and labor shortages.  The closing keynote by Courtney Clark left guests energized on how with revisionary thinking, we can all positively move forward together.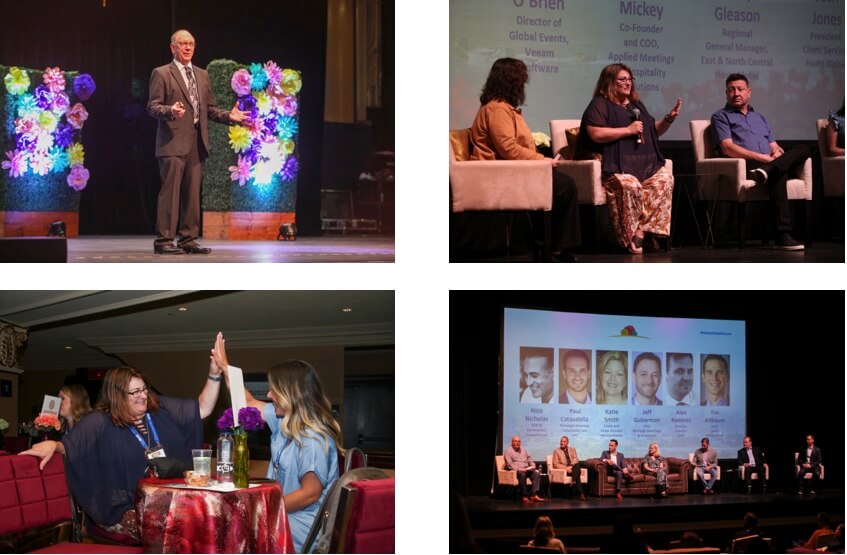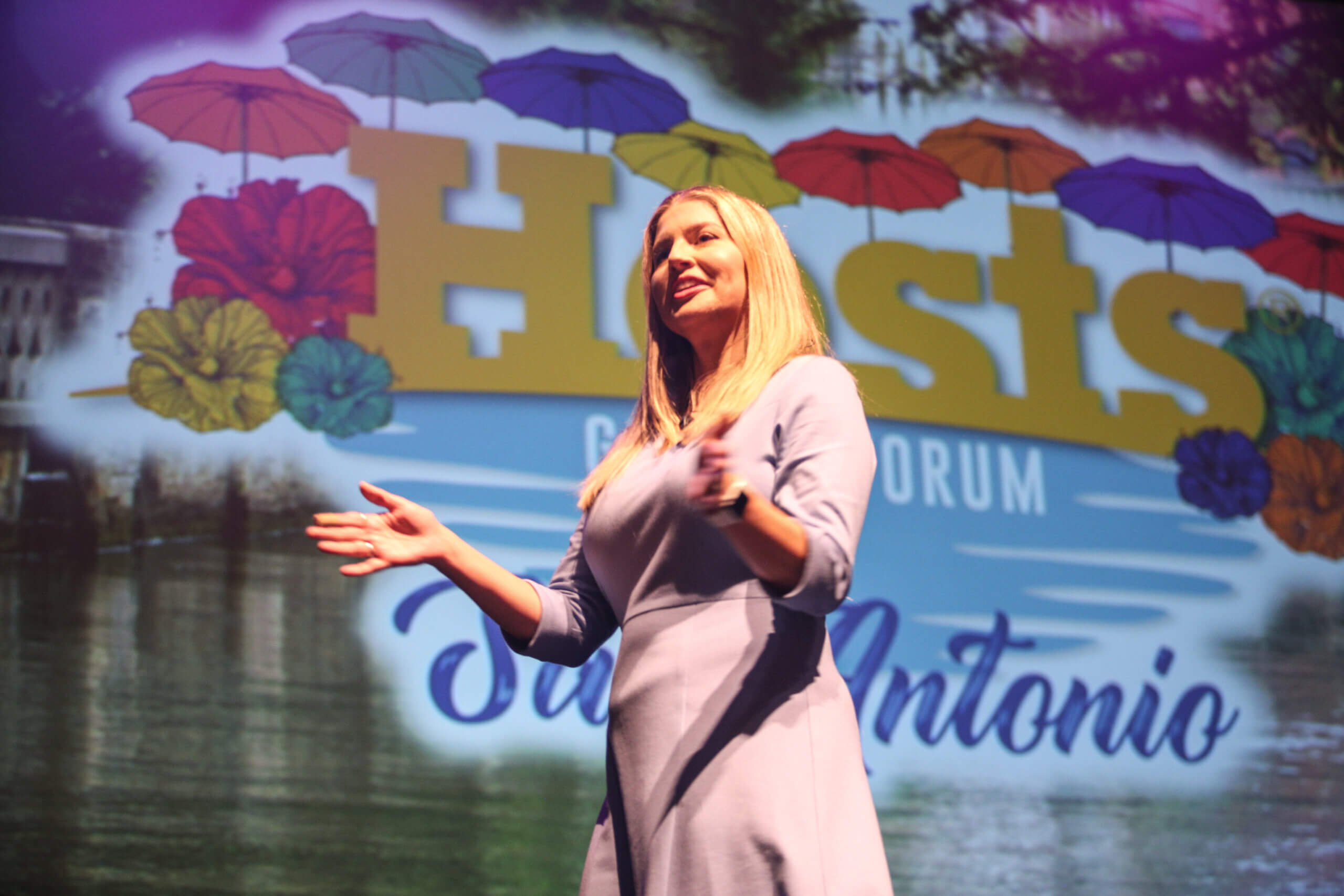 Hosts Global Forum had outstanding panels and speakers and opportunity for on-on-one interactions with Hosts Global Members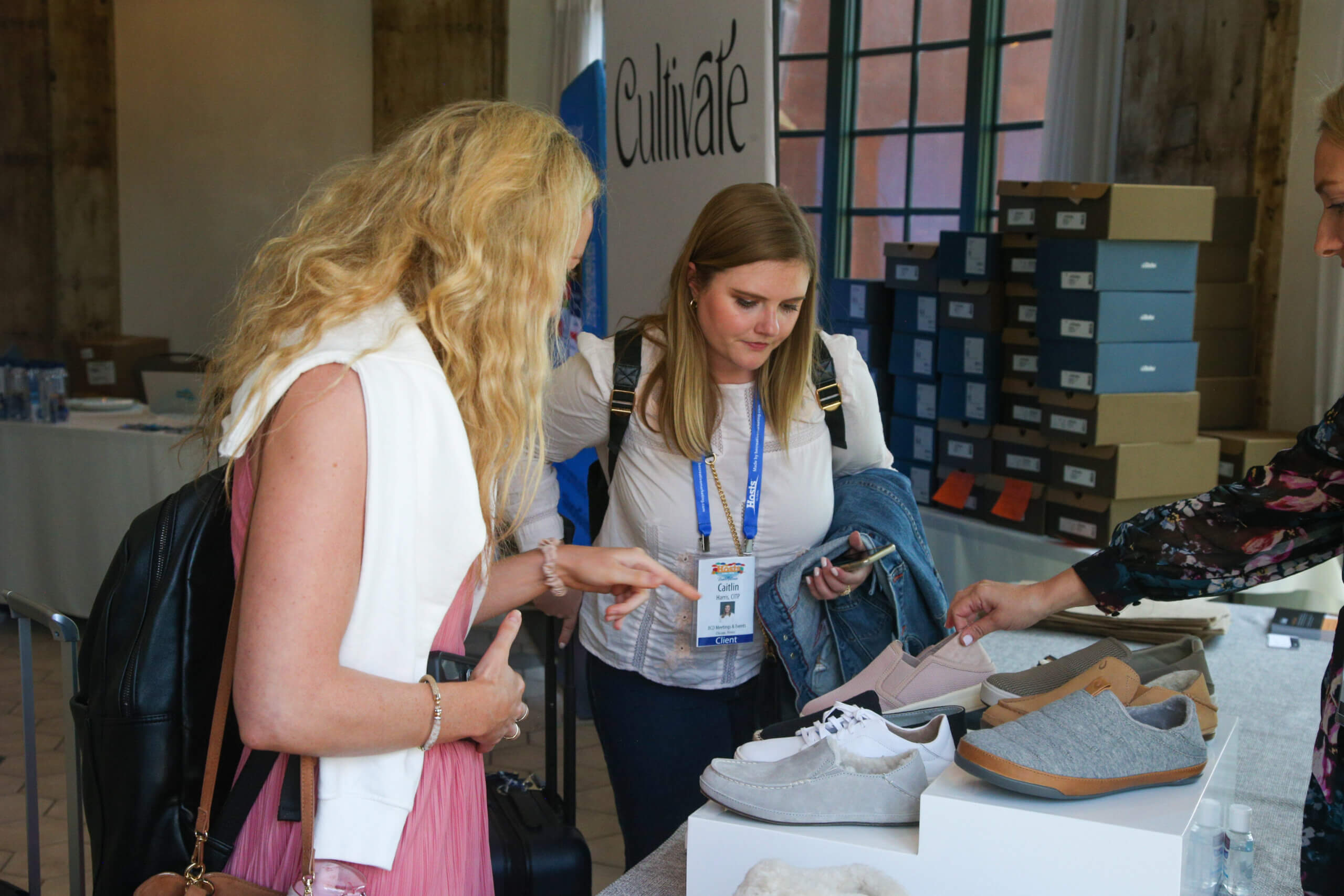 Guests Experiencing Cultivate's Innovative Gifting
The Gifting Experience
So, who likes gifts? Or I guess the real question is who DOESN'T like gifts? Hosts Global Forum sponsor Cultivate was on the scene at the Hosts Global Forum with some fiercely creative gifting experiences. Cultivate knows how to bring the corporate gifting experience to whole new level. Appreciation that works at the core of every program. Cultivate are the Gifting Experts, and they believe appreciating people with a quality gift of their choice connects people and fosters long-lasting relationships. That's why our team chose to partner with them for the Hosts Global Forum… which had our guests walking in style in Olukai footwear through the streets of San Antonio.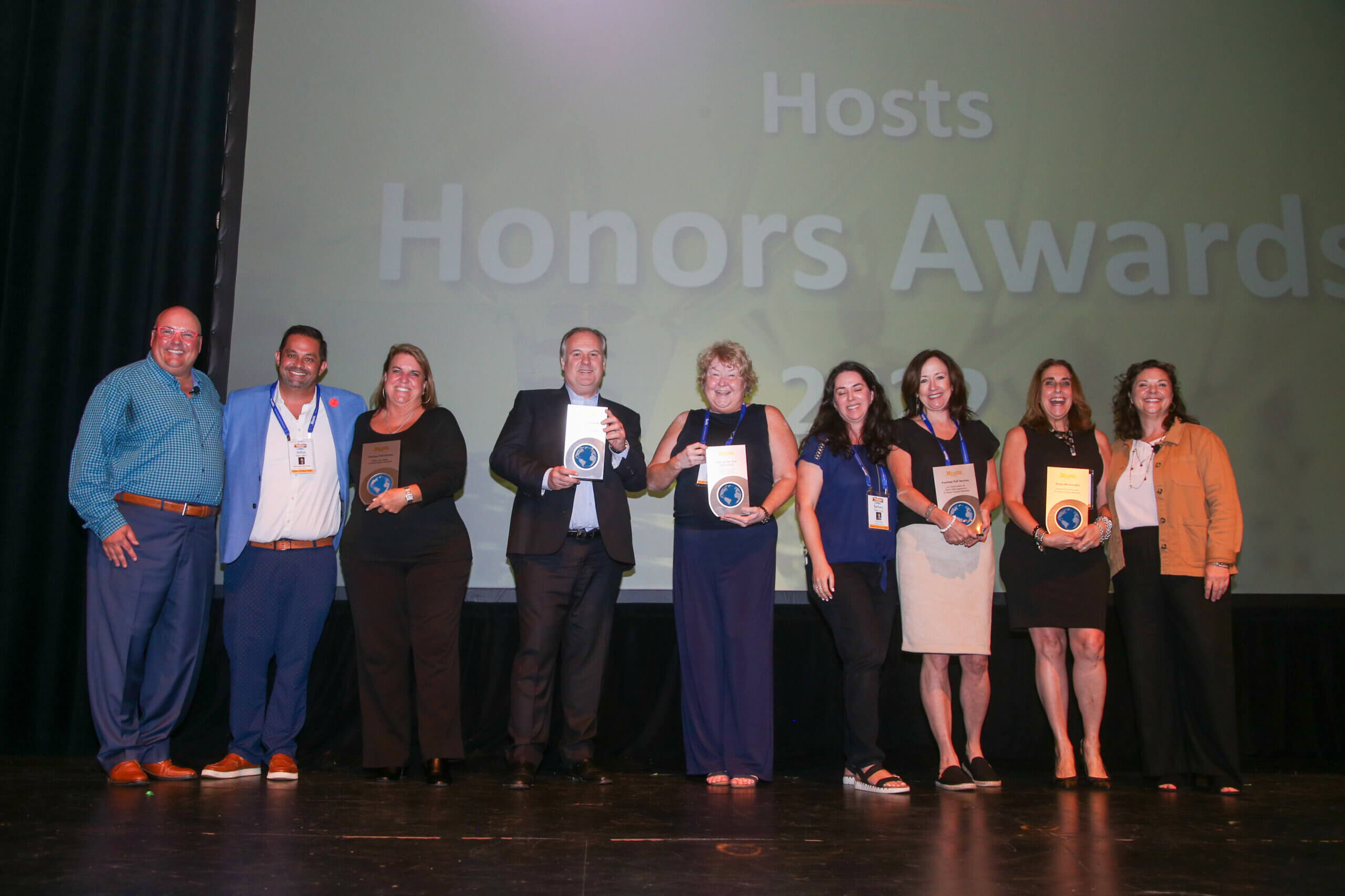 Hosts Global Award Recipients (Left to Right) Hosts Las Vegas, Spectra UK, COTC Events, E2 Destination and Event Management, Empire Force Events
And the Award Goes To…
At Hosts Global Forum we honor our DMC Members for their outstanding performance in numerous categories. The competition was fierce across our dynamic Hosts Global Members, but these top Hosts DMCs were selected for all their hardwork, ferocious creativity, and dedication. And the awards go to: Fearless Full Service in Operational Expertise – it's a tie!  Congratulations to e2 Destination & Event Management and Hosts Las Vegas. In the Made Meaningful category the winner is Empire Force Events.  Our Ferocious Creativity in Event Design & Decor winner is Spectra.  And finally….drum roll please, our Hosts Global Member of the Year goes to the team at COTC. Congratulations to all of our honorees.
The 2023 Hosts Global Forum Destination was announced – Malta!
2023 Hosts Global Forum Destination Has Been Announced
Hosts Global, together with Hosts Global Affiliate Colours of Malta, announced they will be heading to Malta in 2023 for the next Hosts Global Forum. Steeped in over 7,000 years of history, and having played host to the Romans, Phoenicians, the Knights of St John, Malta will also play host to the 9th annual Hosts Global Forum in this idyllic archipelago.



We're Counting the Days…
We can't wait to see you all IMEX America. Make sure to visit us at Booth E2024. Our Global Sales team will be on the floor and ready to talk about all of our destinations worldwide. Click here to make an appointment. We will also have several of our Hosts Global Members joining us in our booth, listed below in gold, and ready to make your time at IMEX America Meaningful, Motivating, and Memorable.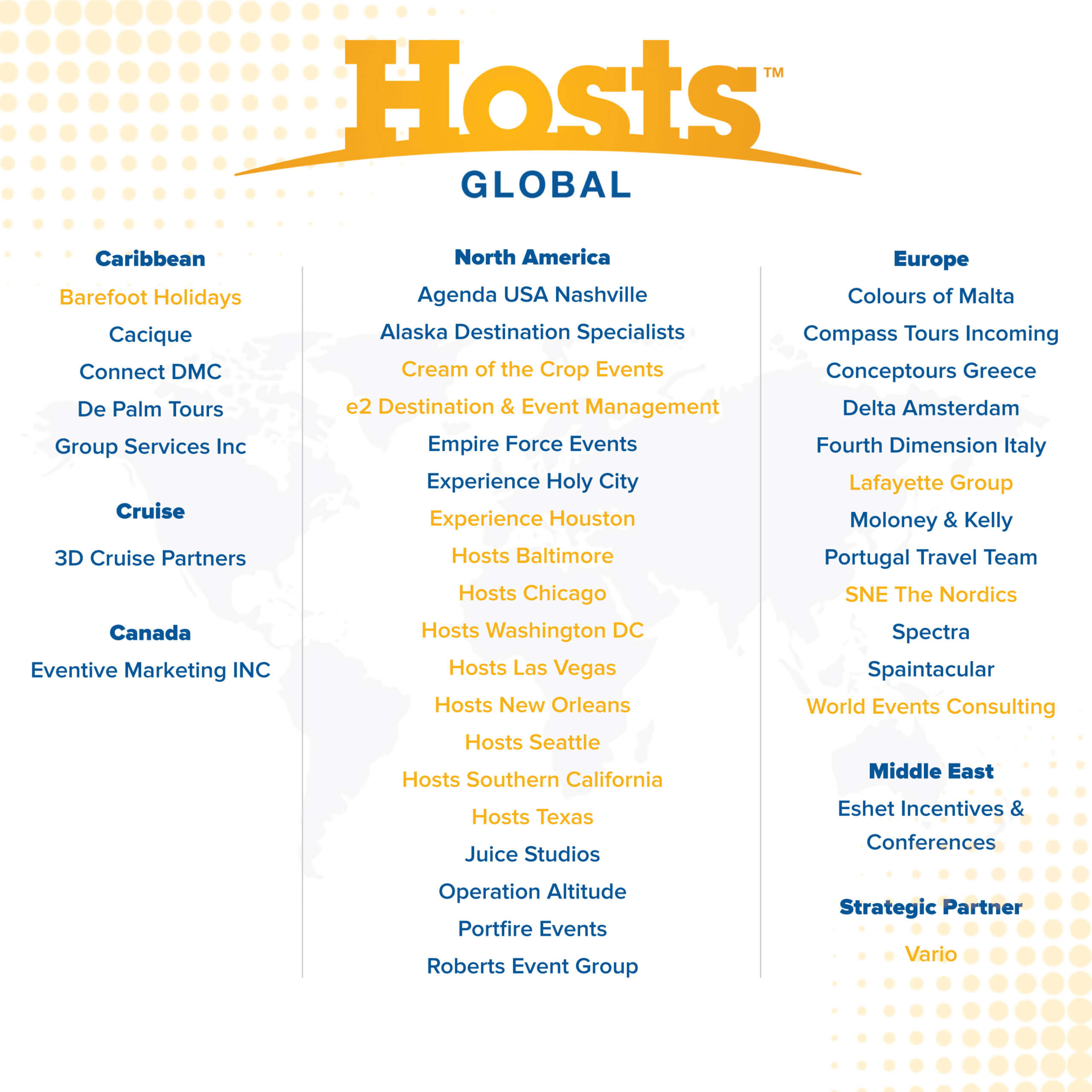 What's Next for Hosts Global?
We have lots more announcements coming soon!  Follow us and see.