Hosts Global (Hosts), a strategic partner for destination management services worldwide, hosted over 200clients and hospitality industry professionals for their seventh annual Hosts Global Forum. This invitation-only event occurred at the Paradisus Palma Real in the Dominican Republic from June 27 – 30, 2019 where attendees participated in on-trend industry discussions, educational sessions, networking events and memorable destination-specific activities.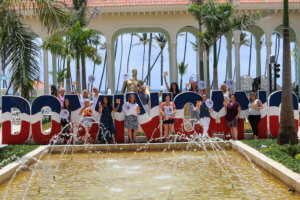 "The Hosts Global Forum is our annual opportunity to bring together our 60+ destination management company (DMC) members, clients and colleagues from around the globe", said Marty MacKay, DMCP, president of Hosts Global's alliance of DMCs. "Attendees travel to one of our key destinations for a first-hand experience, while also participating in professional growth opportunities and one-on-one business meetings with our DMC members." Hosts' 2019 conference highlighted the wide variety of hospitable offerings, venues and activities that are available for group programs, meetings and events in Punta Cana.
Hosts partnered with Connect DMC, our local experts in the Dominican Republic to craft and coordinate this exclusive event from start to finish. The experience began right at the airport, as clients were met with VIP expedited arrivals thanks to Grupo Puntacana, who also hosted a site tour of their property and a VIP spa experience. Playa Hotels & Resorts also invited guests for an exclusive site tour, along with a spa experience. Clients were treated to three spectacular evening receptions held at the Paradisus Palma Real, Melia Punta Cana Beach Resort and the Hard Rock Resort & Casino Punta Cana. Brainstorm Décor Studio delivered stunning design and décor throughout the program.
The 2019 Hosts Global Forum wouldn't have been possible without the Dominican Republic Tourism Board, Lenos Event Marketing Cloud, Specialty Imaging, Xplor, Inc., SpeakInc., Amusement Masters, Coco Bongo Punta Cana, Wet Paint Group, and The Perfume & Cologne Bar.
End-to-End Sustainability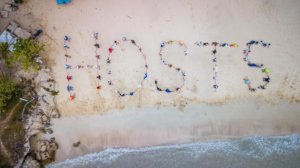 The three-day conference was the launchpad for Hosts to implement the Sustainable Meeting Planning Program (SMPP), an event sustainability management system built to guide planning teams to embed sustainability throughout their entire event in accordance with international industry standards.
Hosts partnered with the Events Industry Council (EIC) to offer their sustainability course in the days leading up to the Hosts Global Forum. After completing the program, only offered by the EIC a few times a year, attendees received their Sustainable Event Professional Certificate.
Hosts also reduced paper and instead heavily leveraged their event app created by Lenos, which featured new security elements including a one-touch emergency button and a mark safe feature. By using the conference as its official sustainability case study and delivering resources that showcased best practices, guests learned firsthand how to initiate sustainable measures in their own event planning activities.
Corporate Social Responsibility (CSR) Give Back to Local Resort Workers
During the opening session, Hosts introduced the Forum's exciting CSR program Boomerang! delivered by the Above and Beyond Foundation. The program was created to acknowledge and award hard-working, frontline hospitality employees who continually go above and beyond in their guest service. Using the event app, attendees had a chance to vote for which five employees of the Paradisus Palma Real, the Forum's host resort, would receive a $2,000 cash award during an end-of-program recognition night.
The winning employees hailed from various resort departments, including housekeeping, bell desk, kitchen and bar services.
Industry Disruption
Once underway, managing disruption in the event industry was at the forefront of the conference. Experts addressed disruption as a positive, narrowing in on what's disrupting our industry today and tomorrow, and outlined solutions to evolve with the changes across the hospitality community. Disruption pillars and keynote speakers included:
Award Winners
During the conference, Hosts proudly announced the winners of their annual Hosts H Factor awards acknowledging DMC members who exceeded expectations in the following categories:
Destination Discoveries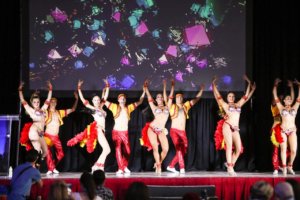 Throughout the conference, attendees discovered the Dominican Republic's spirited landscapes and Latin-Caribbean culture. From exploring mountains, rain forests and crystal-blue waters, to meeting local families and shopping local markets, to an electrifying welcome with a Coco Bongo performance.
At the close, Hosts unveiled the location of their 2020 Hosts Global Forum occurring July 10 – 13, 2020 in Seville, Spain. Nanoek Events,a Hosts Global member has eagerly begun planning the 2020 conference. Want more information? Email us at HostsGlobalForum@hosts-global.com to submit your interest in attending this international event.
Media contact:
Katie Davis
Director of Marketing
760-803-1545
katie.davis@hosts-global.com