FOR IMMEDIATE RELEASE 
Media Contact: Jennifer Carlisle, Senior Director of Marketing  
Email: jennifer.carlisle@hosts-global.com  
Phone: 630-212-9663 
Eventex names Hosts Global's Jennifer Carlisle to the 50 Most Influential People in the Events Industry in the US and Canada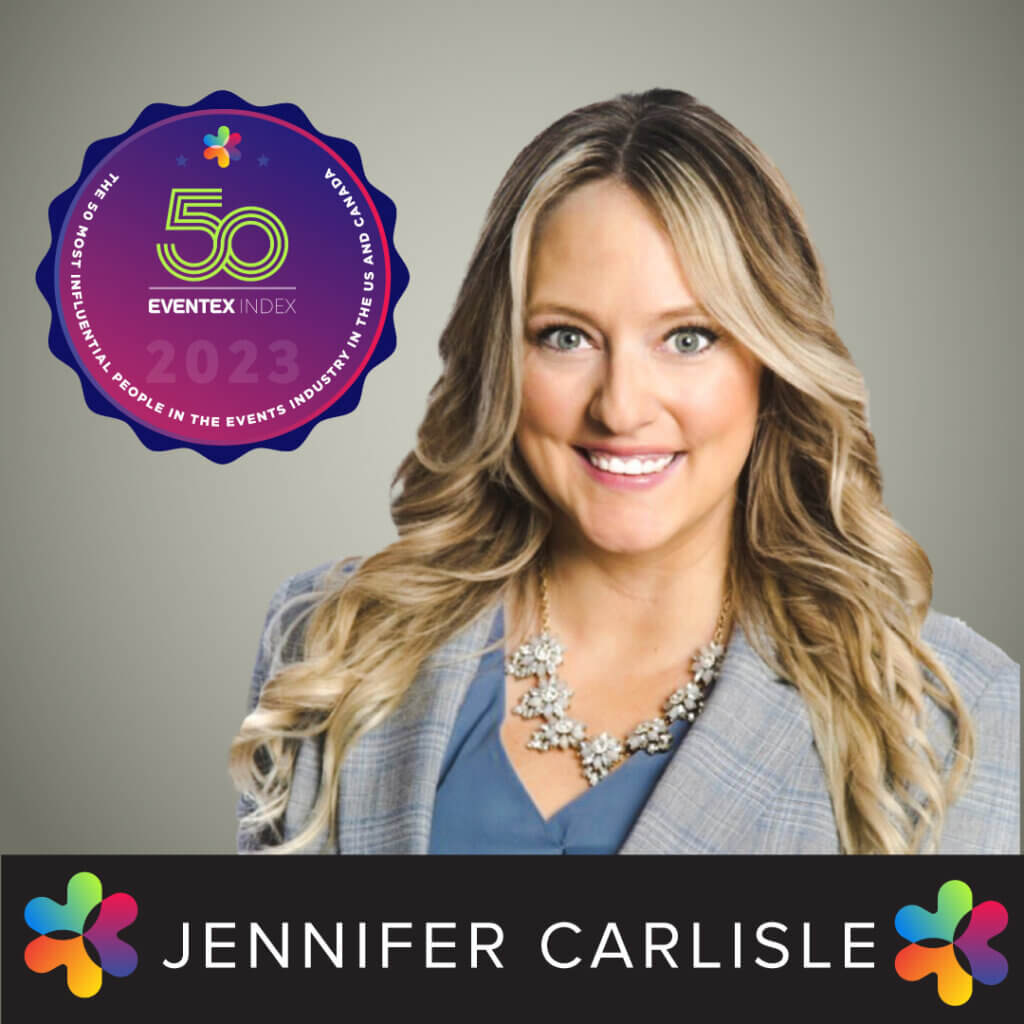 Las Vegas, November 8, 2023 — Hosts Global, a leading destination management company with a 65+ year legacy, is proud to announce that Jennifer Carlisle, Senior Director of Marketing, was named to the 50 Most Influential People in the Events Industry in the US and Canada by Eventex. 
This recognition by Eventex, underscores her outstanding contributions and impact on the events and hospitality industry. The Top 50 list recognizes individuals who have demonstrated exceptional leadership, innovation, and influence, shaping the landscape of the events industry in the US and Canada. 
"This Eventex index shines a light on the most deserving individuals whose creativity, innovation, and achievements keep inspiring and raising the bar, both in their corner of the world and in the industry as a whole. These remarkable professionals deserve recognition and we are honored to facilitate this process. Congratulations to everyone included in the list!" comments Ovanes Ovanessian, Co-founder of Eventex Awards. 
"Jennifer Carlisle's commitment to excellence, innovative approach, and dedication to pushing the boundaries of what is possible have set her apart throughout her hospitality career," said Hosts Global's CEO, Kurt Paben. "Her visionary marekting expertise has not only elevated our organization and global alliance but has also left an indelible mark on the broader community." 
The list is decided entirely by public vote, where the events community first gets to nominate and then vote for those they believe have had the most notable impact on the industry. This year, a total of 830 professionals from 56 countries were honored with an Eventex index nomination, while 21,787 votes were cast to determine the results. Those with the most votes in their respective region made the top 50 list, with their names published in alphabetical order. 
"I am deeply honored and humbled to be recognized as one of the Top 50 Most Influential People in the Events Industry in the US and Canada," said Jennifer Carlisle.  "This achievement is a testament to the incredible collaboration and dedication of our team at Hosts Global and our Hosts Global Alliance. I believe in the transformative power of events to create meaningful connections, and I am committed to pushing the boundaries of innovation in our industry. This recognition only fuels my passion to continue driving positive change and elevating the experiences we create for our clients and the broader events community." 
About Jennifer Carlisle: 
Jennifer's passion for marketing comes from analyzing data to create the right stories, strategies, and journeys that contribute to the bottom line. Her business acumen combined with a love for the hospitality/meetings & events industry is a winning combination that propels her through her professional life. Named the 2020 "Stellar Performer" award winner for Smart Meetings Magazine Women in Meetings Awards and now named one of the 50 Most Influential People in the Events Industry in the US and Canada by Eventex,  she's led the activation of brand, marketing, and digital strategies for organizations large and small coast-to-coast. 
About Hosts Global: 
Hosts Global is an award-winning, full-service destination management company (DMC) with over 65 years of experience. With a presence in more than 300 captivating destinations worldwide, Hosts Global provides unparalleled access to local knowledge and creates legendary moments for meeting and event planners. #LETUSBEYOURHOSTS and discover sophistication and innovation in the world of Destination Management. 
For more information about Hosts Global, please visit hosts-global.com. 
About Eventex: 
Founded in 2009 to celebrate creativity, innovation and effectiveness in the industry, today Eventex Awards is the most esteemed accolade in the world of events and experiential marketing, a true symbol of excellence. 
Congratulations to Jennifer Carlisle for this well-deserved recognition! We look forward to witnessing her continued influence and impact on the events industry. 
###