This we know is true: Nothing can replace face-to-face interaction.
Until just recently, your upcoming meeting or event was locked in and slated for in-person success. Then, breaking COVID-19 news brought unprecedented challenges and restrictions on gatherings. So, you jumped into action, as you do. Now for the first time ever, your group gathering is being held virtually. No handshakes. No mingling and networking. No undivided attendee attention.
The good news: Your participants are still thirsty for connection and exclusive content. Better yet, they're more than willing to jump on their laptops remotely and 'attend' online.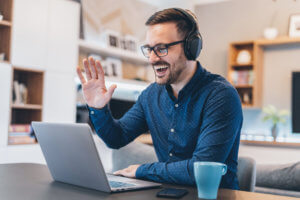 Most likely they'll hunker down in spare rooms or kitchen tables. Not the most ideal environments (for you or them) to be enthralled and engaged. Your biggest hurdle isn't the technology – it's the distractions.
It will be more vital than ever to capture (and hold) their attention and keep the energy high. Simply providing a keynote speaker via web cam or sharing a presentation deck won't cut it for this new, distractible audience.
So, what can you do?
Start here
Our brand engagement partners at August Jackson break down 5 Design Tips for Great Virtual Events on their blog. Here you'll learn some ways to drive online attendance, plus how to entice and excite your participants both on- and off-screen.
Like this content and looking for more? Check out this other helpful article by August Jackson: How to Create Engaging Presentations in a Virtual Space.
As always, we are here for you. Need to brainstorm some ideas on how to keep your attendees' spirits high and engaged during your online meeting? Let's chat.