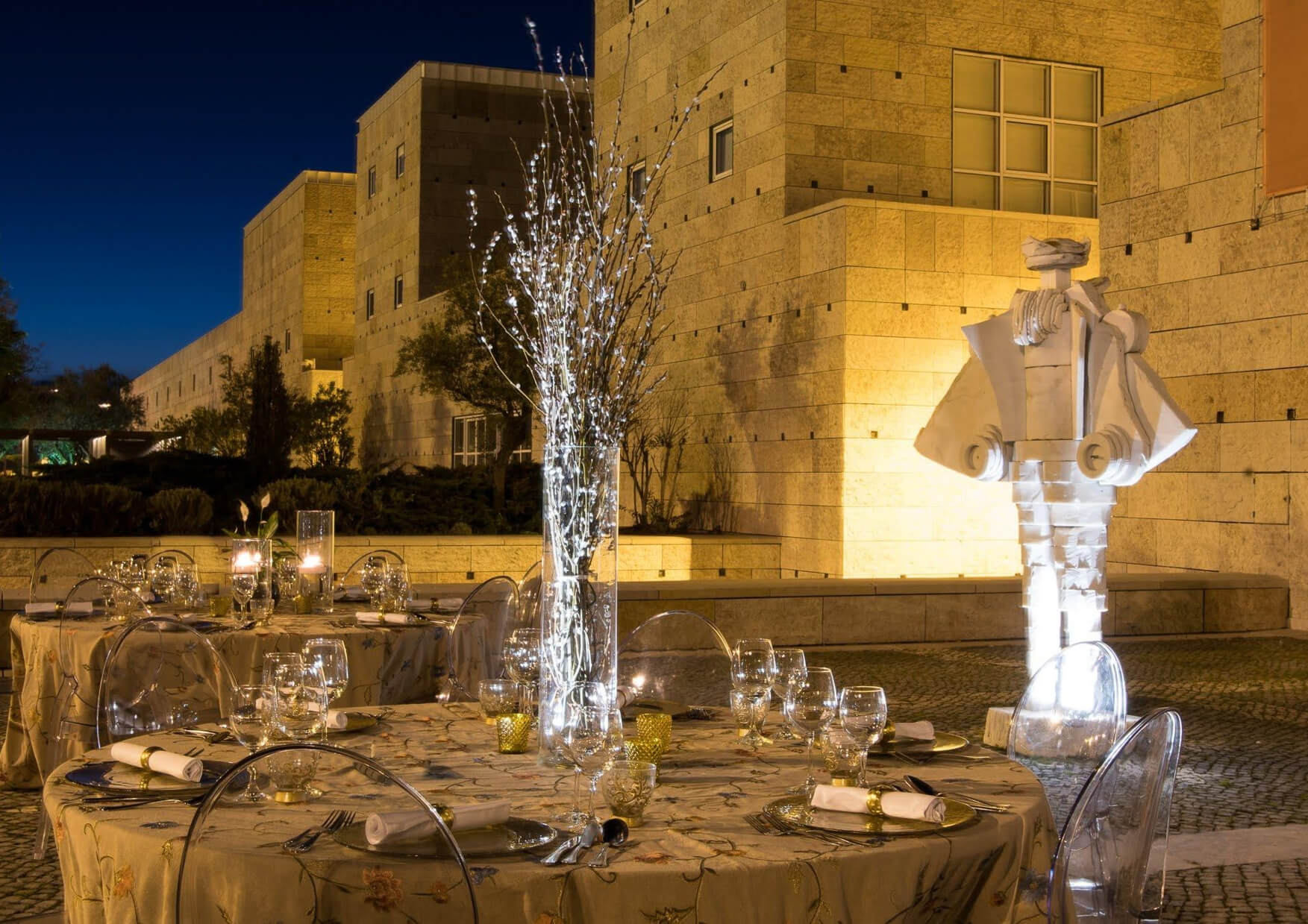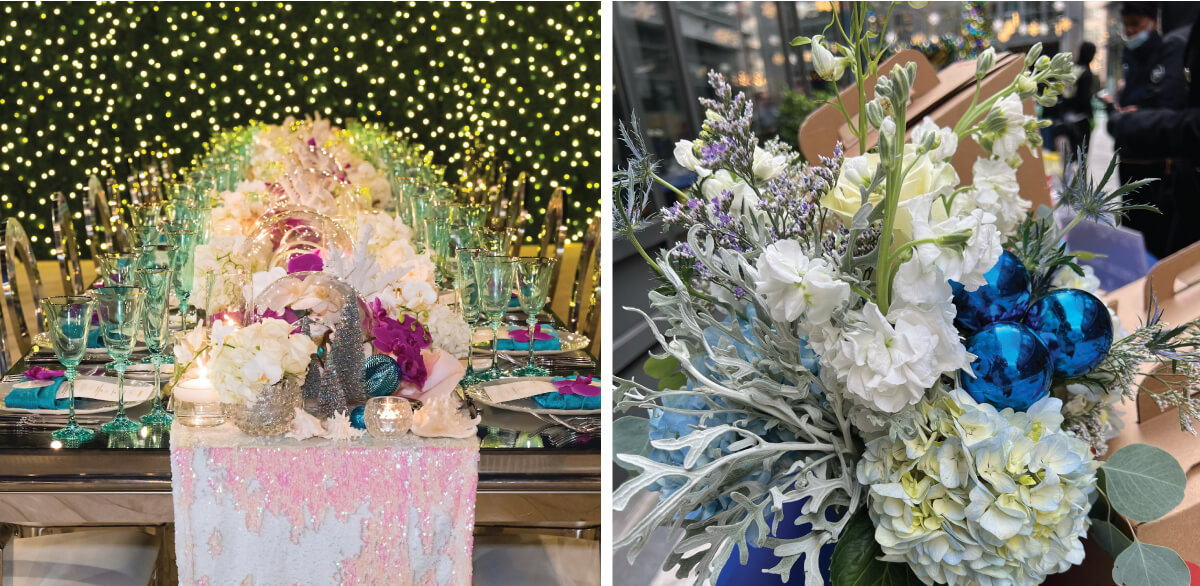 1st Image: Portugal Travel Team  |  2nd Image: COTC Events  |  3rd Image: Roberts Event Group
Walking in a Winter Wonderland…
We are back for another Hosts Global "Design Edition"! If you are new here, this is where we get to talk about all design trends, color schemes, extraordinary entertainment, unexpected culinary treasures, and more of what goes into an event. As we say, you know, the fun stuff.
Winter can often be overlooked as a favorite season. Colder temperatures might not be a fan fave. However, winter can be a beautiful and majestic season with its own unique charm and character. One of the most iconic and captivating aspects of winter is, naturally, the snow! The sight of snow-covered landscapes can be truly mesmerizing, with everything looking pristine and white like a fresh blank canvas. Snowflakes falling from the sky, the crunching sound of snow underfoot, the sparkle that the snow has in the sun or moonlight. It just has a mystical feel. A little wonderland. Crisp, chilly air invigorates and energizes, and gives a nostalgic vibe of being a kid and remembering the best words ever uttered on a cold, chilly morning "Snow Day". So how do take that feeling and recreate it in an event? Bring the mystical and wonder of winter and combine it with the fun feeling of being free to explore and play? And how do you play with a winter theme in maybe a not-so-winter climate? The answer? Decor! Colors! Food! Entertainment! This month we are diving into winter themes that can work no matter what your climate is. So let's see the 'chill' factor our Hosts Global Members brought to their events.
And while white sand might be a little different than white snow, we are here to show you that event themes – when done right, can be pulled off no matter where the destination is.
Hosts Global Member Portugal Travel Team did a wintery tablescape in an outdoor setting that was as chic as it was cool. COTC Events proved that winter florals and lights can work in a warm destination like Miami. And Robert Events Group designed floral elements that screamed winter with its color scheme.




1st Image: Hosts Washington DC  |  2nd Image: Juice Studios  |  3rd Image: Portfire Events  |  4th Image: Experience Holy City  |  5th Image: Portugal Travel Team  |  6th Image: Portfire Events
Winter Whites
White, crisp, clean decor evokes chill, literally and figuratively. And by using complementary colors and textures, you can create a beautiful and cohesive winter theme that's both elegant and inviting. You can pair white decor with silvers and metallics for a winter vibe. From frosted greens to ice blues, these supporting colors will make your winter theme pop. Adding a touch of sparkle in your decor can make your event look made for an Ice Queen (or King).
Hosts Washington DC created a decorative white bar that is both functional and a focal point. Juice Studios paired white hydrangea bouquets with metallic linens, mercury glass candles, and crystal vases that give this table the perfect winter set-up. Experience Holy City gave their winter decor a more muted look, which had a total boho winter moment. Portugal Travel Team kept their table classic with whites and a touch of ice blue. Baby, it may be cold outside, but Portfire Events' trendy igloo setup let guests stay warm while still enjoying the outdoor winter landscape. They brought in winter fabrics like velour to keep that igloo warm and chic.

1st and 2nd Image: Portugal Travel Team  |  3rd, 4th, and 5th Image: Juice Studios  |  6th Image: Hosts Texas
Cozy Season…
Creating warm and cozy spaces with couches and chairs in plush fabrics, rich leathers, and smooth velours. Winter-esque throw pillows, fur throws, and sparkly decor really sets that aprés ski feeling.
Hosts Global Member, Portugal Travel Team, showed what a chill winter event looks like – pun intended! Juice Studios knew how to make winter a bit warmer inside. They used sleek white couches at one venue, and a retro cabin feel with saddle leather couches, wood accents, and luxurious faux fur throws and pillows at another. Hosts Texas delivered a winter wonderland with white twinkle trees and leather couches that sported silver hued pillows that made this event cool as ice.




1st Image: Spectra  |  2nd Image: Juice Studios  |  3rd Image: Conceptours  |  4th & 5th Image: Alaska Destination Specialists  |  5th Image: Juice Studios  |  6th Image: Portugal Travel Team  |  7th Image: Empire Force Events  |  8th Image: Portugal Travel Team
Let There Be Light…
Ambiance is everything. Ok, maybe not everything, but certainly a very important aspect of any event. Creating a wintery ambiance with uplighting focuses on cool blue and white tones that mimic the colors of snow and ice. Brrrrrr!
Hosts Global Member, Spectra combined blue lighting with candlelight – which gave off a cool- yet warm setting. Juice Studios used icy lighting and paired with white tables for the ultimate cool decor.  Conceptours Greece had their lighting bouncing off the pillowy tent ceiling, which gave off a snow cave vibe. No one knows winter quite like Alaska Destination Specialists. They brought the outdoors in and lit up the room in blue lights with white snowflakes and glowing bars and podiums with glacier images. Juice Studios had bar that looked cool as ice with beaded icicles surrounding it.  Portugal Travel Team, showcased blue uplighting with white lit tables – glow baby glow! And Empire Force Events also used glow tables in a chilly blue tone.




1st Image: Spectra  |  2nd Image: Hosts Washington DC  |  3rd Image: Portfire Events  |  4th Image: Hosts Washington DC  |  5th Image: Lafayette Group  |  6th Image: Hosts New Orleans  |  7th Image: COTC Events  |  8th & 9th Image: Barefoot Holidays  |  10th & 11th Image: Hosts Chicago  |  12th Image: Juice Studios  |  13th Image: World Events Consulting (WEC)  |  14th Image: Operation Altitude

Be Mine
Winter might be well known for its cool tones like blues and whites- but when February hits everyone starts crushing on those reds and pinks. Valentines Day influences color choices in this chilly month because they represent love, passion, and romance. Are you in love… with the pinks and reds? Or are the blue ice castle tones putting ice in your heart?
Hosts Global Member Spectra is making us positively blush with this beautiful blush colored centerpiece they used. Hosts Washington DC displayed some most festive and beautiful rose arrangements. Portfire Events created an elegant table for an upscale soirée. Lafayette Group made us fall in love with Monaco. Hosts New Orleans made guests crush on these beautiful tables. COTC Events combined roses with fruit for a flirty and tasty centerpiece. Barefoot Holidays had a red theme playing contrast to blues of the ocean. Hosts Chicago lit up the Museum of Broadcasting with bold reds and warm lights. Juice Studios hung pink peonies for a focal piece. Hosts Southern California warmed us up in the sun with a beautiful centerpiece. World Events Consulting set the mood with their centerpieces that dripped with white flowers in a room all aglow in pink.  And Operation Altitude got the red and pink memo on this stunning display
---

1st, 2nd, 3rd, & 4th Image: COTC Events  |  5th Image: Experience Holy City  |  6th & 7th Image: E2 Destination and Event Management |  8th Image: Cacique

Winter… But Make it Warm

Just because many of our Hosts destinations might not reside in the north with snowy, cold winters – doesn't mean they don't know how to put on a 'cool' winter event! What's better than spending the winter on a beach or warm weather climate? Snowbirds unite!
Hosts Global Member COTC Events proved that winter is cooler in Miami. Experience Holy City combined light linens with gold accents and dark flowers for this moody tablescape. E2 Destination and Event Management was as light as a snowflake in their whimsical set-up- and their bottles' dress code was on-point. Cacique paired white flowers with red linens and lighting that was complimented by the glow of candles.

---

---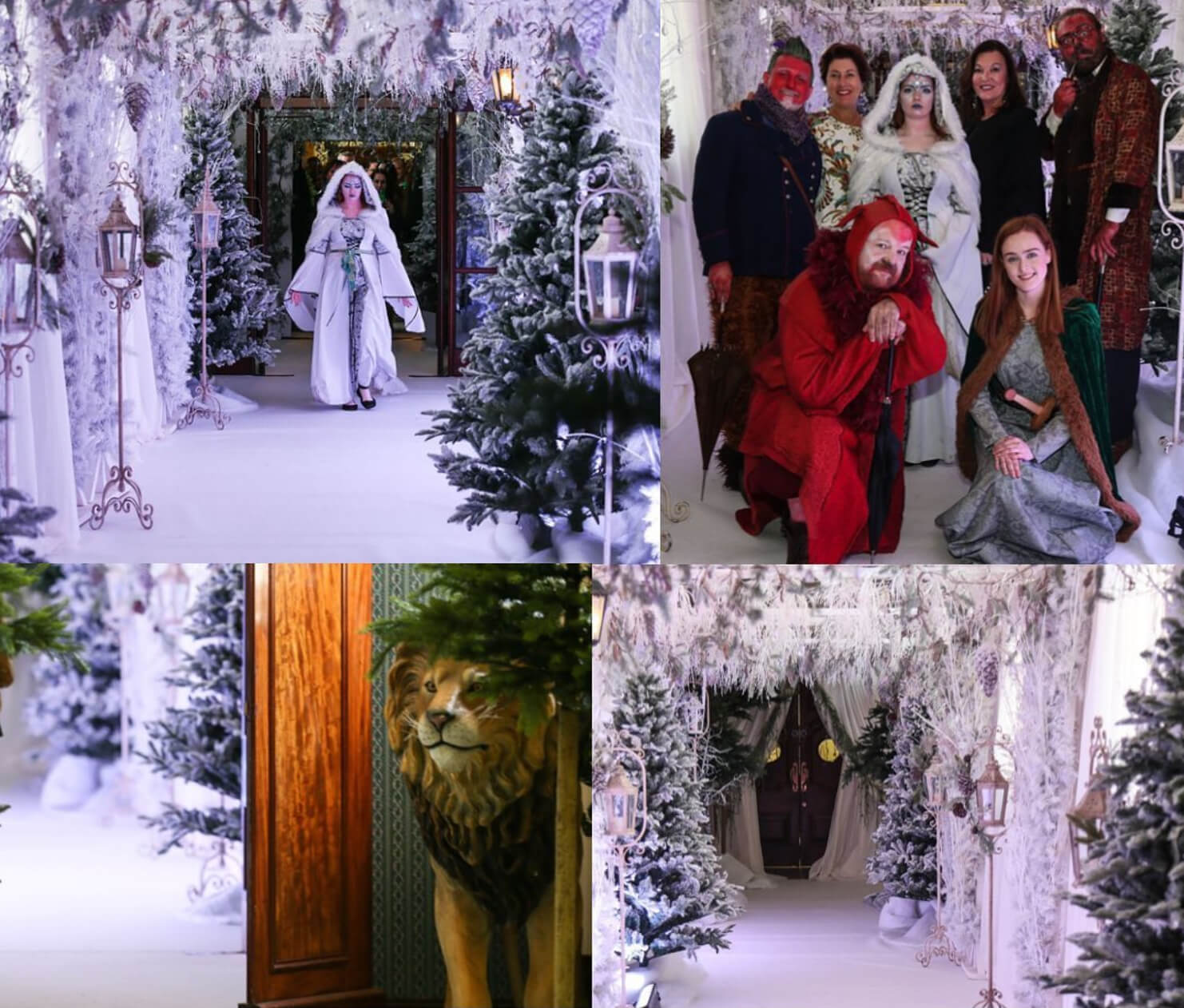 All Images: Moloney & Kelly
A Winter Classic…

Hosts Global Member Moloney & Kelly recreated an iconic literary adventure by creating "The Lion, the Witch, and the Wardrobe". Total fantasyland.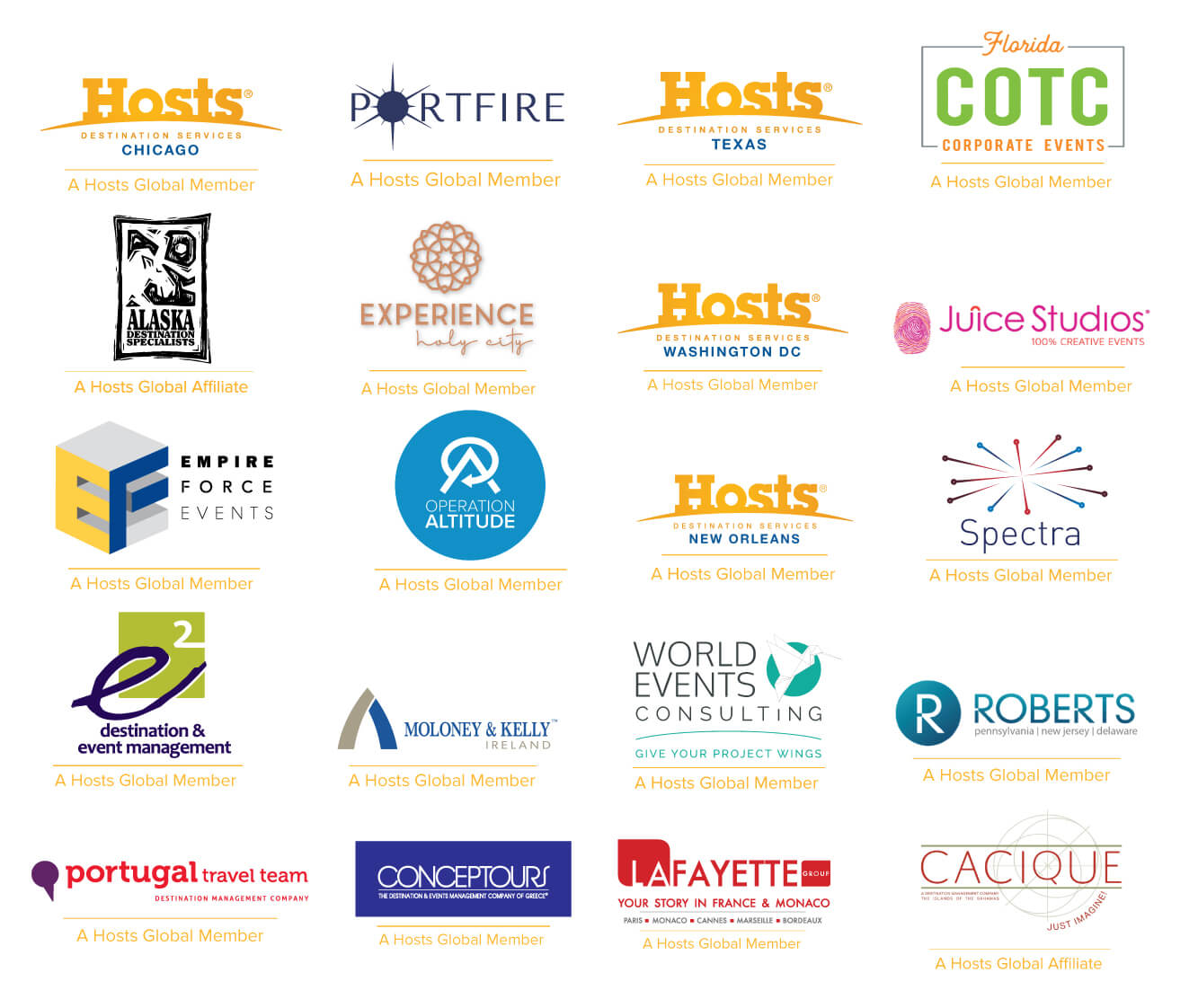 Thank to you to our contributing Hosts Global Members for a wonderful year of ferociously creative event design. Stay tuned in 2023 for more Design Editions featuring more members and beautiful decor and event tips from our Ferociously Creative team!

What's Next for Hosts Global?
We have lots more announcements coming soon!  Follow us and see.