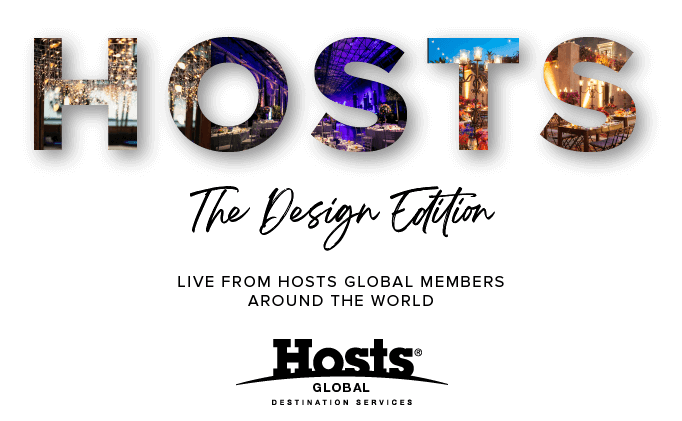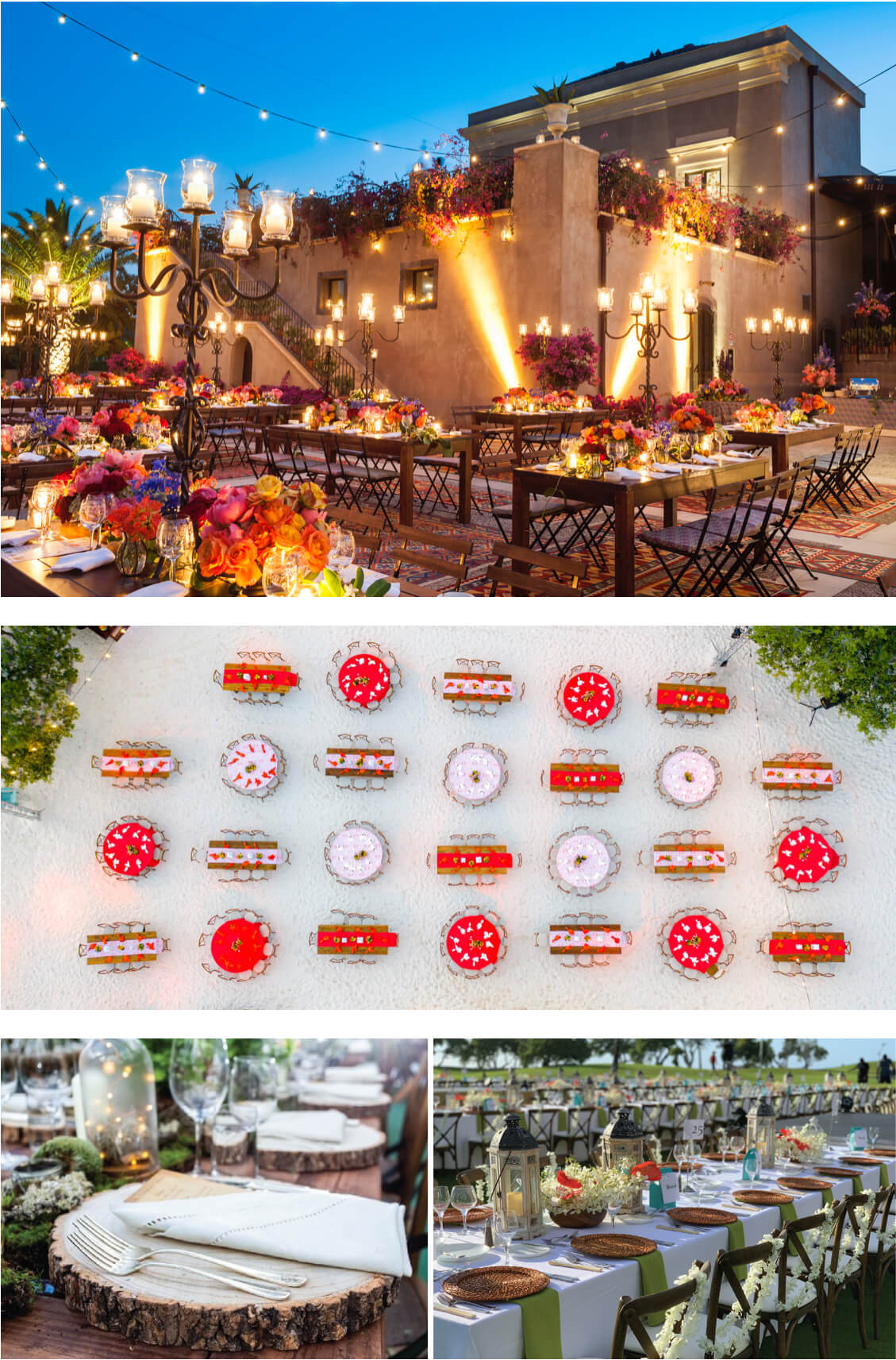 1st Image: 4th Dimension Italy  |  2nd Image: DePalm Tours  |  3rd Image: Moloney & Kelly | 4th Image: Island Style Innovations
SWEET, SWEET, SUMMERTIME
Welcome to Hosts Global's "The Design Edition". Here we get to talk about all design trends, color schemes, extraordinary entertainment, and more of what goes into an event. You know, the fun stuff.
This month we are celebrating the vibe of sweet summertime with outdoor event decor and venues that sizzle like the temperatures. There is a feeling that summer brings on. Maybe it's the heat, or maybe it's the longer days and balmy nights, but things just seem to slow down in summer. Sitting outside, taking a break and getting some Vitamin D with a cool beverage brings on a feeling of chill that only summer creates. Let's take a peek at how some of our members create that endless summer days (and nights) feeling through outdoor events that make Mother Nature the backdrop.
4th Dimension Italy, creates an Italian reverie with their candle lit outdoor event giving off a soft glow all around. DePalm Tours' event is looking good from all angles, even above! Moloney & Kelly uses natural elements such as tree bark and moss to really make their outdoor tablescapes blend in with their surroundings.  With Island Style Innovations, a  luau style setting complete with fresh leis, rattan chargers, and native botanical centerpieces bring not only beauty to this decor set up, but also display some of Hawaii's culture in this gorgeous outdoor event.

1st Image: Hosts Southern California |  2nd Image: COTC  |  3rd Image: Group Services Inc | 4th Image: Hosts Southern California
MODERN DAY PICASSO 
Color schemes to an event are like paint to a canvas. Colors can draw inspiration from its surroundings, company colors, themes, etc. And it can create the inspiration for decor, entertainment and even food and beverages. From the bright and bold to the soft and neutral and the color spectrum in between- color options for events are endless.
These Hosts Global Members, Hosts Southern California, COTC, and Group Services Inc, pulled inspiration from sunsets, the ocean, and even landscape surrounds with these bright clay, orange, and turquoise hues.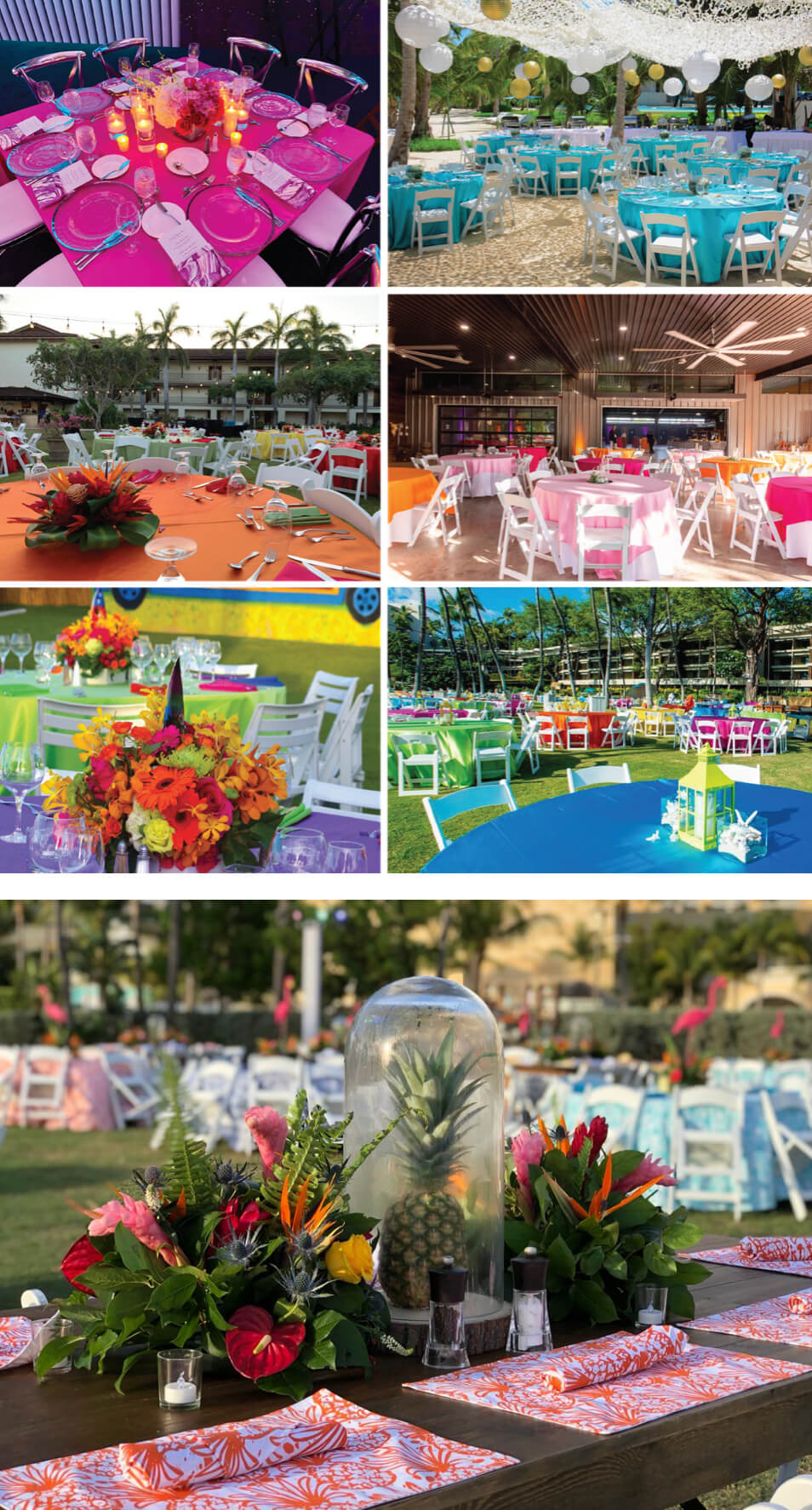 1st Image: COTC  |  2nd Image: IVI DMC  |  3rd Image: IVI DMC | 4th Image: Hosts Texas | 5th and 6th Image: Island Style Innovations. |  7th Image: Cacique
These bright and bold events are popping with color. Neon hues will always be a summer staple. COTC, IVI DMC, Hosts Texas, and Island Style Innovations are shining as bright as these colors with their neon colored decor.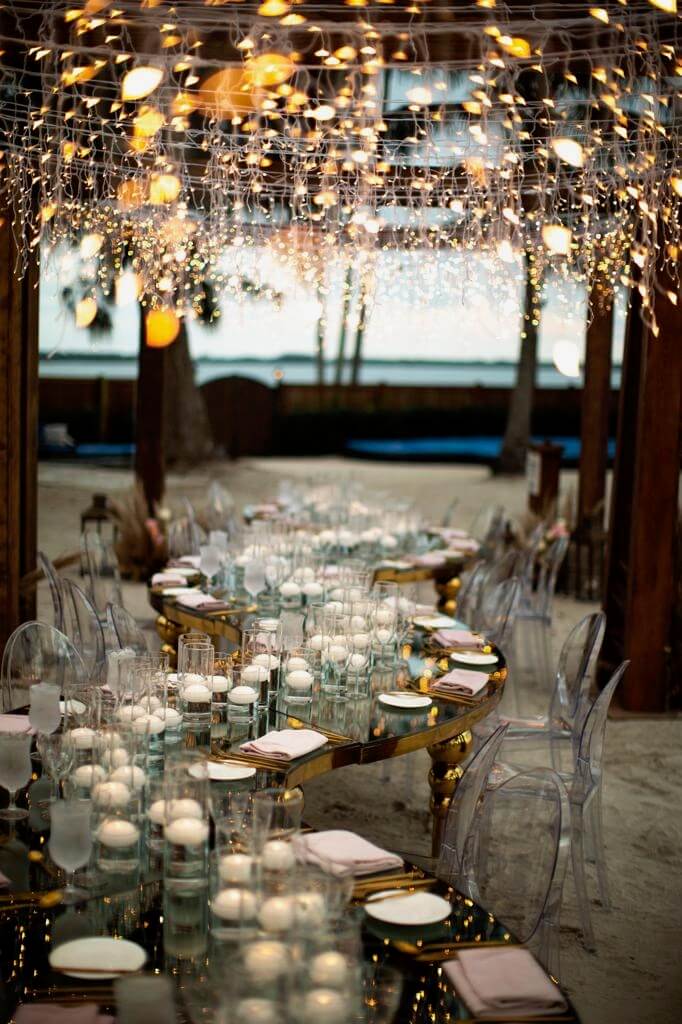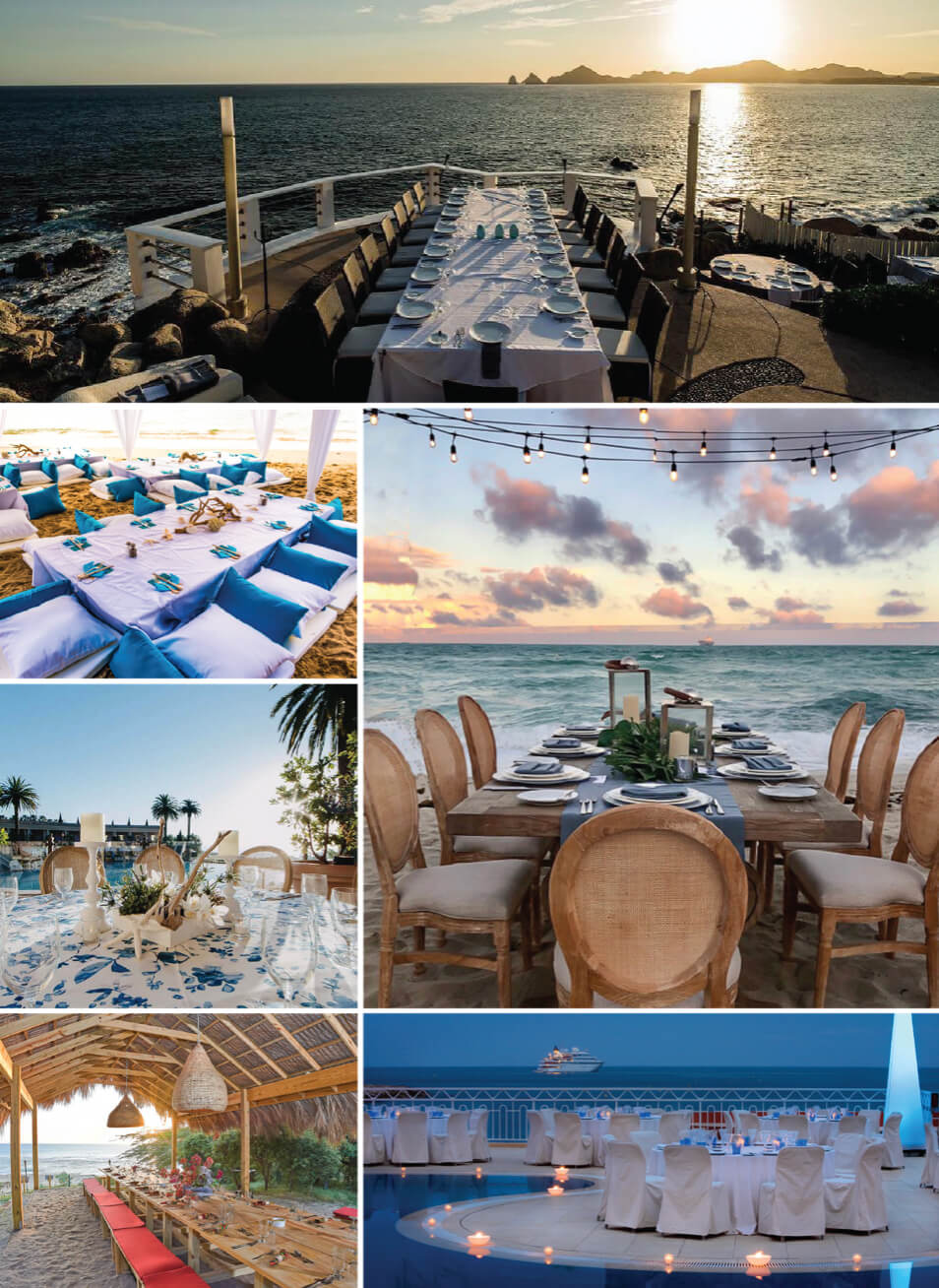 1st Image: COTC  | 2nd Image: IVI DMC  |  3rd Image: Barefoot Holidays  |  4th Image: Hosts Southern California  |  5th Image: COTC  |  6th Image: Glamour DMC  |  7th Image: Lafayette DMC
VITAMIN SEA
Summertime + Sea, they are the best of friends. Seaside events bring a certain magical element don't they? Ocean in the distance, waves crashing melodically, and a color palate of blues, browns, white and creams, and maybe a splash of color to match some local flowers. Nautical palates are a classic for a reason. Clean and crisp, they take their cues from nature.
COTC's seaside event brings a water-like curved table and twinkle lights for glow. Toes in the sand all the way for these gorgeous set ups. IVI creates views for days being right on the water – this event will be all for the gram. Glam picnic is the new chic event hitting the beaches with style. Hosts Southern California brings the seaside table side with it's ocean-inspired centerpieces. You can practically hear the steel drums looking at this table nestled under a thatched roof with the ocean steps away for Glamour DMC's beachy event. And Lafayette's guests are surrounded by water and tranquility being pool side and ocean side in Monaco. Who's ready to hit the beach for their next event?
1st Image: Experience Holy City | 2nd Image: Experience Holy City  |  3rd Image: Portfire Events  | 4th Image: Cacique
And what about the food? Seaside events have the opportunity to pull a local and sustainable meal of fresh seafood paired with local spices, herbs, fruits and vegetables. Our east coast Hosts Global Members, Portfire Events and Experience Holy City, delight their guests with their clam bakes and shrimp boils while our Bahamian member, Cacique, wows with fresh salmon.
1st Image: Roberts Event Group
LET THE SHOW BEGIN
Outdoor events give way to a whole new level of ferociously creative entertainment. From stages to stilts- your guests will be wowed with live performers, concerts, and living art that takes flight outdoors.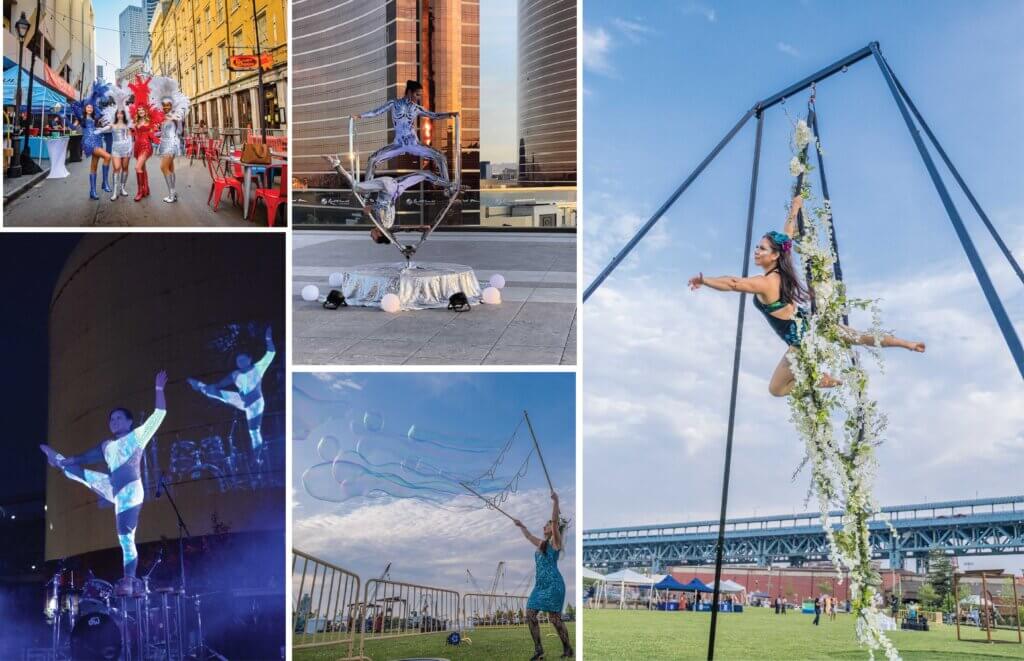 1st Image: Hosts New Orleans | 2nd Image: Hosts Las Vegas  |  3rd – 5th Images: Roberts Event Group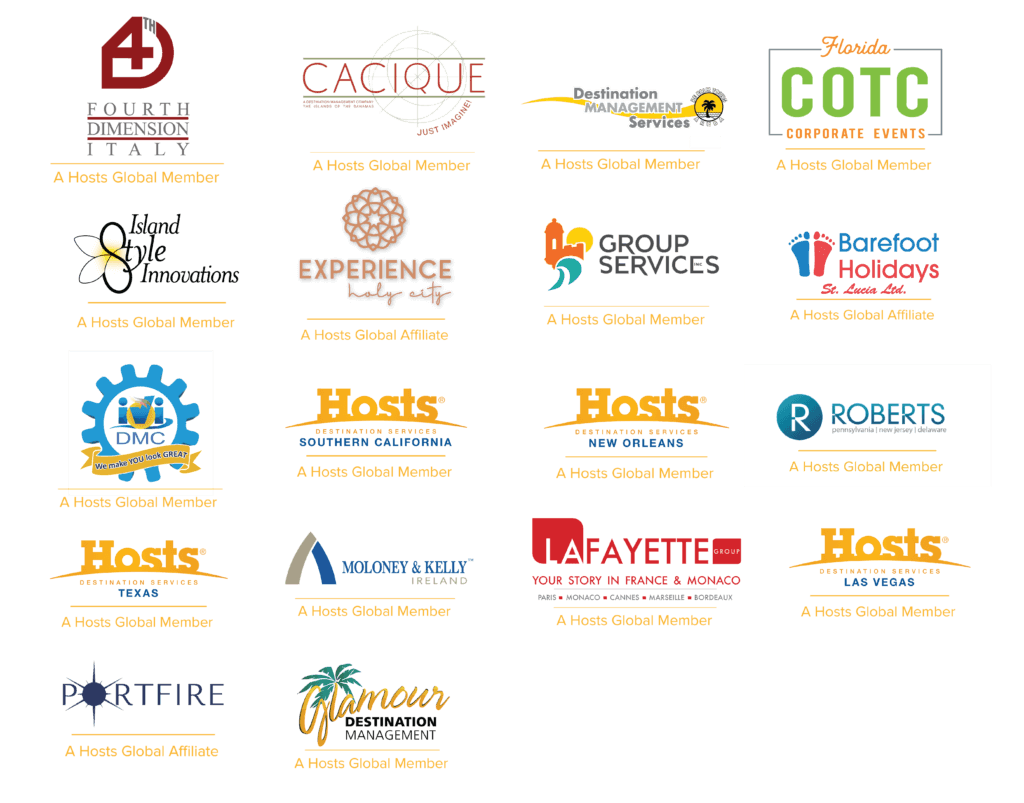 Thank to you to our contributing Hosts Global Members. Stay tuned for the next Design Edition featuring more members and beautiful decor and event tips from our Ferociously Creative team!