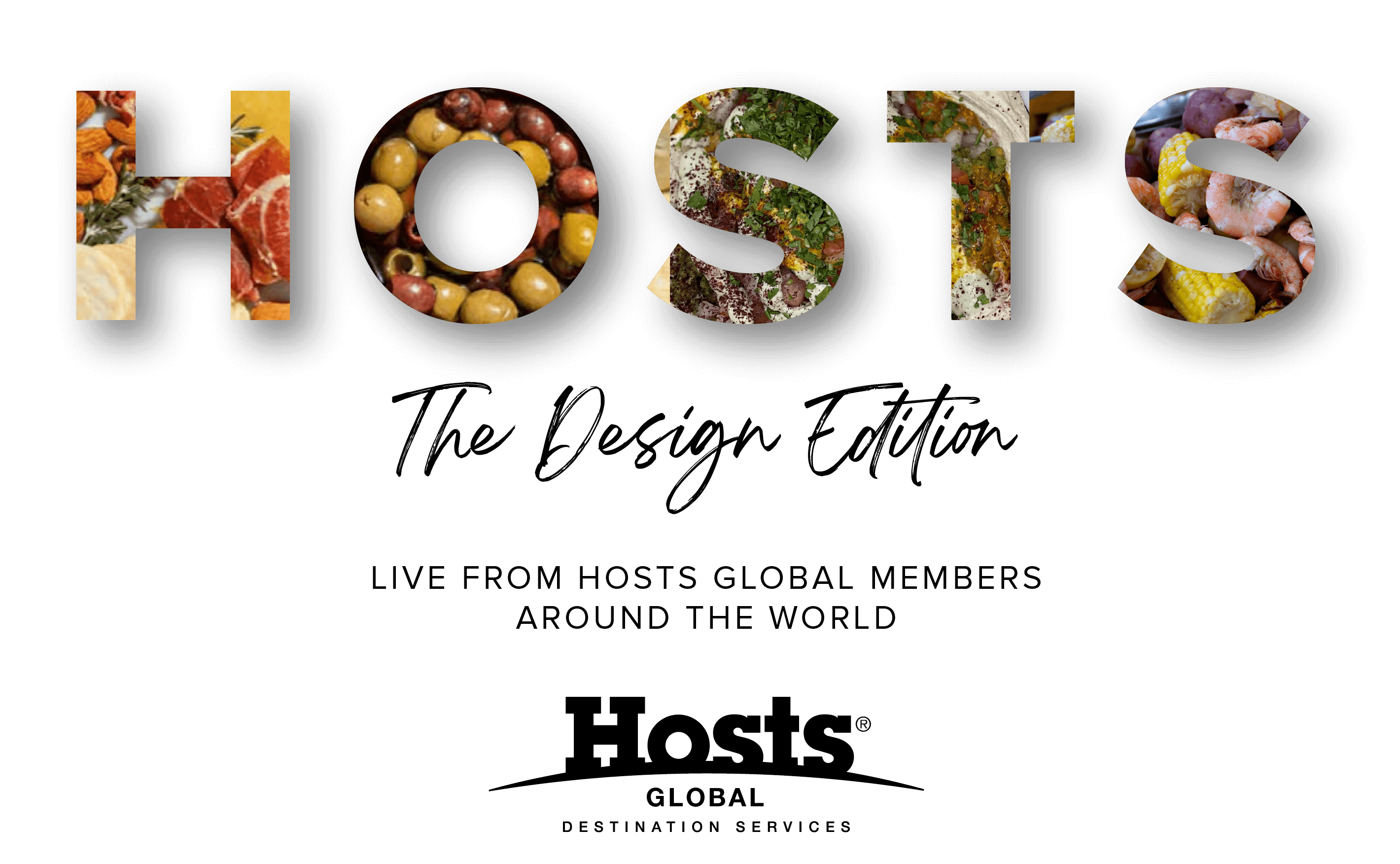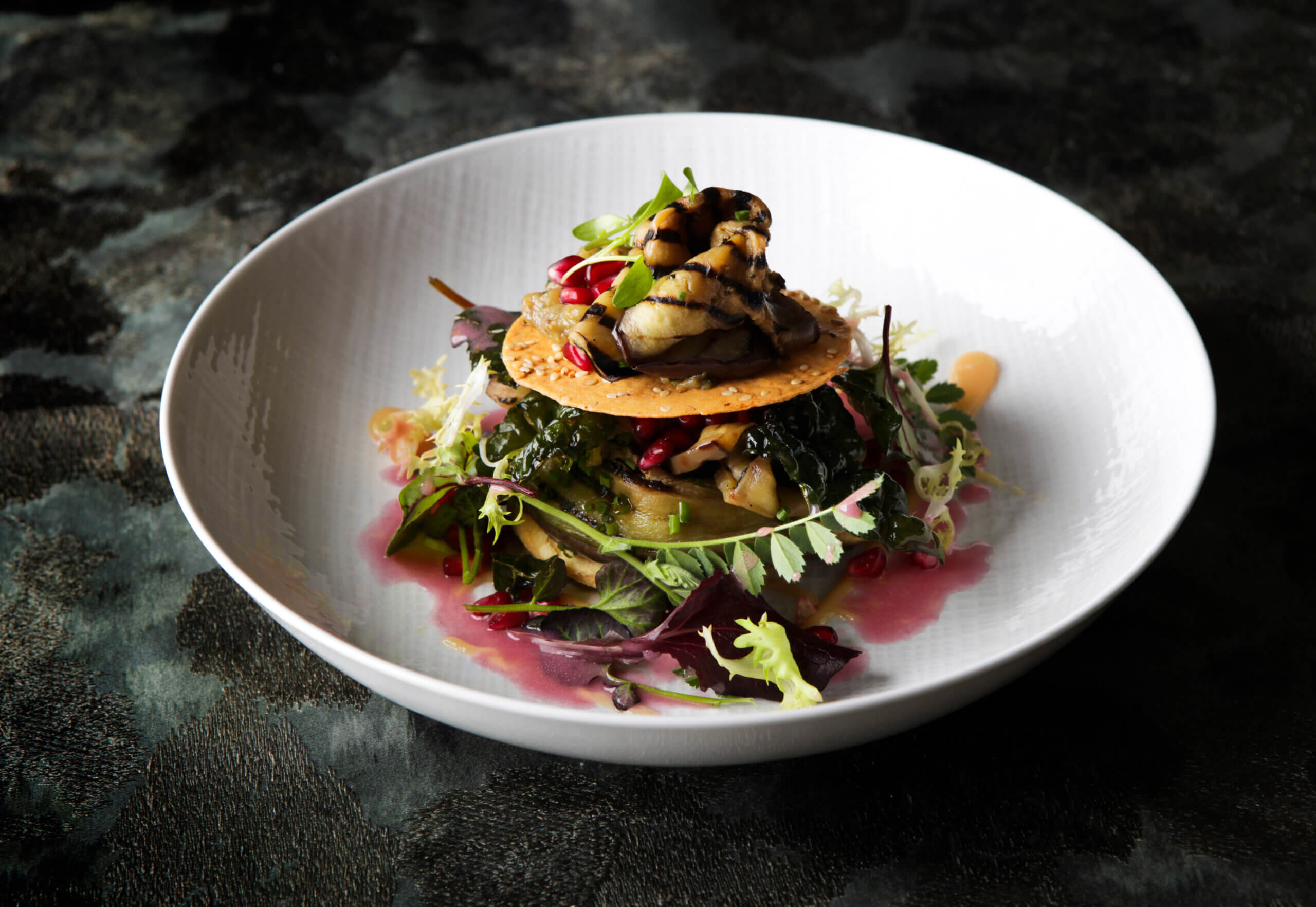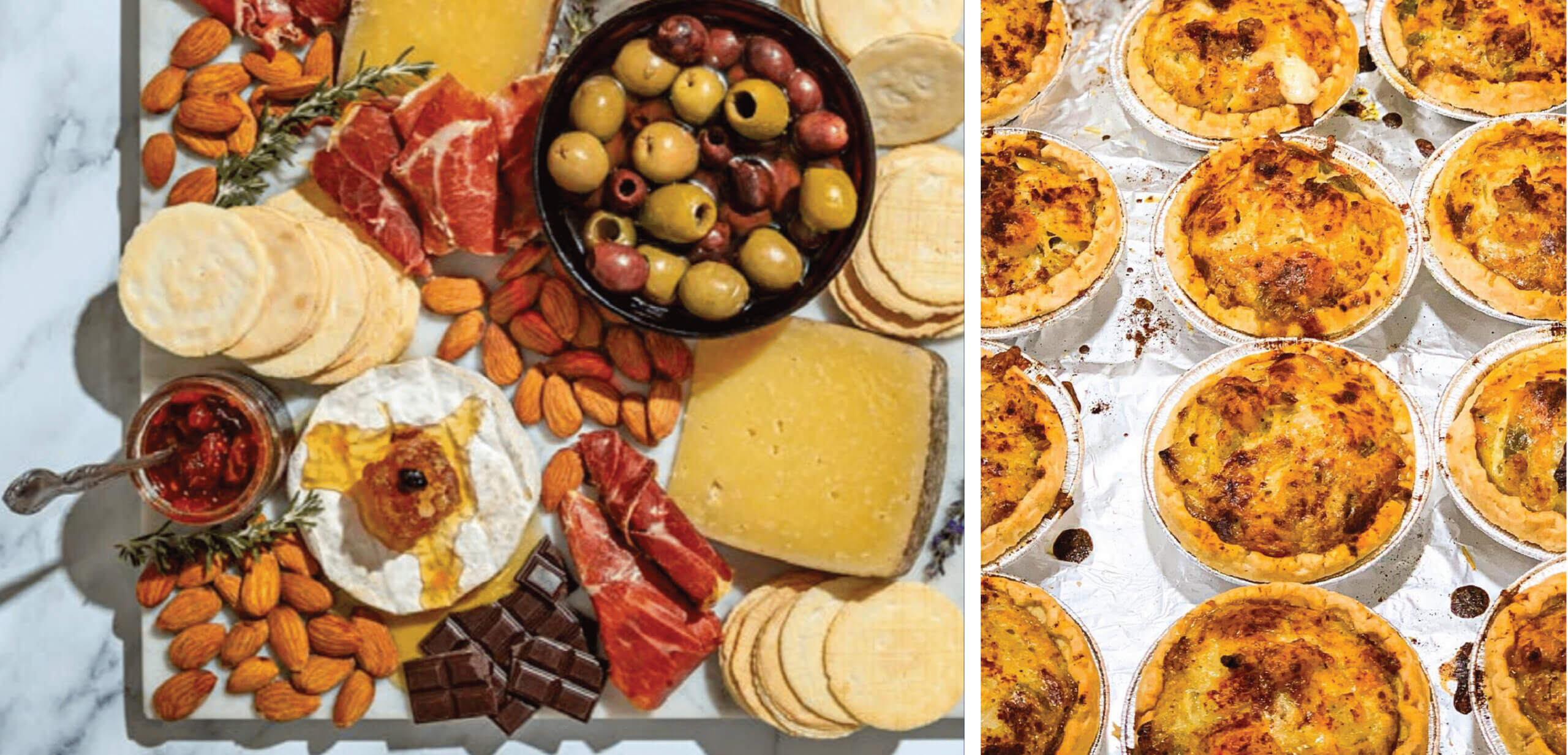 1st Image: Colours of Malta  |  2nd Image: COTC  |  3rd Image: Experience Houston
First, We Eat…
Welcome to Hosts Global's "The Design Edition". Here we get to talk about all design trends, color schemes, extraordinary entertainment, unexpected culinary treasures, and more of what goes into an event. As we say, you know, the fun stuff.
As Mary Frances Kennedy Fisher, the great American food writer, said "First we eat, then we do everything else". This month we are looking at what some say is arguably a top 3 for any event- the food and drinks. Lively libations, tasty temptations, and mouthwatering meals – trendy food and drinks with a cool factor like locally sourced ingredients, next level presentations, and incorporated entertainment are here to wow, and have you trying not to drool in front of your colleagues. Food is the more silent hero of every event.  Decor and entertainment can be on point, but if the food is just meh- then that's what people will remember. All the details from the ingredients to the presentation, to the taste – each step is a vital part of the culinary experience and journey as well as the success story of your event. And the food and drinks most definitely fall in line with an event theme too. It's unlikely a gala would serve smoked brisket with 'slaw', or a picnic themed event serve Japanese Wagyu Ribeye with a truffle foie gras. Staying in tune with food and drinks selections will carry your theme throughout the event. Let's see what our Hosts Global Members cooked up at some of their events.
Colours of Malta uses a bowl as a canvas with this beautiful and delicious dish. Charcuterie boards are the popular kids at the party- everyone seems to hang around them. And Experience Houston is serving up some good ol' Texas cooking' with their mini potpies.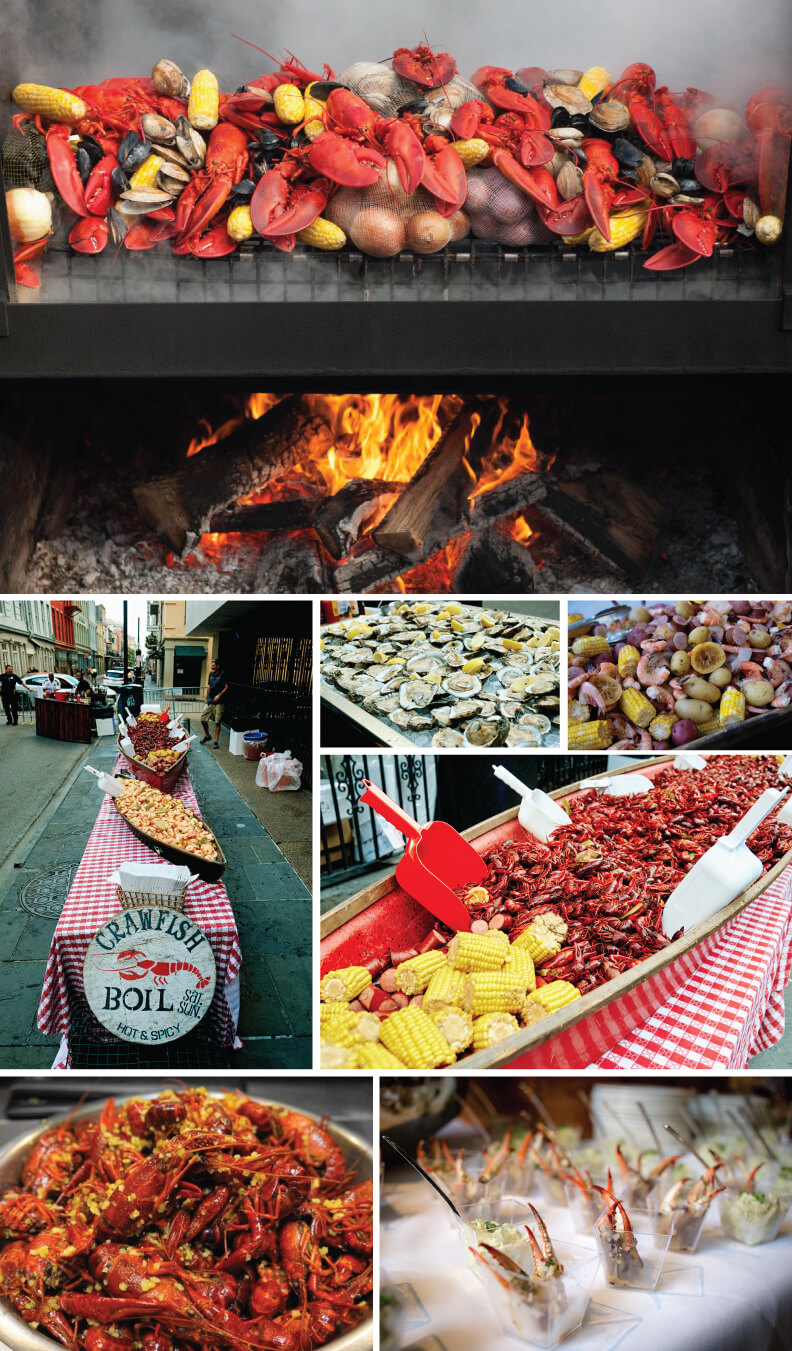 1st Image: Portfire Events  |  2nd and 3rd Image: Hosts New Orleans  |  4th Image: Experience Holy City  |  5th Image: Hosts New Orleans  |  6th Image: Experience Houston  |  7th Image: Hosts New Orleans
Farm to Table; Fish to Fork

Locally sourced ingredients are not only all the rage in mindfully curated meals – it's also a great sustainable practice for lowering the carbon footprint of an event by using local ingredients that don't have to travel far. Not to mention, they put the 'F' in FRESH.
Lobster bakes, crawfish boils, lowcountry boils, oyster roasts – you can practically hear the waves crashing when these feasts roll out. These Hosts Global Members know that 'when in Rome' or rather -'when by the sea', fresh seafood is hard to beat. Hosts Global Affiliate Portfire Events displays a quintessential Maine feast- the Lobster Bake. Hosts New Orleans always adds a little "Lagniappe" to their crawfish boils with some roasted oysters and crab claws. Experience Holy City's Lowcountry Boil, which is a classic Southern recipe famous along the South Carolina coast, combines shrimp, sausage, corn and potatoes and will have guests speaking with that sweet southern drawl when asking for seconds. Experience Houston puts their own spicy spin on a crawfish boil – or "Mudbugs" as the Texans say.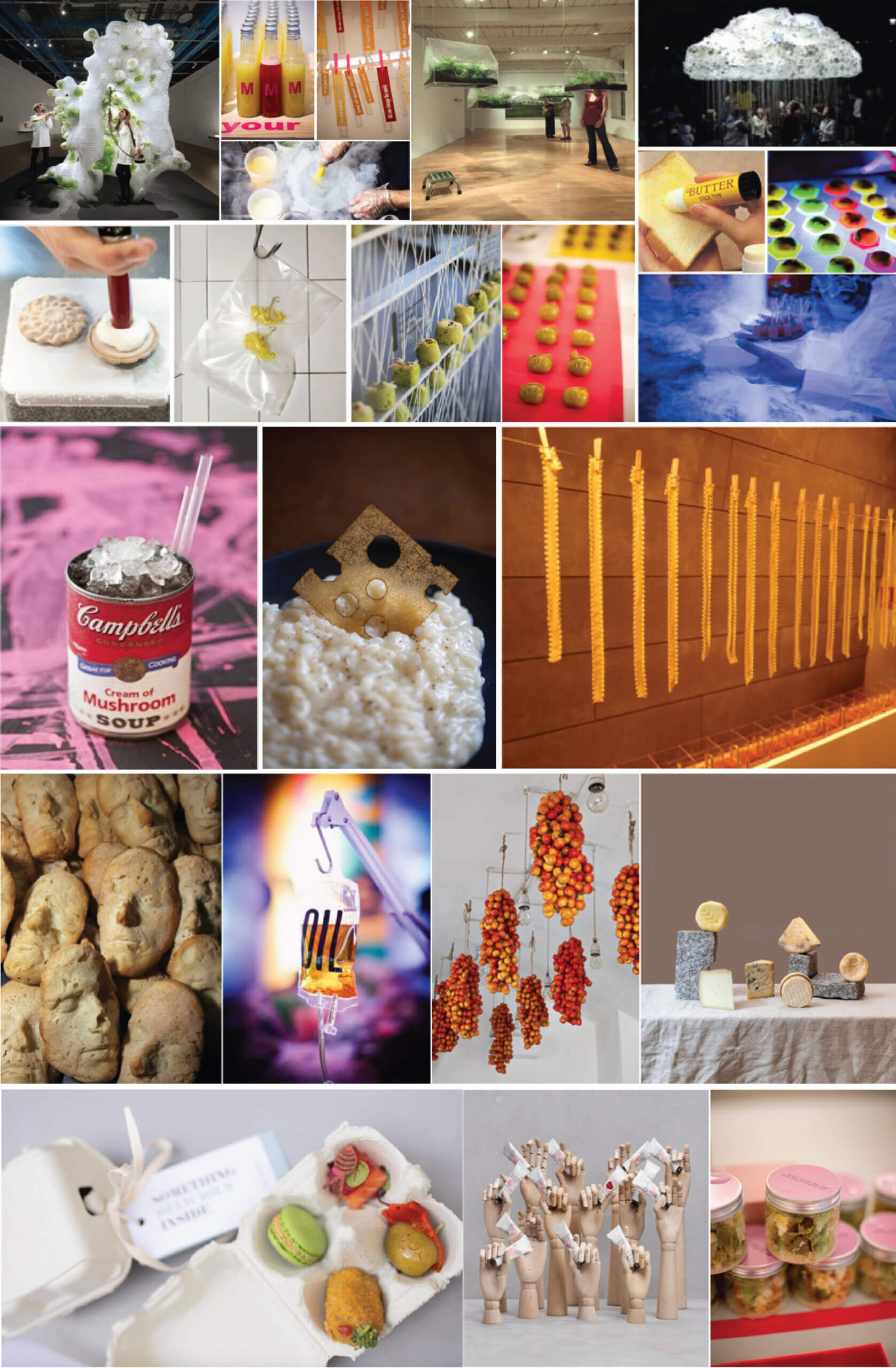 All Images: Spaintacular
Eat My Art
There is no question that food can bring an artistic look and feel to an event…. but what about as an interactive art display? Hosts Global Member, Spaintacular, gave FEROCIOUSLY CREATIVE offerings of "Eat My Art", a visual gastronomic experience, for an event that took food to an entirely different level. They offered food being served in a 100% recyclable, compostable format, all tableware was shredded onsite and mixed with soil that was planted in pots as trees and used as centerpieces. The next day they were planted at Can Ollen de la Guardia, an area close to Montserrat mountain affected by fires that has been exposed to desertification.
Bread sculptures, crunchy engraved vegetable sheets, cocktail CMYK, foie parfait and croquette curtains, Mafalda pasta with nuts & pistachio pesto on clotheslines, butter sticks (think glue sticks), sponge cakes with flavor tubes, nitro stamped desserts… Creative. Sustainable. Delicious. Mind-blowing.

1st Image: Hosts Las Vegas  |  2nd Image: Hosts Texas  |  3rd & 4th Image: Hosts Chicago  |  5th Image: e2 Destination and Event Management  |  6th Image: Hosts Las Vegas  |  7th Image: Hosts Chicago

Interactive Entertainment + Food

Maybe it's just us, but we are always here for ferociously creative entertainment that pairs with food. Avant Garde displays that leave you guessing, "How did they come up with this?". Wine walls, champagne ladies, wearable tables- all these fun and little extra touches bring event food displays to the next level creating a bit of whimsy. Anyone can do a table with delicious food pairings- but a table built into a bike with an entertainer riding around while serving people? The very definition of EXTRA.
Hosts Global Members certainly created a little playfulness when it came to these food and drink presentations.  Hosts Las Vegas had costumed entertainers wearing a table of delectable bites while guests ate and drank. Colorful hands handing over glasses of wine behind greenery walls provides a bit of mystery and magic by Hosts Texas. Pretty parasoled performers handing out sips and bites at Hosts Chicago's event in the Field Museum of Natural History provided functional decor, entertainment and food all rolled into one. E2 Destination and Event Management had a bubbly brunette greeting guests. "Let them eat cake" this period presenter quoted as guests received their pretty treats. Riding a bike, serving wine, and entertaining guests at the same time? Hosts Chicago thinks outside of the bar box for this one.

1st & 2nd Image: Portfire Events  |  3rd Image: Cacique  |  4th Image: Experience Holy City  |  5th Image: World Events Consulting  |  6th & 7th Images: Eshet Incentives and Conferences  |  8th Image: Lafayette DMC  |  9th Image: Juice Studios  |  10th Image: Connect DMC  |  11th Image: Group Services Inc  |  12th Image: Hosts Chicago
Somewhere Over The Rainbow…
One thing is for certain food can bring in so many vibrant colors for your event. Color-themed food can be within company colors, an event color scheme, or just bright, light, and airy, or dark, intense and moody! Colors are what we see first when it comes to the food spread. As the health experts say – the more colorful your plate… the tastier it is… Ok, they might actually say "the healthier it is" but we believe our Hosts Global Members had it right with tastier.
Hosts Global members painted their plates all the colors of the rainbow. Portfire Events painted their plates pink for these mouthwatering dishes. Cacique makes the rainbow look delicious, and healthy in these coconut fruit bowls. Experience Holy City knows that Southern staples like chicken and waffles provide the perfect golden hue. World Events Consulting salmon bites are both pretty and poppable. Eshet Incentives and Conferences brings in the color with their natural spices and toppings to these authentic Israeli dishes. Lafayette DMC provides the French staples- bread, cheese, and wine. Juice Studios believes tacos are more fun when they are colorful. Connect DMC in the Dominican Republic partnered with renowned Chef Saverio Stassi who uses high quality local products dishes and finishes with a Dominican rum tasting watching the sun go down. Talk about your color spectrum. Group Services Inc had brightly colored salads and linens that provided an extra pop of color – making this salad look brilliant. Hosts Chicago serves a deconstructed bruschetta in a jar for an extra pop.


1st Image: Juice Studios  |  2nd Image: Hosts New Orleans  |  3rd-4th Images: Juice Studios  |  5th Image: World Events Consulting  |  6th Image: Hosts Louisville  |  7th Image: Juice Studios  |  8th Image: COTC Events
Cocktails and Dreams…
Themed drinks have been on the rise in the event world. Cocktails and mock-tails, seltzers and spritzers, craft beer, draft beer and wine with fruit mixers. (Dr. Seuss: the Design Edition) It's called happy hour for a reason. Networking events bring out a more relaxed vibe. Some appetizers, charcuterie boards, and clever cocktails seem to get a conversation flowing a little easier. And when those drinks with quippy titles and logo color schemes come into play, your event has reached a certain level of "cool". But not all happy hour featured drinks have to be solely alcohol focused. The ever-popular mock-tail has been growing on the scene of many happy hours. Providing tasty and pretty non-alcohol versions for guests to drink is just in good taste… see what we did there?
Hosts Global Members are making mixologists day dream with some of these ferociously creative, and cool, cocktails and mock-tails. Maybe it's because of their logo colors – but Juice Studios knows how to rock pink and orange(ish) drinks. Hosts New Orleans also has some moody pretty in pink vibes. World Event Consulting's drink paired with desserts is giving us a sweet tooth. Hosts Louisville knows that The Kentucky Bourbon Trail tasting is a Midwest delicacy. And COTC Events is sending out the Miami vibes with these electric drinks.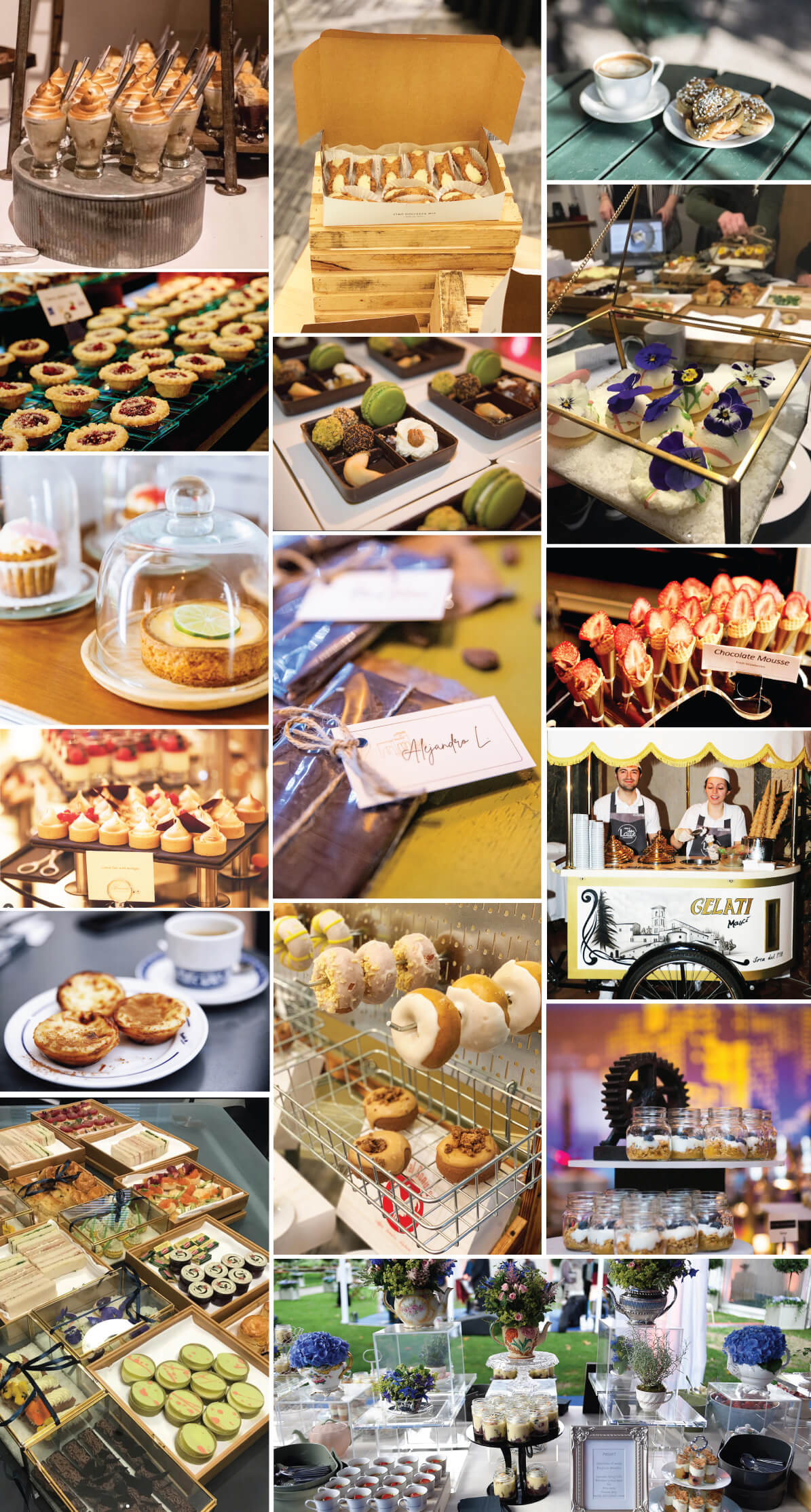 1st Image: Juice Studios  |  2nd Image: Roberts Event Group  |  3rd Image: SNE The Nordics  |  4th Image: Hosts New Orleans  |  5th Image: Juice Studios  |  6th Image: Moloney and Kelly  |  7th Image: Portfire Events  |  8th Image: Connect DMC  |  9th Image: Group Services Inc  | 10th Image: World Events Consulting  |  11th Image: Fourth Dimension Italy  |  12th Image: Portugal Travel Team  |  13th Image: Roberts Event Group  |  14th Image: Juice Studios  |  15th Image: Moloney and Kelly  |  16th Image: Spectra UK
Sweet Dreams Are Made of These…
Just like any dinner event- we saved the best for last. The desserts! There is an ever-growing movement of people who say "Dessert First!" And who could blame them? These tempting treats have a way of bringing out the kid in all of us. From chocolate tortes to strawberry shortcakes, tiramisu to french macarons. Desserts can be classic, reinvented, deconstructed, or just plain ol' scooped. But one thing is for sure- no matter which way they are served, they will leave you with a smile. Is your sweet tooth calling yet?
If Hosts Global Members know one thing, it's desserts… Juice Studios puts a spin on classic favorites you loved as a kid, and now as an adult. Roberts Event Group is making a statement with their presentations, donut wall and cannolis in the wooden boxes. SNE The Nordics have the right idea with the art of Fika, pastries and coffee during the day over conversation. Moloney and Kelly make desserts look like art with floral elements in pretty boxes. Portugal Travel Team has a local delicacy paired with coffee- the perfect pick-me-up. Hosts New Orleans has a mini Southern classic for guests to indulge in. Fourth Dimension Italy has an Italian staple on hand – Gelato! Group Services Inc has the perfect bite size delights.  Portfire Events gives local flair a special touch under glass. Spectra UK knows how to wow at tea time. And Connect DMC personalizes its chocolate to each guest for a special touch.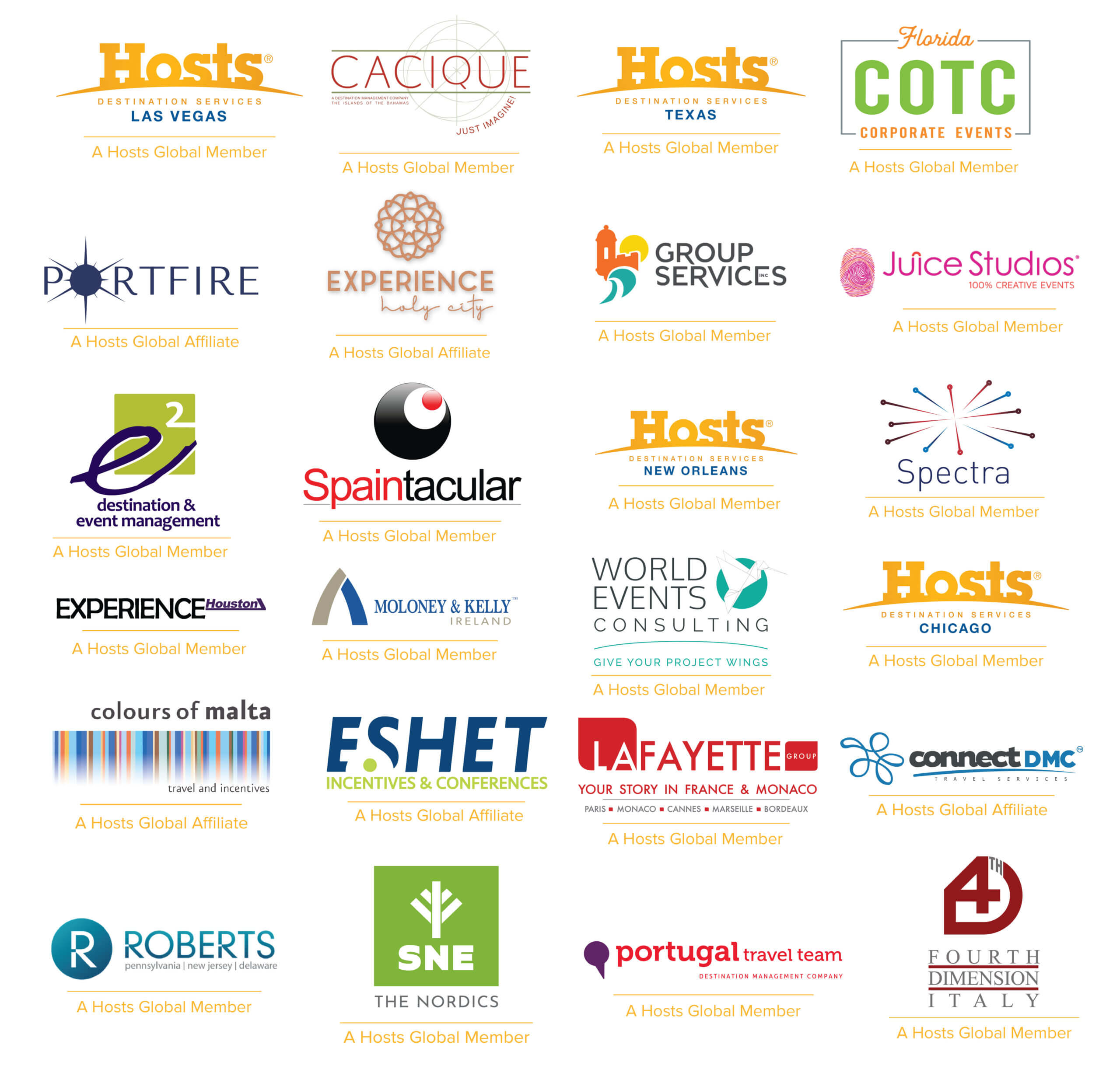 Thank to you to our contributing Hosts Global Members. Stay tuned for the next Design Edition featuring more members and beautiful decor and event tips from our Ferociously Creative team!
What's Next for Hosts Global?
We have lots more announcements coming soon!  Follow us and see.