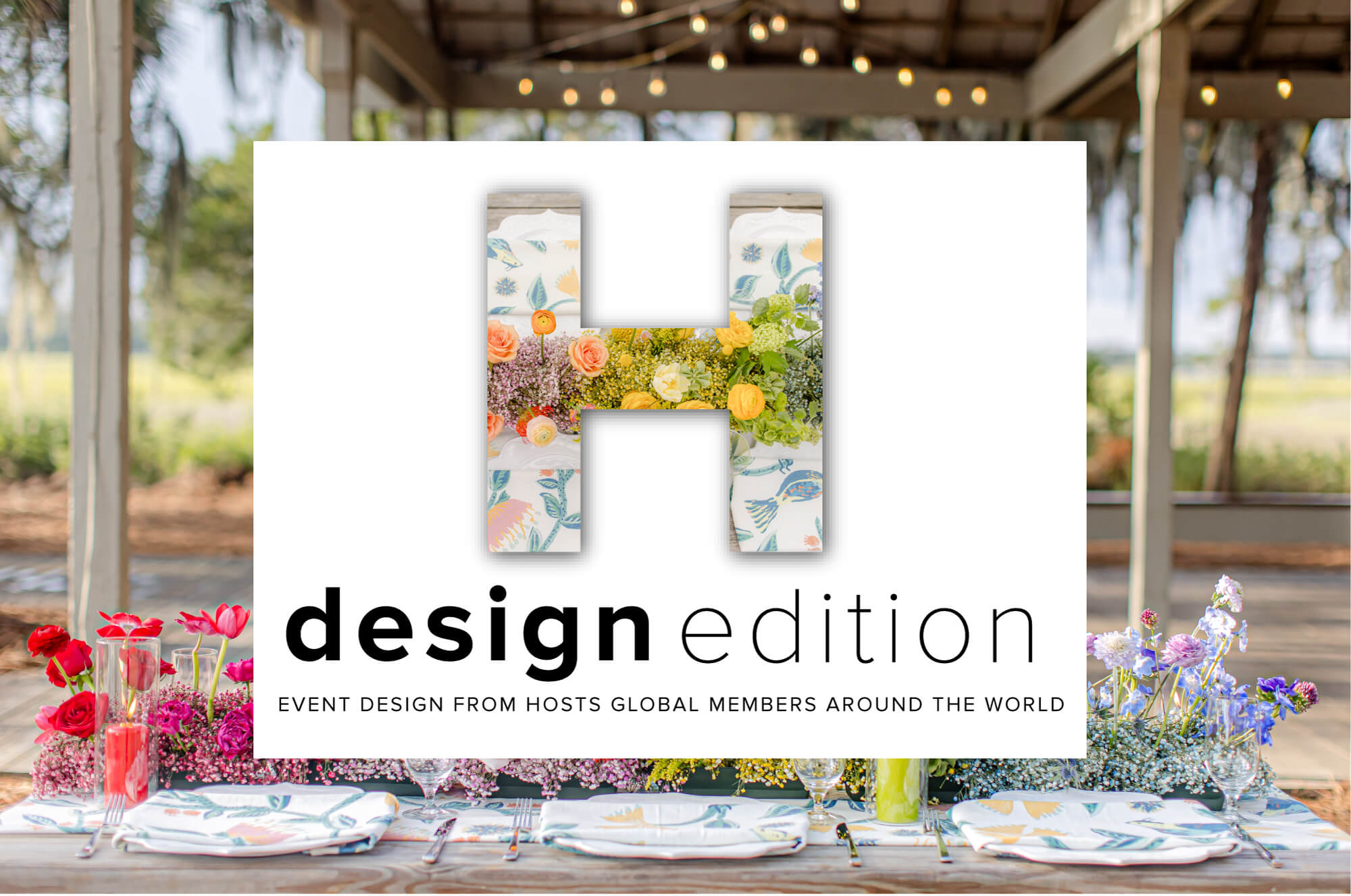 As the leaves transform into fiery works of art that begins to fall, and the air wraps you in a cozy hug leaving puffs of breath to linger, the saying, "Tis' the season" comes to mind. You know the one, the holiday event season. Tables adorned with pumpkins and cornucopias and rich dark autumn hues for Thanksgiving, Friendsgiving, and get togethers in November. Tables embellished with blue and silver accents, shimmering like the starry night sky with gleaming menorahs and joyous traditions for Hanukkah in early December.  Trees and tablescapes trimmed with twinkling lights and colorful ornaments, wreaths, candles, classic reds and greens with touches of gold and silver for Christmas, and everything and every color in-between. In this whimsical wonderland where tinsel is the currency and sleigh bells double as background music, 'tis the season to bring the sparkle to your events. Welcome to the jolly journey of 'Festive Tablescaping: Making Holiday Magic for Your Events with Collective Style.' It's the time of year when we deck the halls, and your tables – for a festive facelift. Let the merry madness begin!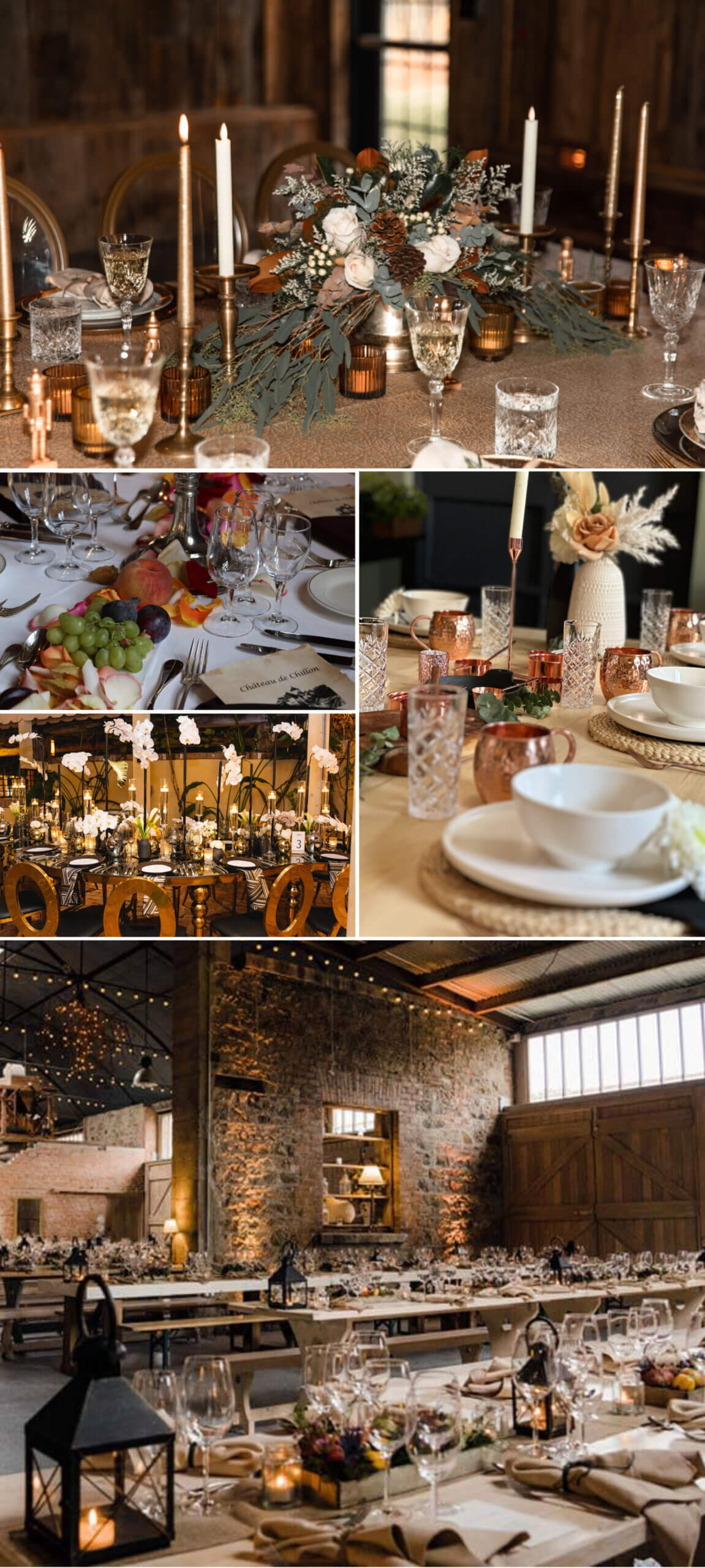 Hold on to your gravy boats! Creating an enchanting tablescape is like being the head chef of your own feast, only with fewer potatoes to peel. From centerpieces that steal the show to themed decor that says, "Yes, I'm festive, and I'm proud of it," your table is about to become the star of your event.
Picture this: an autumn event table so beautifully curated, it's like a harvest cornucopia for the eyes. Festive tablescaping isn't just about arranging napkins; it's about crafting a tapestry that tells the story of gratitude, warmth, and a sprinkle of cheekiness. It's the stuffing in your event turkey, if you will. Now, let's talk about collective style—the extra dollop of cranberry sauce on your Thanksgiving plate. It's the magic that happens when everyone contributes a piece of their personality to the table. Think of it as a potluck of aesthetics, where mismatched becomes the new harmonious, and no one has to pretend they like the same shade of pumpkin orange.
At Hosts Global, where creativity knows no bounds, we spotlight the exceptional talents of our esteemed members. Each, in their own right, has skillfully woven vibrant displays that capture the essence of their unique festive spirit.
Portfire Events (New England): A world of east coast elegance, resonating with the warmth of a crackling fireplace and the cozy embrace of a winter's eve.
World Events Consulting (Switzerland): A spectacle of whimsical charm, where the elegance of Swiss precision meets the playfulness of a winter carnival.
DePalm Tours (Aruba): Inspired by the sun, sea, and sand, their tablescapes transport guests to a beachside paradise where the spirit of celebration dances in the sea breeze.
COTC Events (Miami): A canvas for vibrant expression, mirroring the dynamic energy of the city—an amalgamation of color, flair, and unbridled celebration.
These creations offer more than just a feast for the palate; they present a feast for the eyes and the soul. From rustic elegance to whimsical charm, these tablescapes are about creating immersive experiences that linger in the hearts of those who gather around. So, as you savor the delicious spread, don't be surprised if you find yourself saying, "Pass the stuffing and a side of decorating tips, please!"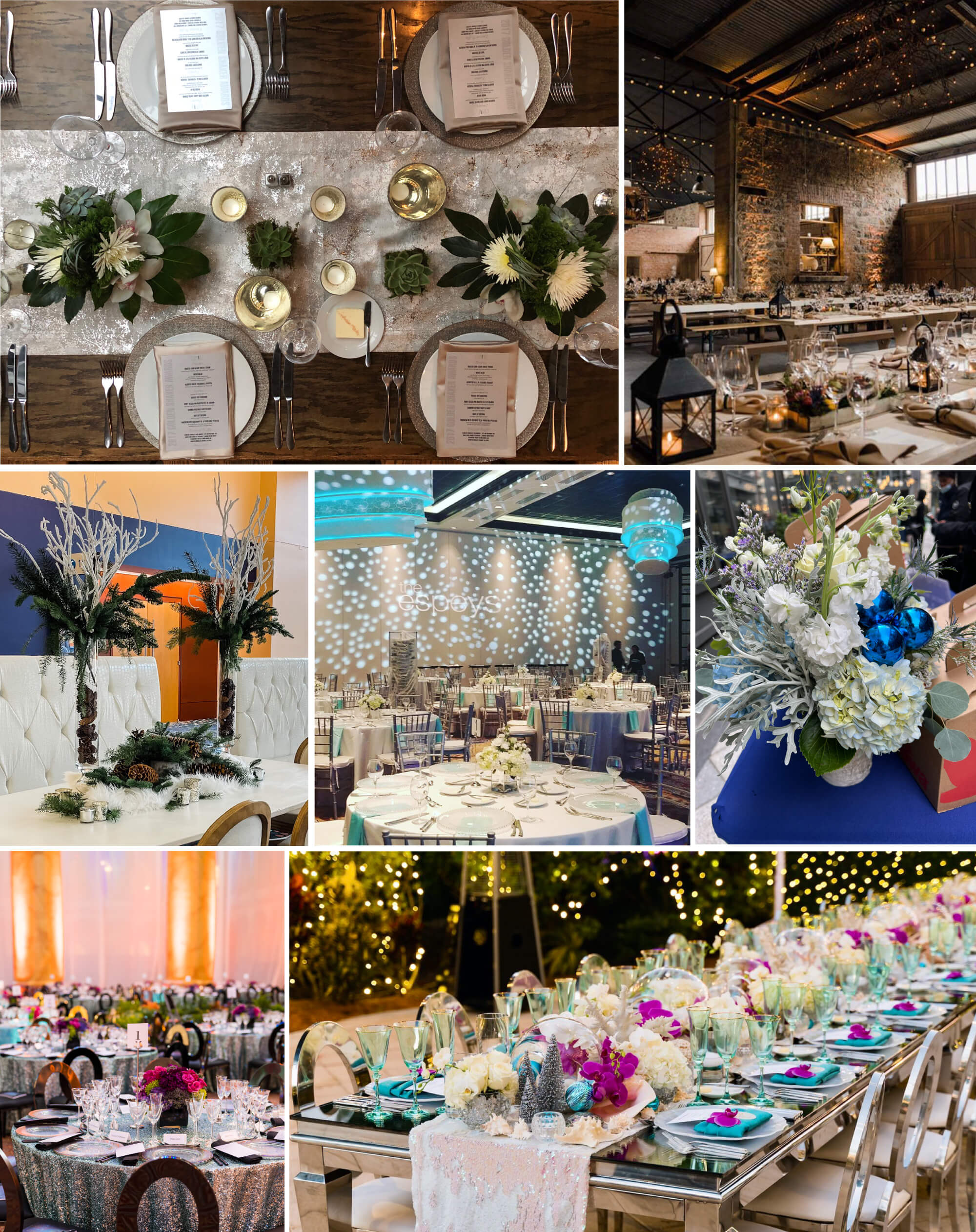 As we tip-toe into the heart of winter, where snowflakes pirouette in the cold breeze and the world is draped in a serene blanket of white, our collective style dance continues. Winter, the silent ringleader of the season, inspires us to craft a tablescape that echoes the crisp beauty of the frozen landscape. Imagine a table adorned with silver accents, icy blues, and a hint of evergreen, inviting guests into a winter wonderland where the beauty lies in the simplicity of nature's palette.
Hosts Global Members, sun-soaked sorcerers at Juice Studios (Georgia), the enchanters at E2 (Central Florida), and the masterminds at COTC (Miami) have unveiled a captivating fusion. Picture this: the warmth of tropical climates mingling effortlessly with the irresistible charm of winter decor. It's a harmonious blend of summer vibes and winter whimsy, where guests are transported to a dreamy paradise adorned with festive delights.
Meanwhile, in the land of deep-dish pizza, Hosts Chicago opts for an elegant silver, white, and green design, exuding a crisp chic feel, as if the elegance of a winter evening has settled upon the bustling city.
On the East Coast, where politics and cherry blossoms reign supreme, Hosts Washington DC decides to let it snow—well, on their tables at least. Icy blue tablecloths set the stage for a winter wonderland, while pops of color through florals add a playful touch to the frosty scene. The capital city sparkles with a touch of frosty magic that would make even the most stoic politician smile. And Hosts Global Member, Roberts Event Group (Pennsylvania), brings a chill of cool with their centerpieces. Imagine a frost-kissed tableau that beckons guests into a world of cool elegance. With a palette that mirrors the serene beauty of a winter's day, Roberts Event Group creates a tablescape that whispers of snowfall and echoes the tranquil charm of the season.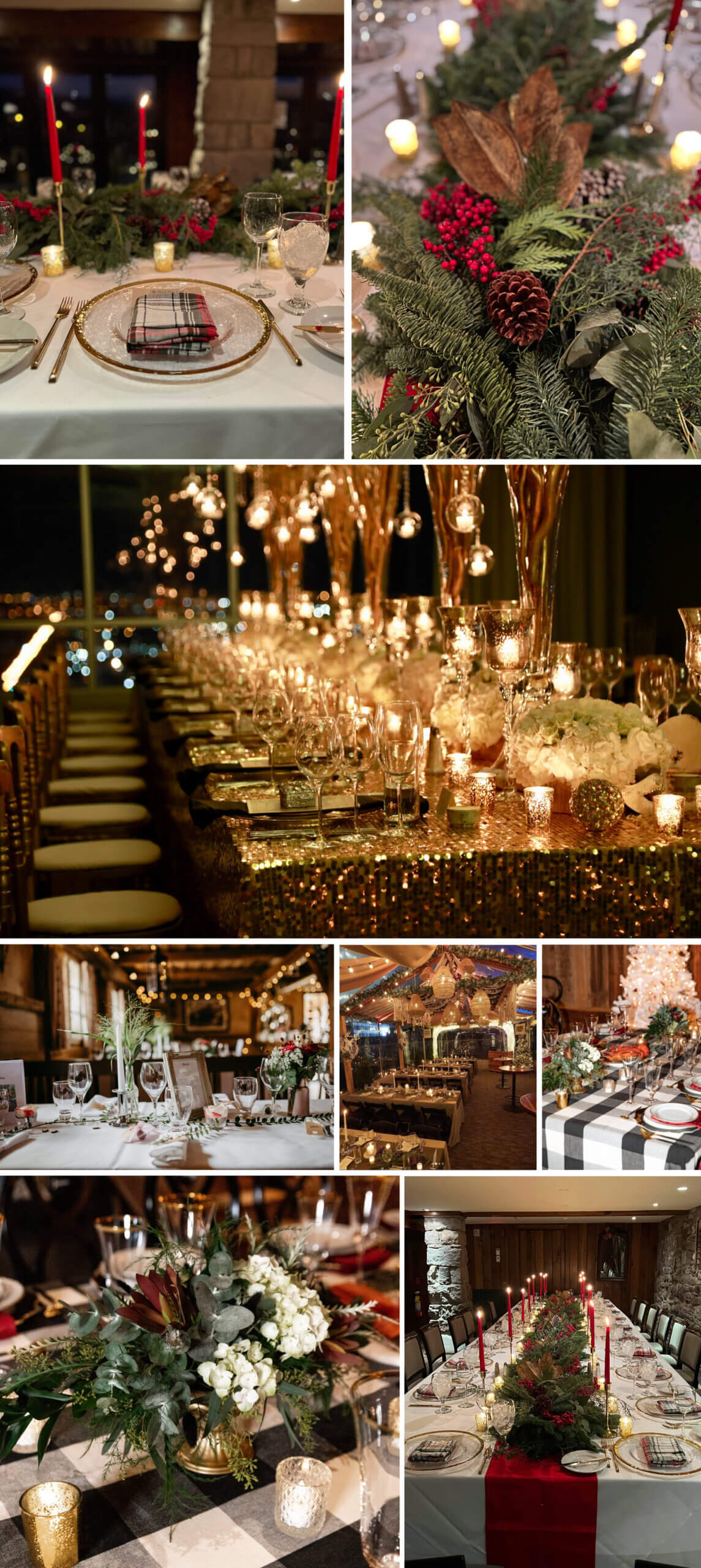 Hold on to your mistletoe! Creating a holiday tablescape is like being Santa in his workshop, but with fewer elves and more glue guns. From shimmering centerpieces to themed decor that sleighs (get it?), your table is about to become the North Pole of festivities.
Imagine a tapestry of tartans, a forest of wintergreens, and a symphony of plaids, reds, and greens—all adorned with sparkles that seem to dance like winter fireflies. Hosts Global Member, Roberts Event Group (Pennsylvania), embraces the rustic charm of tartans, bringing a touch of cozy warmth to the winter tableau. Eurotravel (Germany) adds an international twist, intertwining the richness of tradition with the magic of winter.
Meanwhile, Hosts Global Member, Empire Force Events (NYC), opts for a sophisticated palette of wintergreens and burlap creating an urban oasis of elegance amidst the city's hustle and bustle. Hosts New Orleans wraps their festive feelings in a cocoon of sparkles that rival the winter stars. It's a dazzling display that captures the magic of the season, with each sparkle telling a story of holiday cheer with the lively spirit of the Big Easy.
On the picturesque landscapes of New England, Hosts Global Member Portfire Events (Maine) infuses New England Charm in their tablescape, turning plaids, winter florals, and greenery into a vibrant celebration that rivals the dreamy snow-covered landscapes outside. Lobster anyone?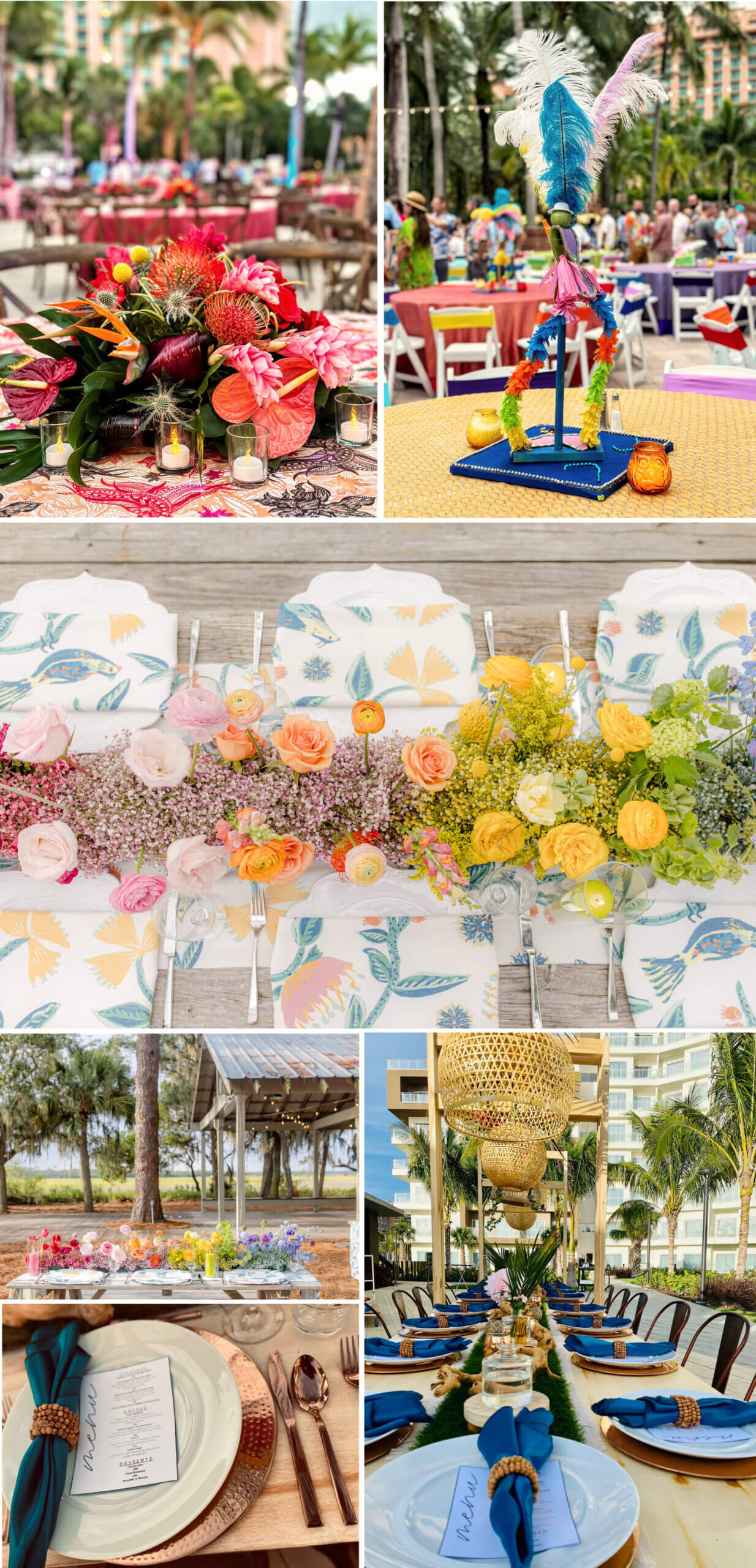 And who says that holiday-centric events and tablescapes must follow the plan that they can only use certain colors to emulate the holiday season? In the immortal words of Taylor Swift herself, "this is our place, we make the rules". These Hosts Global members made their tablescapes as bright and cheerful as their destinations themselves.
Experience Holy City (Charleston, SC), painted a rainbow landscape of florals, a playful and stunning ode to the vibrant spirit of the Holy City. Picture a table adorned with hues that mimic the infamous Charleston rainbow row houses, each floral arrangement a brushstroke in this lively masterpiece, creating an atmosphere that is both joyful and visually captivating.
Across the azure waters of the Bahamas, Cacique embraced traditional Bahamian colors but added a "Junkanoo" vibe to their décor. It's as if the festive spirit of the Bahamas paraded onto the table, with colors dancing in harmony and creating an atmosphere that mirrors the lively energy of the famous Junkanoo Festival.
Meanwhile, DePalm Tours (Aruba) drew inspiration from the sea and beach, crafting a tablescape with natural blue hues and rattan textures that exude beach charm. It's a celebration of the island's essence, where the table becomes a tranquil oasis, inviting guests to bask in the beauty of the sea, no matter the season.
In this global journey through tablescape creativity, Experience Holy City, Cacique, and DePalm Tours showcase the diversity of inspiration, proving that the magic of table decor knows no bounds. Whether it's the lively hues of a rainbow, the energetic vibe of a festival, or the tranquil charm of a beach, each tablescape is a unique expression of the cultural richness and creativity that defines these extraordinary event planners.
In the world of festive tablescaping, where pumpkin-spiced dreams meet tartan and evergreens, collective style is the secret ingredient for a Holiday Event that goes beyond the food. So, dear turkey enthusiasts, go forth and let your tables be the gathering place for gratitude, laughter, and perhaps a few cheeky remarks. Until next time, may your events be as bountiful as the Holiday feast and your tablescapes as comforting as a mug of hot cocoa. Cheers to collective gratitude and events that weave a tapestry of joy!