As the Associate Director of Creative Services for Hosts Las Vegas, observing décor and design trends throughout the industry is a top priority.  In order to propose and produce the most current design trends for clients, staying up with new linen offerings is a must.  The latest lines of event linens are rich with new colors, modern patterns and a nod to natural elements. A few of the latest linen trends have attracted my attention and, I believe, add the perfect blend of color and texture for specific types of events. These are…
Masculine Designs and Colors
One of the more noticeable trends includes the use of simple patterns and designs with a more masculine color palette.  Newly released linens are featuring more gold hues and geometric patterns. Mixing these bold options with a subtle solid linen creates an eclectic look that is perfect for driving attention to the tables at gala and awards dinners. 
Featured linen swatches from BBJ Linen, a Hosts Global strategic partner

Natural Designs (linens that look like marble/granite)
The BBJ Marble Linen line marries a masculine pattern with the natural elements.  The Marble line of linens features a variety of different hues that can be used to create an event with diverse color palettes. These linens add an aire of sophistication that is perfect for plated dinners and looks amazing when topped with centerpieces featuring succulents and natural stone vases.

Color Groupings
Another trend in newly released linens – color groupings.  Color grouped linens share the same color tones and feature coordinated and complimentary patterns.  The Blue Brushstroke/Edgewater linen grouping shared here (far right) is the perfect linen for event with a Coastal theme and can be paired with a navy linen to create dimension in any space.  The Ash Swell/Baroque linen grouping (far left) is an ideal combination for awards dinners that require an elegant look while the Swiss Dot/Kensington combination (Center) is more popular for social events such as weddings.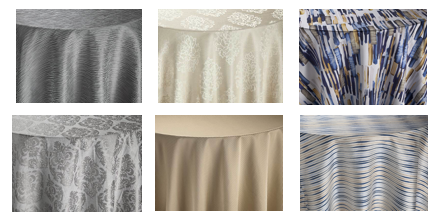 Pattern Mixing
Continuing the trend of color groupings, Creative Coverings has released the Glam, Eclectic and Dots line of linens that allow for a pattern to be mixed with a coordinated "solid" where both feature the same tone, hue and saturation.  The Silver Lime line features the 2018 Pantone Color of the Year "Lime Punch", while the Tangy line features a hue similar to 2017 Pantone Color of the Year "Flame". These linens look stunning at events and are the perfect combination for any client who with a lime or orange brand color who also wants to integrate their brand into the design of the space.  Both the lime and orange hues mixed with the silver and charcoal grey base, add a pop of color to any event while still maintaining a very glamourous and refined look.
The linens I have featured here represent only a few of the latest trends and designs available to integrate into your event. Linen trends are ever evolving and new offerings are released monthly from nationwide linen suppliers. For more information or to discuss your event design needs, contact your Hosts Sales and Creative Services teams.  We're on top of the latest and greatest in event design trends and want to use our resources to enhance your event objectives.