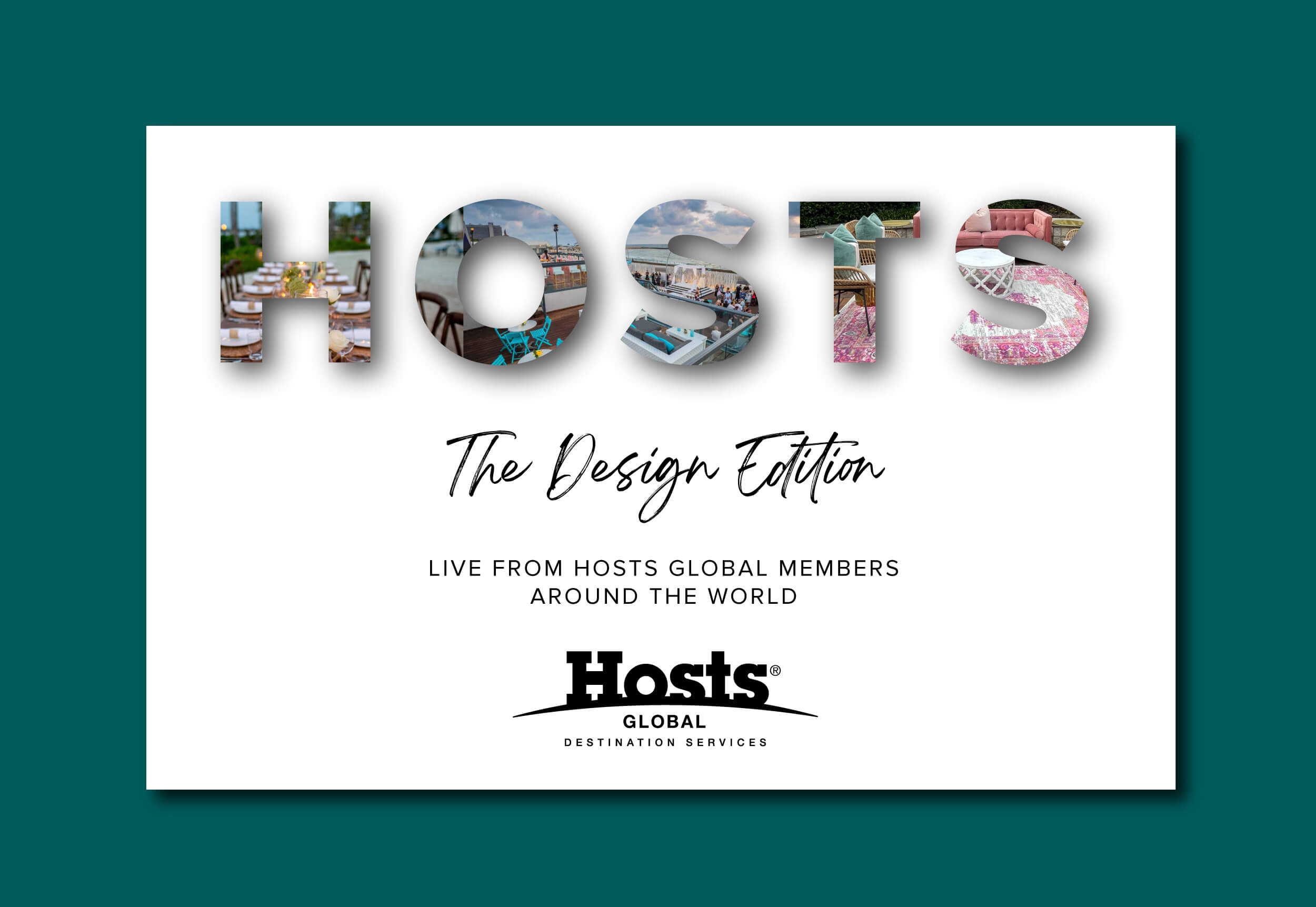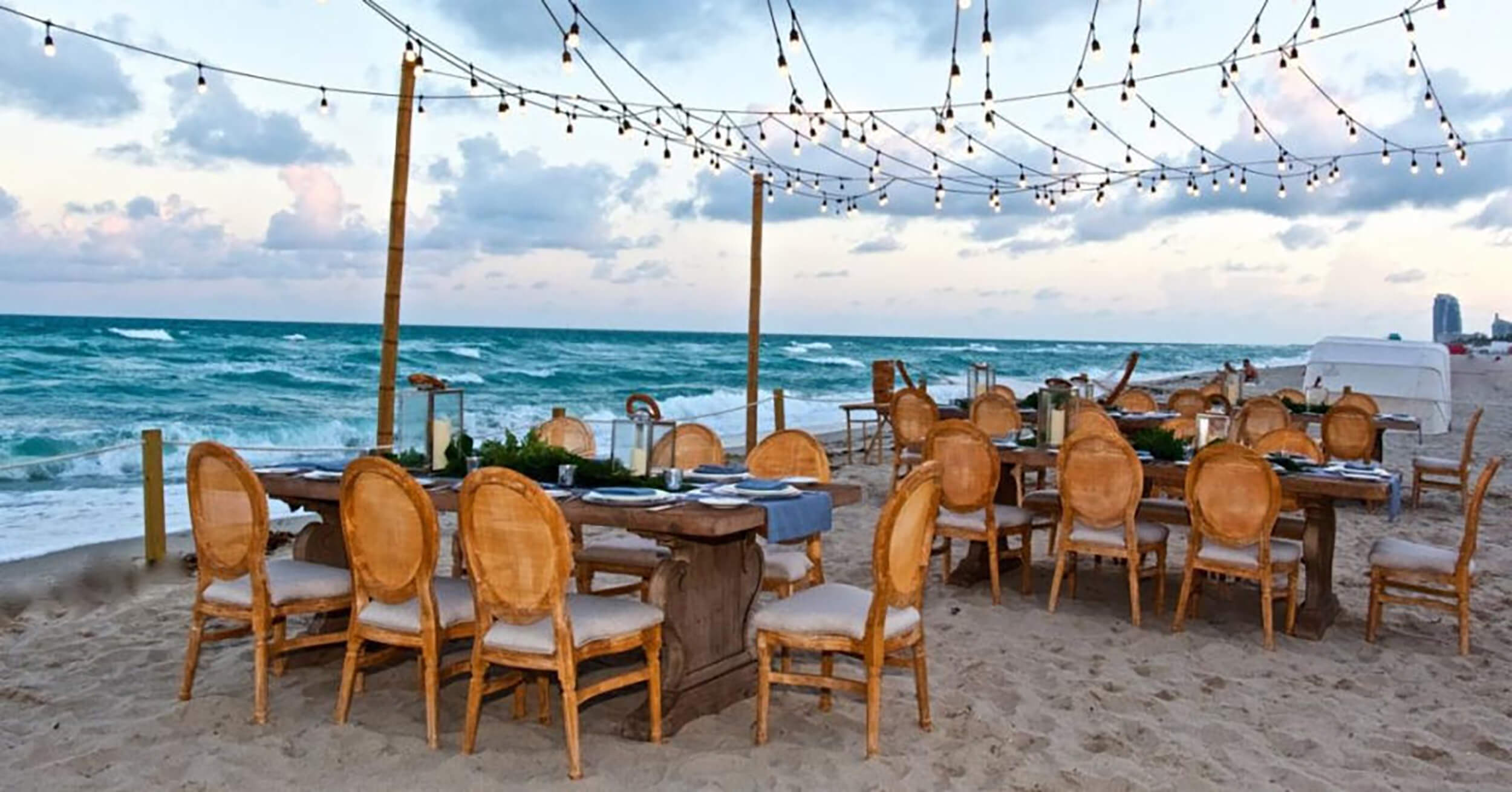 1st Image: Cacique  |  2nd & 3rd Image: Juice Studios  |  4th Image: Moloney & Kelly | 5th Image: COTC Events
The Great Outdoors…
As we embrace the sun-kissed days and moonlit nights of summertime, our spirits are lifted by the allure of outdoor event decor and venues that sizzle like the temperatures. There's an undeniable charm that summer brings, a sense of relaxation and ease that seems to settle over everything. It's as if time slows down, granting us the opportunity to savor the longer days and balmy nights.
Basking in the open air, we find ourselves drawn to the outdoors, seeking respite under the warm embrace of the sun. Taking a moment to unwind, we lounge in comfortable seating, immersing ourselves in the beauty of nature that surrounds us. The gentle rustling of leaves and the sweet scent of blooming flowers create an idyllic atmosphere that makes Mother Nature the ultimate backdrop for these enchanting events.
Hosts Global Member, Cacique from The Bahamas, created their own Caribbean beat on the beach with their candle lit outdoor event giving off a soft glow all around. Juice Studios in Georgia combined nature and rich tones and fabrics with lush outdoor seating. Moloney & Kelly from Ireland used natural elements such as tree bark and moss to really make their outdoor tablescapes blend in with their surroundings. COTC Events, in South Florida, created this idyllic beach event with lights and the waves crashing in the background for music- shoes optional!
---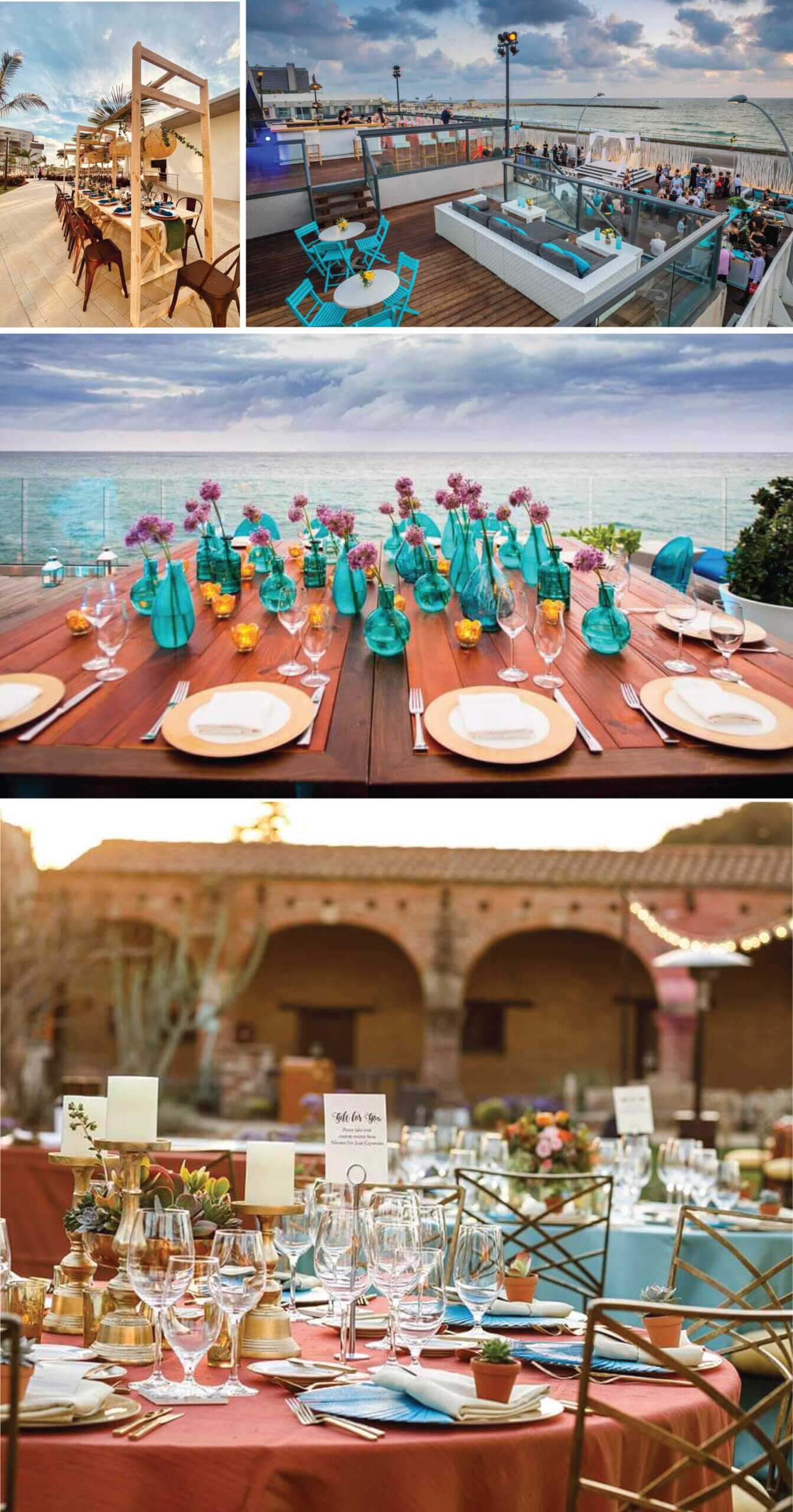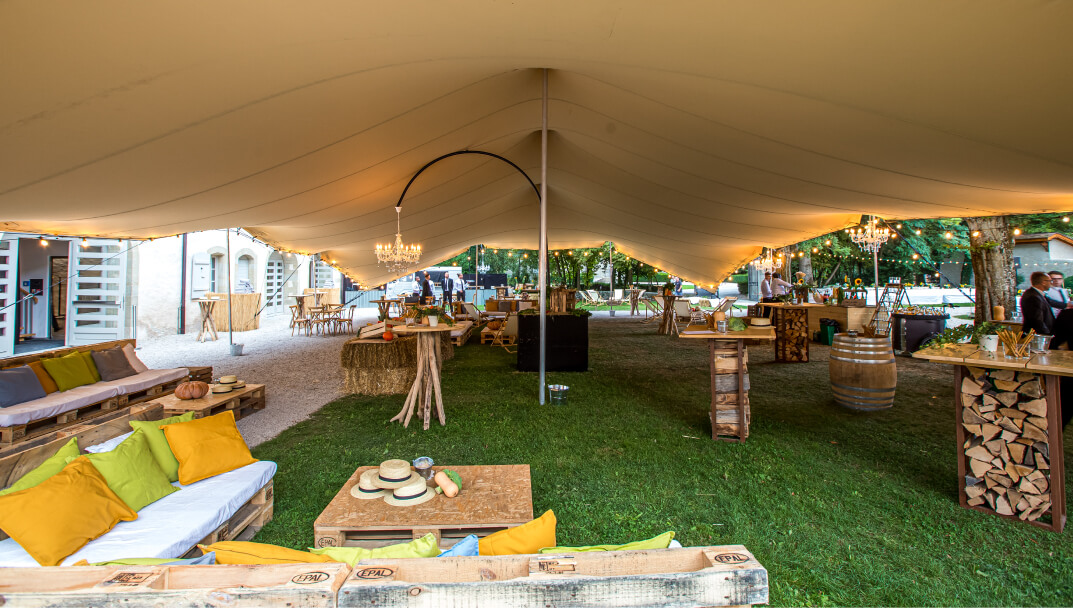 1st Image: DePalm Tours |  2nd Image: Eshet Incentives   |  3rd Image: Group Services Inc | 4th Image: Hosts Southern California  |  5th Image: World Events Consulting
Modern Day Van Gogh
Color schemes to an event are like paint to a canvas. Colors can draw inspiration from its surroundings, company colors, themes, etc. adding depth, emotion, and personality to the overall experience. From the bright and bold to the soft and neutral and the color spectrum in between- color options for events are endless. The chosen color scheme can convey the mood and atmosphere of the event. Bright and bold colors may signify excitement and energy, while soft and neutral tones can create a calming and elegant ambiance. So, are you a feisty red? Or a soothing blue?
These Hosts Global Members, DePalm Tours in Aruba, Eshet Incentives in Israel, Hosts Southern California, Group Services Inc in Puerto Rico, and World Events Consulting in Switzerland pulled inspiration from sunsets, the ocean, and the event landscape surrounds with these bright clay, orange, yellows, natural woods, rattan, greens, and turquoise hues.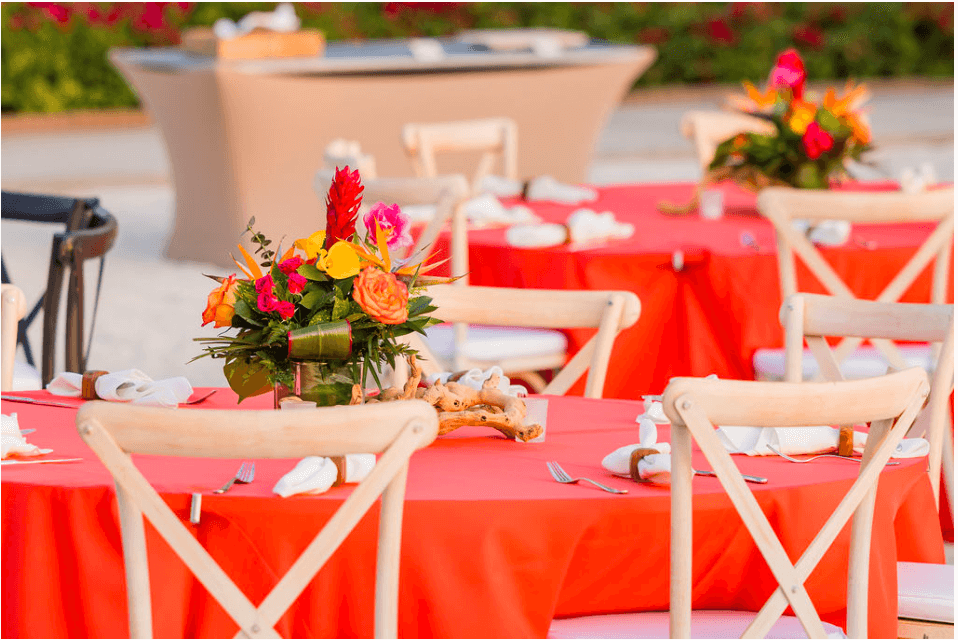 1st and 2nd Image: Cacique   |  3rd Image: Barefoot Holidays | 4th Image: COTC Events  |  5th Image: Eshet Incentives  |  7th Image: DePalm Tours
What's Poppin'
These bright and bold events are popping with color. Neon hues will always be an electrifying summer staple. Neon colors, with their vibrant and intense shades, add a dynamic and energetic element to any event and are known for their ability to create a high-energy atmosphere. Neon colors are synonymous with summertime fun and festivities. They evoke images of pool parties, outdoor festivals, and warm, sun-drenched days, making them a perfect fit for summer events.
Hosts Global Members COTC Events, Cacique, Hosts Texas, DePalm Tours, Eshet Incentives and Barefoot Holidays were shining as bright as these colors with their bright and neon colored decor.
---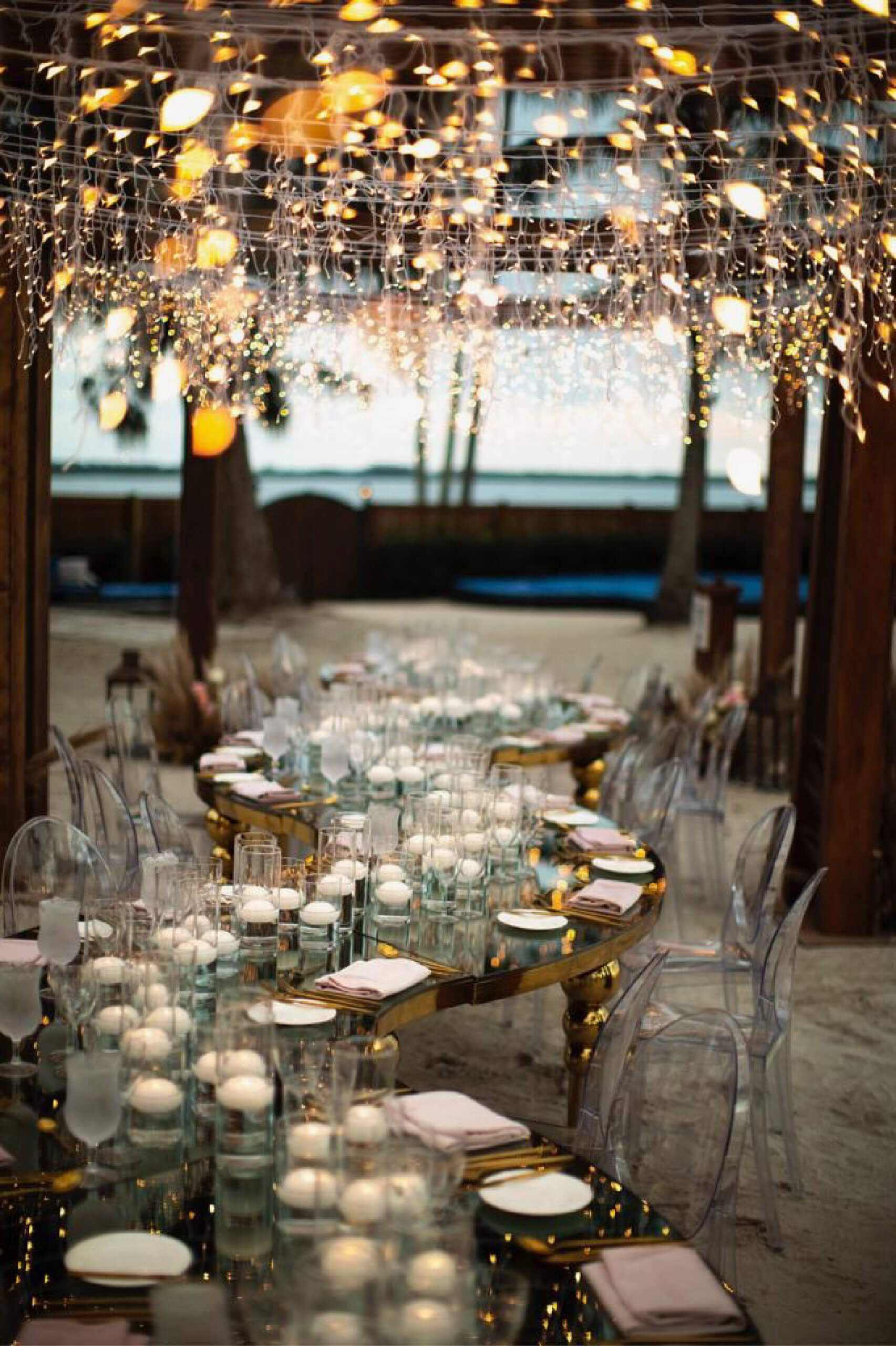 1st Image: COTC Events  | 2nd Image: Juice Studios  |  3rd Image: DePalm Tours  |  4th Image: Juice Studios  |  5th Image: DePalm Tours  |  6th Image: Barefoot Holidays  |  7th Image: DePalm Tours  | 8th Image: Eshet Incentives  |  9th Image: DePalm Tours  |  10th & 11th Image: Cacique  |  12th Image: Lafayette DMC
Vitamin Sea
Did we just become best friends? Summertime and the sea certainly share a special bond, and seaside events exude a captivating, almost magical aura. With the vast ocean in the backdrop and the rhythmic melody of waves crashing, these events transport guests to a serene and enchanting realm. The carefully chosen color palette, featuring calming blues, earthy browns, and pristine whites and creams, evokes the tranquility of the ocean's embrace. Perhaps a splash of vibrant color is added to mirror the local flora, enhancing the coastal charm. Nautical color schemes, renowned for their timeless elegance, draw inspiration from nature itself, exuding a sense of purity and sophistication. As guests revel in this coastal oasis, they become part of a timeless tradition, basking in the sheer beauty and allure that only the summertime sea can offer.
Hosts Global Member COTC Events, from South Florida, seaside event brought a water-like curved table and twinkle lights for glow. Toes in the sand and a drink in the hand created a warm and inviting evening for these guests. Juice Studios in Georgia created views for days being right on the water, and brought in classic- and trending, fun rattan seating, ottomans, rugs, and decor in seaside blues and natural colors- this event will be all for the gram! DePalm Tours in Aruba had a beach chic event hitting all the decor must-haves with style- candles, lanterns, umbrellas, and twinkle lights. Barefoot Holidays in Saint Lucia had their guests surrounded by water on a picturesque pier with un-matched views. You can practically hear the Tradewinds and crashing waves looking at this table all aglow with the ocean steps away for Cacique's night under the stars that pulled in natural elements like driftwood, shells, and coral. And Lafayette Group's guests were surrounded by water and tranquility being pool side and ocean side in Monaco. Who's ready to hit the beach for their next event?
---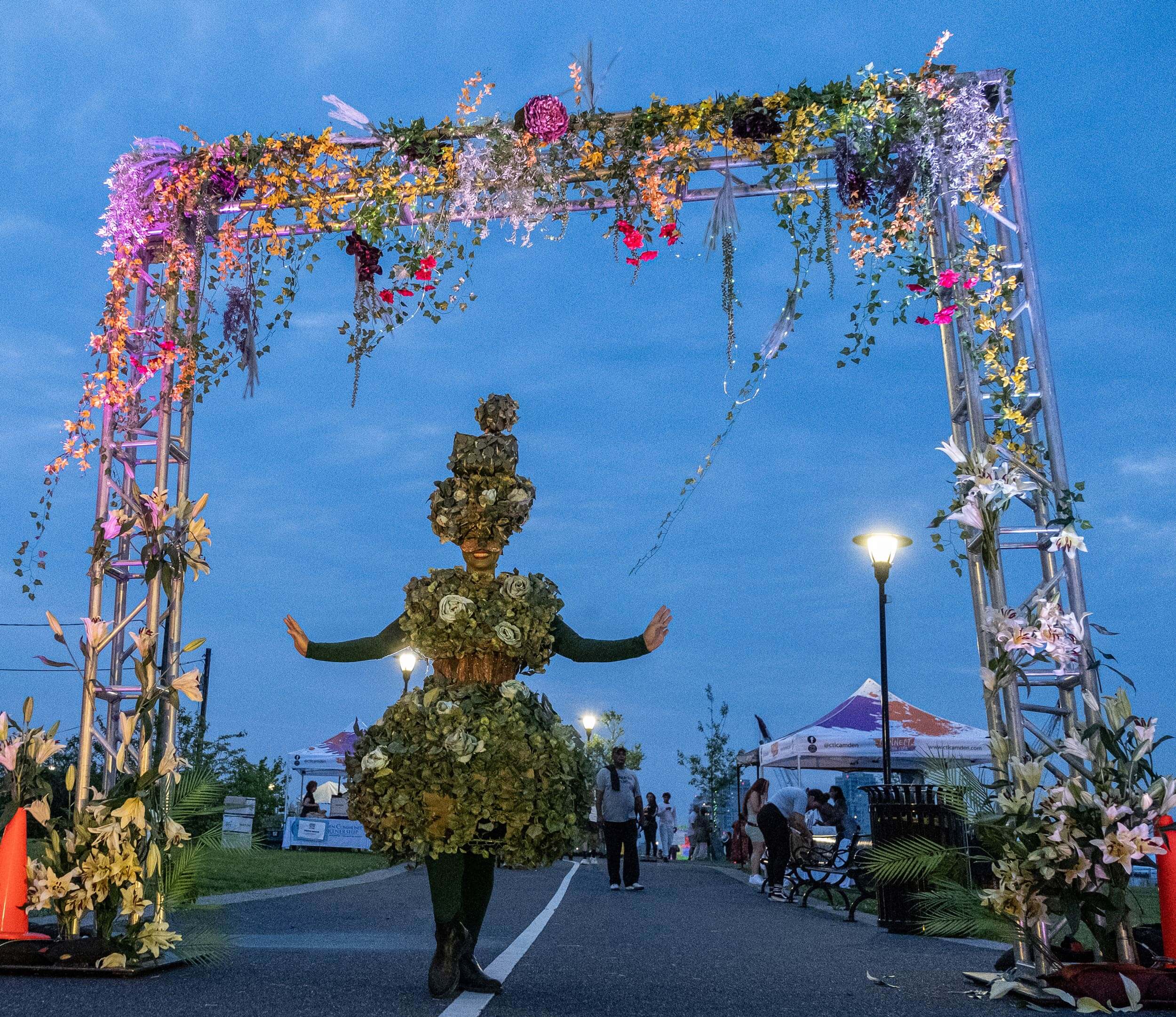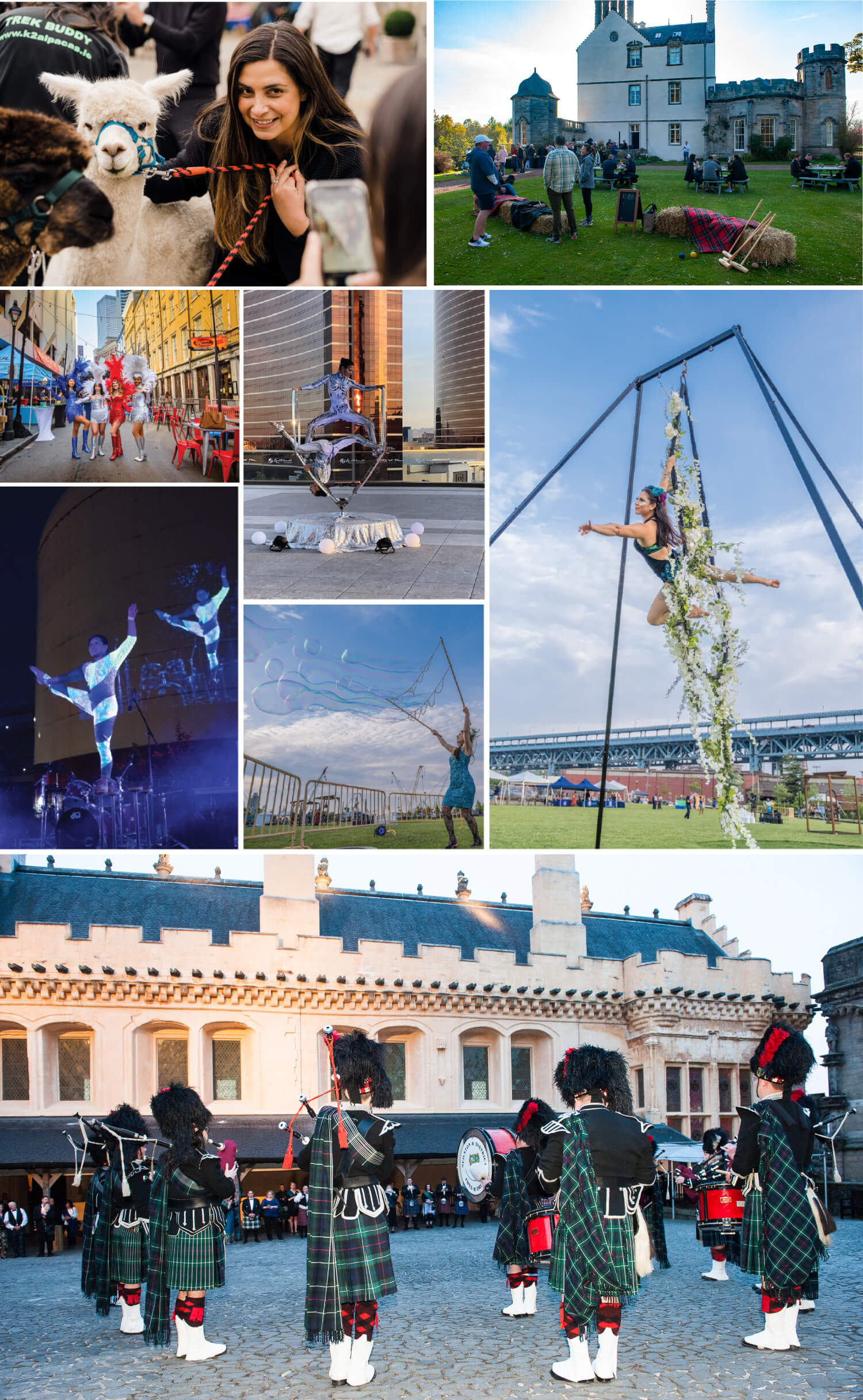 1st Image: Roberts Event Group  |  2nd Image: Moloney & Kelly  |  3rd Image: Spectra UK  |  4th Image: Hosts New Orleans | 5th Image: Hosts Las Vegas  |  6th-8th Images: Roberts Event Group  |  9th Image: Spectra UK
Let the Show Begin…
Embracing the great outdoors opens the doors to a realm of boundless creativity and awe-inspiring entertainment. Outdoor events are a canvas for ferociously imaginative performances that will leave your guests spellbound. From grand stages hosting breathtaking concerts to stilt walkers gracefully roaming the grounds, the possibilities are limitless. Live performers, with their artistry taking flight against the backdrop of nature's beauty, add an enchanting dimension to the event experience. Prepare to be captivated as living art, and mesmerizing acts unfold before your eyes, creating an unforgettable spectacle that celebrates the harmony between nature and human creativity.
Hosts Global Members Robert Events Group in Philadelphia, combined nature, and entertainment with these floral and fluid entertainers. Moloney and Kelly in Ireland brought a fluffier type of entertainment that were here for some selfies. Red, White, Blue and Feathers – Hosts New Orleans had some fun at their outdoor street-style event. Hosts Las Vegas defied gravity and flexibility with their entertainment. And Hosts Global Member, Spectra UK, went classic with bag pipers giving everyone a show.
---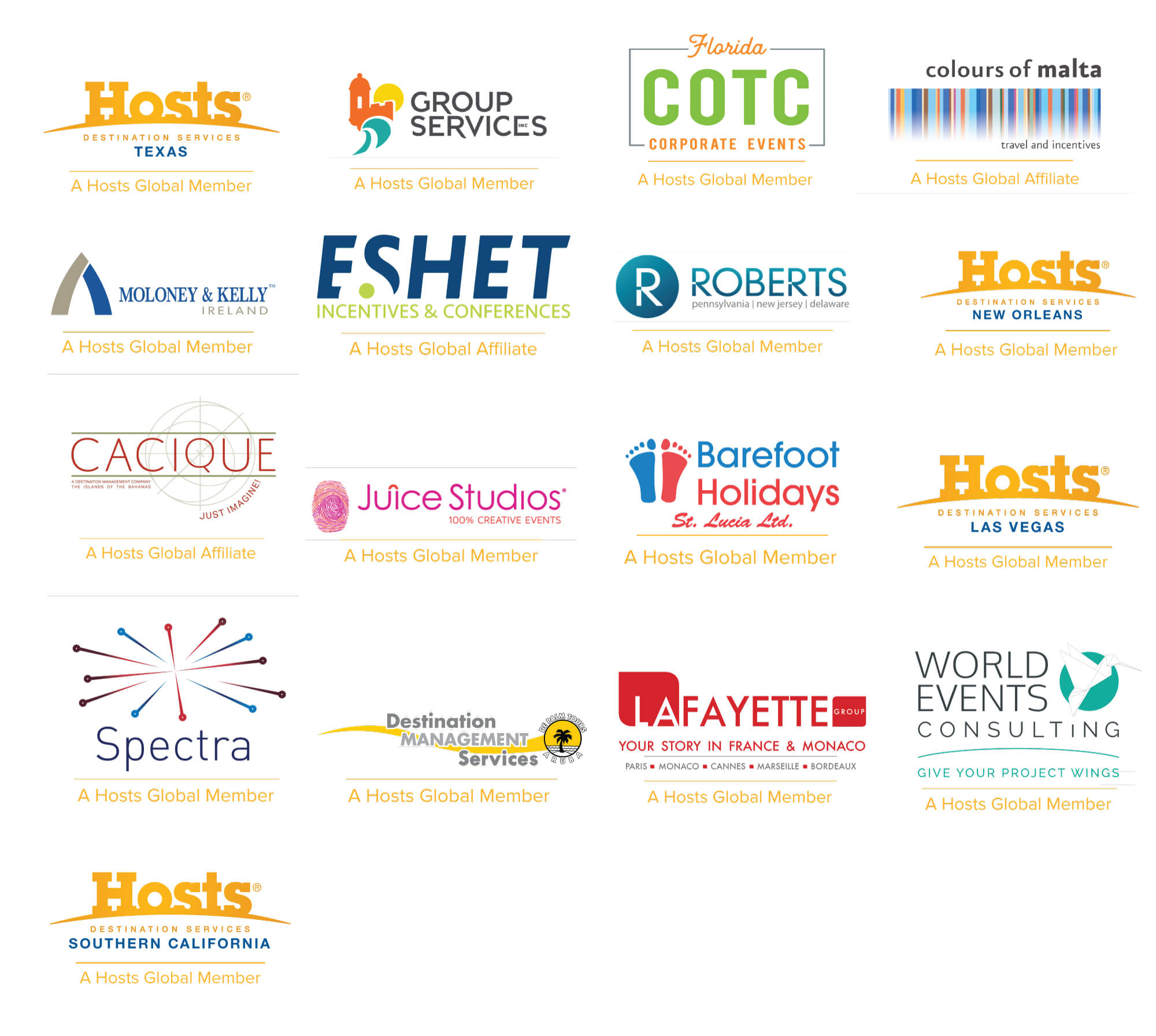 Thank to you to the above listed contributing Hosts Global Members. Stay tuned for the next Design Edition featuring more Hosts Global Members and beautiful decor and event tips from our Ferociously Creative team!
---
What's Next for Hosts Global?
Hosts Global's very own Robert Lee will be onsite at the Canadian Meetings + Events Expo. Stop by to learn how we make events Meaningful, Motivating, and Memorable. #LetUsBeYourHosts
---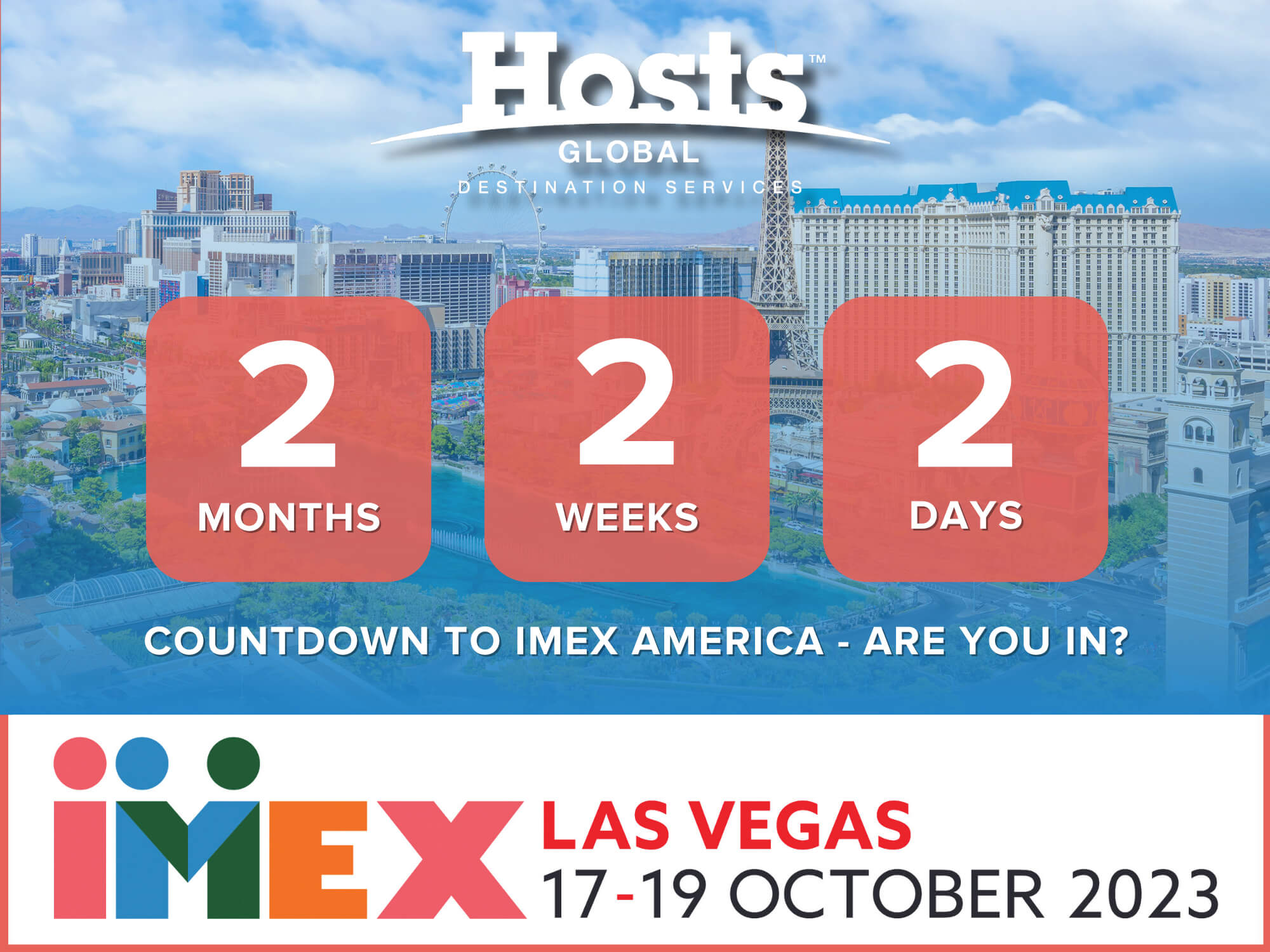 Hosts Global along with many of our Hosts Global members are counting down the days until IMEX America! We can't wait to discuss how we can make your event ferociously creative and filled with intention, aka what we do best.
---
We have lots more announcements coming soon!  Follow us and see.