We want to shout it from the rooftops – We officially launched our sustainability journey!  With any effort, there are twists, turns and teachable moments. Here, Hosts Global Alliance President Marty MacKay, DMCP, shares what we learned when planning our annual Hosts Global Forum with sustainable practices.
Q: Producing sustainable events is no small feat. What were Hosts Global's first steps?
Our first step was to find and align with a company and software that would guide us in becoming compliant with the ISO sustainability standards and become a trusted advisor. They helped us take the first steps, prioritize, and most importantly, make the process less daunting.
Q. How did you incorporate sustainability in your planning activities?
We are in the reporting phase now, measuring the impact of our sustainable efforts at the 2019 Hosts Global Forum. Some of the steps we took included:
Engaging Hosts Global Forum stakeholders by sending out a sustainability survey a month prior to event.
Offering refillable water bottles and hydration stations to reduce plastic waste, plus coordinating a water bottle and supply donation program.
Organizing a corporate social responsibility activity to give back to the frontline hotel workers at the host resort, Paradisus Palma Real.
Working with the hotel to complete a venue sustainability checklist.
Leveraging our event app to ensure a predominantly paperless event.Our next milestone is to continue educating all our global DMC members and sharing best practices on producing sustainable events with, and for, our clients.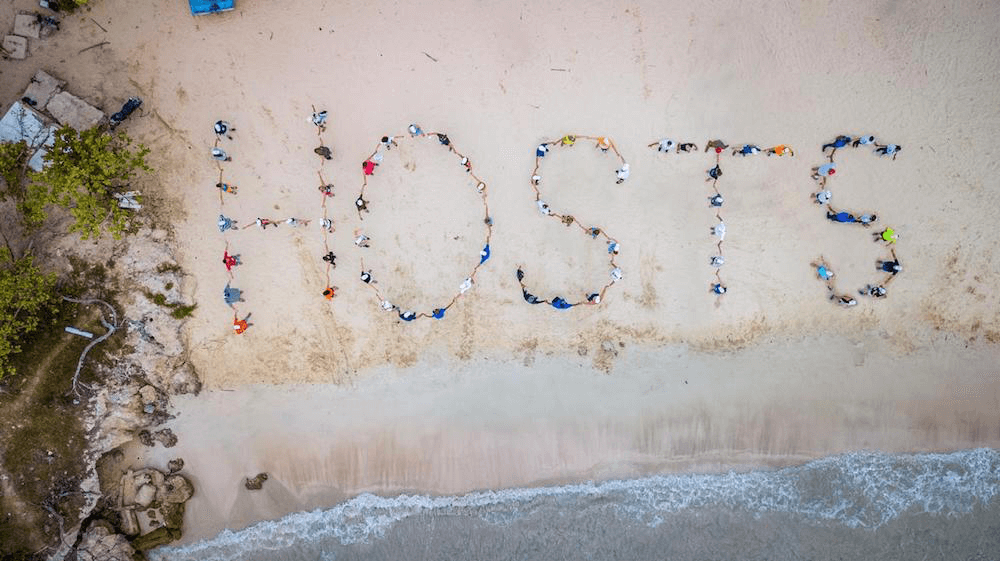 Our family of DMCs after an afternoon beach clean-up in Punta Cana, Dominican Republic.
Photo credit: Specialty Imaging
Q: Tell us the biggest lesson you've learned along the way.
It was a huge risk designating our annual Hosts Global Forum as our first measurable sustainable event. It's important to understand that you will not be able to do everything immediately. We've learned that sustainability is truly a journey. Start by changing what you can now, then continue to improve.
Q: What are some of the simplest ways that planners can incorporate sustainability?
Don't be overwhelmed. There is a good chance you are already doing more than you think.  You don't have to tackle the world all at once – start slow and work your way up.
There are really three pillars to sustainability – social, economic and environmental. That means, your corporate social responsibility activity counts! There are many small steps you can make to reduce your impact without high costs or massive changes, such as:
Align with Like-Minded Partners
Select venues and seek sponsors that are in line with your sustainability values. Booking a venue that is already engaging in sustainable methods can save your organization costs they would have had to invest in otherwise. This includes sourcing sustainable suppliers and minimizing the amount of waste by offering compost and recycling bins throughout. Look for similar ethics when seeking suppliers. Aim to increase partnerships with providers who actively consider their impact on the planet and its people.
Share That Swag
Every tradeshow is swimming in swag. Once the event is over, where do all the leftovers go? Don't let your event's excess promo items end up in a landfill. Instead, earmark leftover items for organizations that need them. Consider donating supplies like pens and branded notepads to schools, after-school programs, senior homes or local art centers. Get creative and think about the local organizations that could use and appreciate them.
Reduce Food Waste
Start by keeping account of the food you're ordering for your events, compared to the amount that is actually served and consumed. This includes taking count of how many plated meals were leftover or how many buffet stations weren't served. Don't overlook breakout F&B, like snack breaks. Use this data to drive your orders for future events and avoid over-ordering.
Learn & Share the Signs of Human Trafficking
Sustainability is more than just seeking eco-friendly solutions. Today, sustainable goals include protecting both people AND the planet.
You might assume the horrors of human and sex trafficking are confined to dark alleys and remote places. In reality, much of this "industry" occurs where meeting and event planners hold events – in hotels and resorts. This puts meeting and planning staff in a special position to spot and report potential trafficking. First, learn to recognize the signs of human trafficking suggested by EPCAT-USA, an anti-trafficking organization that works with the travel industry.  Then, consider making human and child exploitation an education topic at your event to amplify the message to attendees. Or, donate to EPCAT-USA or other organizations to support their efforts.
Include CSR Activities That Give Back to the Local Community
We have all been a part of some remarkably unforgettable events. However, no experience is as powerful, inspiring or meaningful as giving back.
The impact of corporate social responsibility is huge, impacting not just your attendees, but entire organizations and the local community, as well! At the Hosts Global Forum in the Dominican Republic, we partnered with the Above and Beyond Foundation on their Boomerang! CSR program. Our guests nominated and voted for hotel employees that gave exemplary service, and on the final day we awarded five employees with grants.
As the carbon footprint of the meetings and travel industry increases, so does our obligation to reduce our impact on our planet and its people. Together, let's take the first steps to conscious practices for our events.