@dmire, our local expert in Belgium, specializes in designing tailored team building exercises aimed at improving communication skills and camaraderie. Here's a glimpse into a few of their latest and greatest local offerings and successful team building events.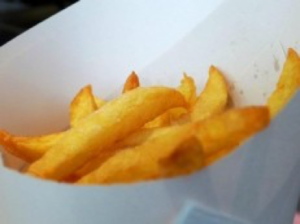 Antwerp – Become an Expert in Belgian Fries!
Fries are a serious matter in Belgium, these golden deep-fried potato chunks are God's gift to Belgian people and a distinctive aspect of the food culture.  Making tasty, crunchy fries requires training, skills and certainly a little bit of talent. Set in an authentic friterie in the heart of Antwerp, @dmire's fries workshop offers your team the opportunity to deliver unbeatable real Belgian fries in a fun, entertaining, interactive and educational way. 
Are You Ready to Dual?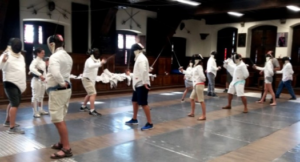 Fencing is the ideal sport to help develop resistance to pressure, concentration, anticipation and timing – perfect for building team dynamics! Team fencing experiences can vary from 2-hour coaching sessions to full-day activities. The @dmire team recently tailored a fencing team building experience to challenge mind, body and taste buds while also integrating visits to two of the most historic locations in Ghent. This activity began at the oldest fencing club in the world; the Saint Michael's Guild fencing club – also called the Confrerie or Brotherhood, a place that breathes history in Ghent. The activity began with a strategy competition to stimulate the team's creativity, followed by a fencing class to test their precision skills and individual defense. Once class was complete, the team was treated to a guided tour of Ghent and a gastronomic experience at the Belga Queen where everyone could relax and share the defining moments of their day dueling colleagues.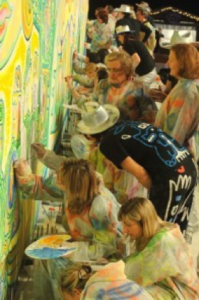 Graffiti, a Modern Art Challenge
Graffiti has become a new trend and a real modern art form – ideal for a great corporate team building exercise. With the Graffiti Modern Art Challenge, @dmire artists help your team to complete their very own master piece.
From start to finish participants will work with artists to complete their design using pen, then spray paint. This artwork can be created on a brick or metal wall on your premises, or even as a piece of work that can be transported for display in your office.
This exercise is designed around your requirements with several budget options available.

The 5 Senses in Brussels – the Heart of Europe
Tailor a team walk through the heart of Europe with local experiences designed around the 5 senses:
First, hear the world of the saxophone with an introductory jazz activity that will intrigue all music and entertainment lovers.
Second, @dmire will take your team to Neuhaus, where the chocolate praline was invented. Learn about the history of chocolate and get acquainted with the taste of Belgium's sweetest tradition.
Next, become acquainted with the Belgian and European comics during a guided walk through Brussels while viewing the artistically painted walls.
Then, touch the craftsmanship of needle and bobbin lace during an introduction to this authentic handmade art in an interactive way.
After this enjoyable tour, your team will have the opportunity to enjoy the aroma (and a taste or two) of authentic Belgian Beer.
Interested in custom team building solutions for your next program in Belgium? Let us help.