An epic year calls for epic experiences. We called on our family of DMCs from around the world to find some of the most surprising, yet spectacular, group activities. Want to really blow their minds this year? Here are 20 experiences that are beyond remarkable: 
Windsurf in the Red Sea, Egypt: The Egyptian coast boasts warm crystal-clear waters and constant thermal winds, perfect conditions for both beginners and experts. 
Visit a Native Cabecar Tribe, Costa Rica : Experience the life of the country's largest indigenous group, who live in small family groups throughout the rainforest
Walk Across Capilano Suspension Bridge, Vancouver : Take a breathtaking journey across this thrilling 1880s-era bridge, which sways high above the rushing Capilano River and surrounded by temperate rainforests.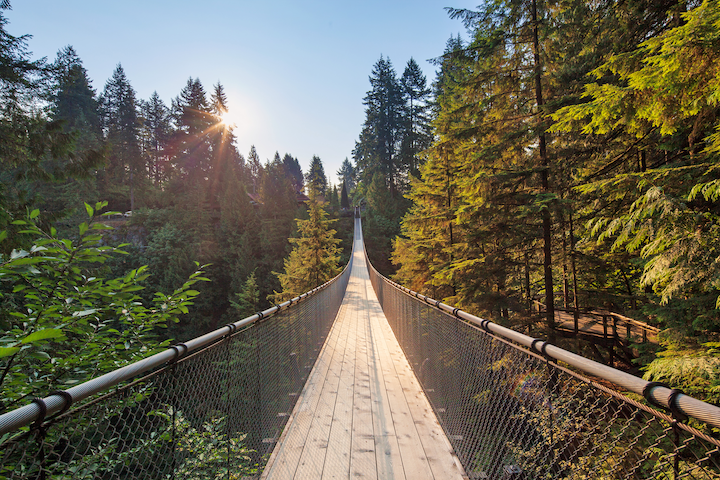 Originally built in 1889, this historic site is 250 feet high and provides a bird's-eye view of the Capilano River. PHOTO: JPdL Desination Management Company
Get Up Close to Orangutans, Indonesia: Trek through wild tropical jungles of Tanjung Puting National Park, where you'll see monkeys jumping from tree to tree and witness orangutans up close in their natural habitat
Be a Gaucho for a Day, Argentina: In a quiet valley surrounded by snow-capped mountains, you'll visit a working Patagonian estancia and learn horse-back riding and sheep shearing.
Take a Dip in the Bimmah Sinkhole, Sultanate of Oman: Brilliant blue skies, cerulean blue waters. That's what you'll find at this gorgeous, natural swimming hole, one of Oman's easiest natural wonders to visit.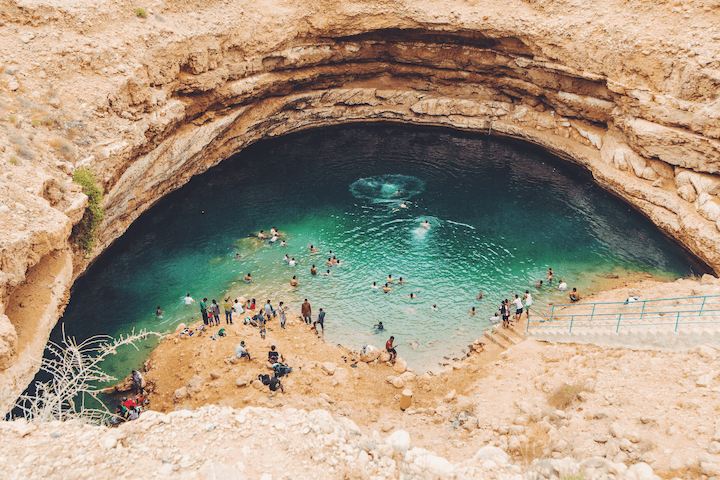 A quick drive from Muscat, Bimmah sinkhole is the perfect day trip. Pack a lunch, bring your swimsuit and dive in! PHOTO: Gulf Dunes Travel
Screech-In to Become an Honorary Citizen, Newfoundland: Become one of the locals with Newfoundland's fun ceremony: Take a shot of rum, take a bite of fried bologna and kiss a codfish.
Cheer on a Camel Polo Match, India: Head to Jaipur to cheer on local polo players as they play and offer a demonstration atop beautifully decorated camels. Afterward, your attendees can try the sport out themselves.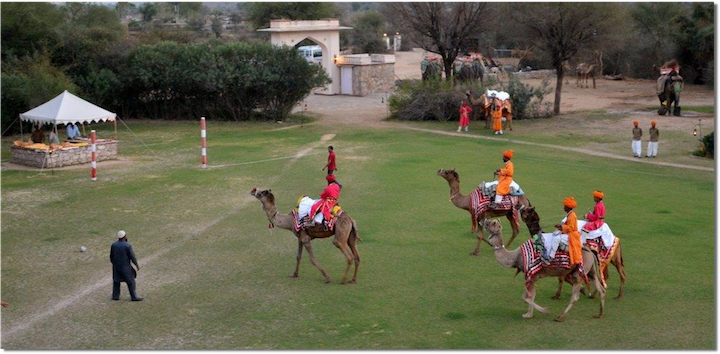 A twist on a classic sport, you won't get this unique experience anywhere else. PHOTO: Creative Travel India, Pvt. Ltd.
Share Lunch with an Astronaut at NASA, Houston: Go behind-the-scenes at NASA, then dine with an astronaut who will share stories of their missions to space and to the International Space Station.
Vogue at a Private Armani Fashion Show, Italy: Get front row seats to the runway as models present a limited-edition fashion collection designed exclusively for your attendees.
Craft Your Own Chocolate, St. Lucia: Celebrate and crave chocolate? So does St. Lucia. Head to one of the island's oldest estates and learn how to create your own chocolate from a resident chocolatier. 
Dine Like Medieval Royalty, Berlin: Spend an exquisite evening at Charlottenburg Palace, where you'll be treated to seasonal favorites of Prussian nobility and a live orchestra playing baroque and classical music.
Take a Trishaw Night Tour in Chinatown, Singapore Ride through Singapore's most captivating districts and the exuberant Night Market abroad a fun trishaw.
Go Bioluminescent Night Kayaking, Puerto Rico: Experience the rare phenomenon of glowing bioluminescence as you paddle through one of the world's brightest bioluminescent bays.
Explore the Biggest Castle in the World, Prague: Built more than 1000 years ago by Czech monarchs, the Prague Castle is the largest ancient castle complex on the planet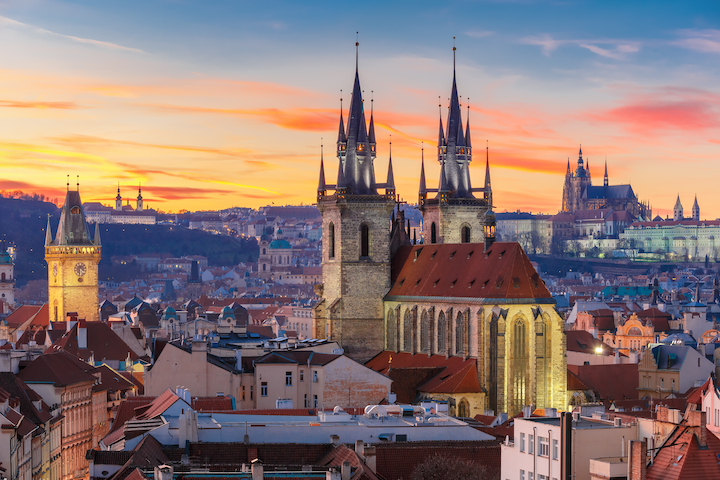 Built in the 9th century, Prague Castle is the official office of the President of the Czech Republic. Talk about an office with a view! PHOTO: Blaguss DMC
Record Your Own Music, Nashville: Take over a recording studio to perform and live record your own music. You'll get help from a local hit songwriter to create lyrics and pick out beats.
Go Arctic Whale Watching, Iceland: Cruise through Arctic waters to see magnificent minke and humpback whales, as well as dolphins, porpoises and more. 
Dine in Style at the Versace Mansion, Miami: A Beachfront setting, opulent architecture, the former home of fashion legend Gianni Versace – all ingredients for an extraordinary dining experience.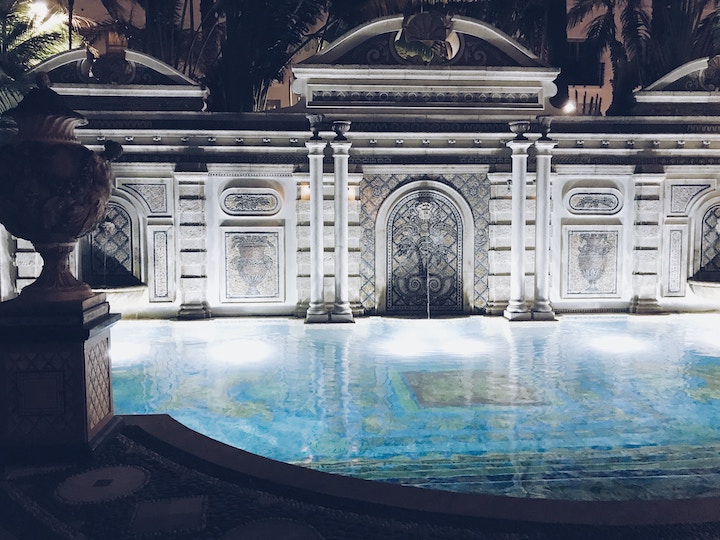 Understated was never Verace's style, and this property matches the fashion mogul's lavish legacy. PHOTO: Pedro Sostre
Travel by Speed Boat to a Traditional Cava Vineyard, Spain: Go on a white-knuckle ride from Barcelona Bay to Maresme, then slow things down at an organic family winery, specializing in cava wine and culture, that overlooks the Mediterranean Sea.
Hike to a Concert Venue Chiseled Into the Rocks, Denver: Built into the fiery red rocks and surrounded by sandstone monoliths, the open-air Red Rock Amphitheatre boasts incredible, seamless acoustics and stunning sunsets.
Ready to dazzle your attendees with some of the most spectacular activities in the world?  
Talk with one of our Global Liaisons to get started!